The word Yoga essentially means, "that which brings you to reality". In literal words it means union. This ancient Indian practice has been described in the Vedic texts as a union of mind and body with the ultimate reality. Yoga is, in fact, believed to have originated thousands of years ago and there is no concrete proof of its origin or time of origin. In modern times, Yoga is used as a mind-body therapy that's often recommended to treat many kinds of pain and sprain in the body. Today we will look into one such pain and its relation with yoga, a.k.a yoga for back pain. Appropriate yogic poses can relax and strengthen the very core of your body and help in reducing this pain.
Practicing yoga even for a few minutes daily can help you gain more awareness and control over your body. This will help you notice where you are holding tension and where you have imbalances in your system. You can use this awareness to bring yourself into more balance and harmony.
Yoga For Back Pain
This is especially important in today's work from home age where we are tied to our homes and work out of some super-uncomfortable positions. Moreover, the distinction between your workplace and rest place has now come down to zero and our backs are taking the most toll on it. There has been a significant rise in back pain cases and discomfort felt by even the youngest of people. And, yoga works tremendously in treating it, especially when you know about these yoga asanas for back pain that target your stressed muscles and almost immediately offer relief.
1. Downward Dog
This is a traditional forward bend and can be restful and rejuvenating. Practising this yoga pose can help relieve back pain and even sciatica, moreover, offering your back a relaxing stretch.
How to do it:
1. Place your hands inline under your wrists and keep your knees under your hips.
2. Press with your hands tuck your toes under and lift up your knees.
Bring your sitting bones up toward the ceiling making an arch with your back.
3. Keep a little bend in your knees and stretch your spine and tailbone.
4. Keep your heels slightly above the ground and press gently into your hands.
5. Distribute your body weight evenly between both sides of your body and pay attention to the position of your hips and shoulders.
6. Keep your head in line with your upper arms or with your chin tucked in a little. Hold this pose for 1 minute
2. Cat-Cow
This is a gentle, accessible stretch and it mobilizes the spine. Practising this pose also stretches your shoulders, torso and neck, and is an excellent addition to yoga for back pain.
How to do it:
1. Place your wrists beneath your shoulders and your knees beneath your hips.
2. Balance your body weight evenly on all four points.
3. Breath in as you look up and let your stomach go down towards the ground.
4. Breath out as you tuck your chin into your chest, pull your navel toward your spine and arch your spine toward the roof.
5. Pay attention to noting and releasing the tension in your body.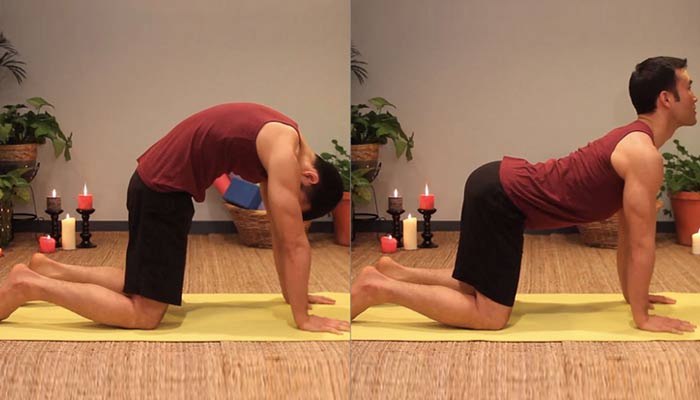 Continue this movement in a fluid manner for at least 1 minute.
3. Extended triangle
This traditional standing pose can help alleviate back pain, sciatica, and neck pain as well. It stretches your hips, spine and groin, and gives strength to your chest, shoulder and legs.
How to do it
1. Standup and keep your feet about 4 feet apart.
2. Turn your right toe to face it forward, and your left toe out at an angle.
3. Raise your arms parallel to the ground and your palms facing down.
4. Bend forward and hinge at your right hip to move forward with your arm and torso.
5. Bring your hand towards your leg, stretch your left arm up towards the roof.
6. Look up, down and forward. Try to hold this position for 1 minute.
7. Repeat the same on the opposite side.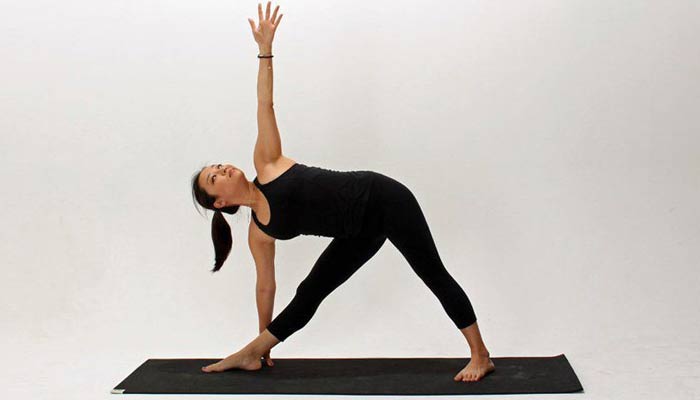 4. The sphinx
This is a gentle backbend pose and it strengthens your spine and lower back. It stretches your abdomen, chest and shoulders, and is another one of the amazing yoga asanas for back pain.
How to do it
1. Lay flat on your stomach with your legs stretched behind you.
2. Keep your elbows under your shoulders with your forearms on the ground and your palms downward.
3. Gently lift your upper torso and head. Gently lift and stretch your lower abs to support your back.
4. Ensure that you are lifting up your torso with your spine and not with your lower back.
5. Keep looking straight ahead as you completely relax in this pose while at the same time remaining active and engaging your muscles.
Stay put in this position for up to 5 minutes.
So these were some of the yoga for back pain that you should definitely add to your daily exercising schedule. Yoga has shown proven effects in treating various physical and mental health issues, in addition to mass acceptance, so if you're still dabbling with the idea of it until now, we will strongly recommend you to try it.
Recommended Articles: