The multiple health benefits of peaches makes it a common household fruit across the globe. It is rich in nutrients like vitamins and minerals, high in antioxidants and less in calories. The scientific name of peach is Prunus persica, the specific name 'persica' refers to the widespread cultivation of peaches in Persia (present-day Iran). Peaches and nectarines are the same species with one major difference which is peaches have fuzz skin (fruit skin trichomes) which are absent in nectarines.
Peaches along with cherries, plums and apricots are categorized as Stone Fruits (Drupes). Now, cultivated peaches are of two types: Clingstones and Freestones. This classification is done on the basis of the fact that whether flesh of the fruit sticks to the seed (Stone) or not. The color of the flesh of peaches can vary from white to yellow. Low acid, white flesh peaches are common in Japan, China and Asian countries. On the other hand, the yellow flesh-colored peaches are common in Europe and America. You will be surprised to know that more than 2000 varieties of peaches are grown worldwide.
Before we move ahead and learn the health benefits of peaches, let's look at the nutritional value of peaches. Peaches are a great source of vitamin C and vitamin A. It also contains vitamin E, K, B6 and minerals like potassium, magnesium, zinc and copper. Peaches are included in superfoods by many nutritionists and dieticians for its low calorie count with zero cholesterol and low fat content. One medium sized peach (145-150 grams) has only 68 calories. It is also a good source of fiber.
Health Benefits of Peaches:
1. Peaches help in controlling blood pressure:
It is known that peaches have zero cholesterol and low fat content. Therefore, including it in diet helps in maintaining lower levels of cholesterol in the bloodstream. Along with that, peaches also provide potassium mineral which helps in maintaining the blood pressure in our body. Potassium also helps in controlling heart rate. Thus consuming peaches helps in maintaining blood pressure and lowering the high blood pressure too.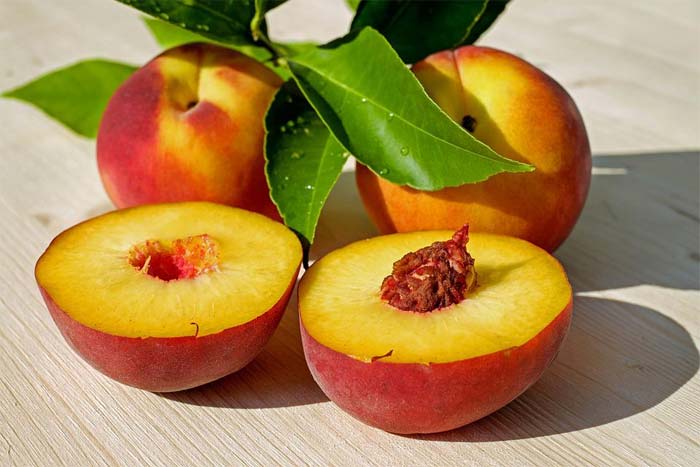 2. Improves healing:
Peaches are a very good source of Vitamin C and this vitamin helps in fighting against viral infections and also helps in healing wounds. Peaches also contain mineral zinc and vitamin A which are essential for boosting the immune system of our body.
3. Aids digestive system and maintains gut health:
Peaches are known to aid healthy digestion as one medium sized peach contains 2 grams of fiber (half of the fiber is soluble and the other half is insoluble). The insoluble fiber adds bulk to the stool (laxative property of peaches) and thus helps in keeping the gut healthy and relieves a person from constipation. Whereas the soluble fiber acts as food for bacteria in the gut. These bacteria produce short chain fatty acids. These short chain fatty acids reduce gut inflammation and symptoms of digestive disorders in chronic diseases like Crohn's Disease, IBS (Irritable Bowel Syndrome), Colitis, etc.
4. Anti-inflammatory properties of peaches:
As peaches are rich in antioxidants which include polyphenols it helps in decreasing the inflammatory reaction. Due to this, peaches help in lowering the risk of chronic diseases, cancer, Alzheimer's disease, etc.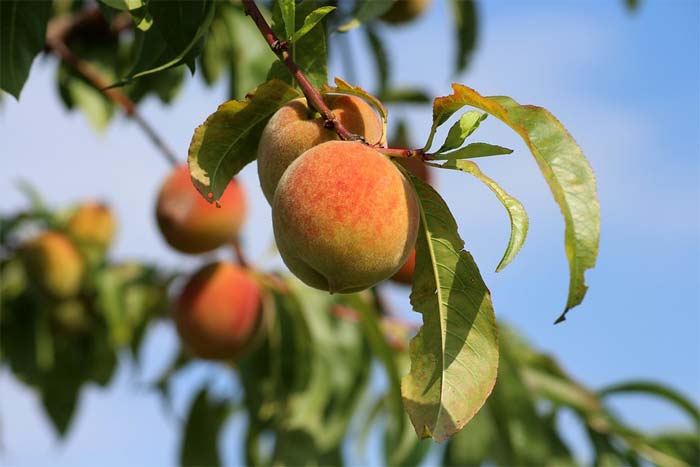 5. Boosts immune system:
Peaches are rich in antioxidants like lutein, zeaxanthin and beta-cryptoxanthin, These antioxidants act against free radicals and thus promote healthy aging and also fights against many disease processes. Peaches contain Vitamin E, which is known to keep the body's immune system healthy and also prevents blood clotting inside the blood vessels thus preventing stroke-like conditions.
6. Good for eyes:
The Health benefits of peaches also include healthy vision and eyes. Peaches contain an anit-oxidant called beta-carotene. This antioxidant also provides the red-orange color to the peaches especially in the fuzz skin and beneath the skin. The beta-carotene (Vitamin A) is the key element for good vision.
Also Read – List of Top Health Benefits of Consuming Lychee
7. Good for Bone Health:
Potassium and Vitamin K present in the peaches help in maintaining the bone health of our body by preventing osteoporosis. Peaches also contain traces of fluoride minerals which promote teeth health and lesser cavities.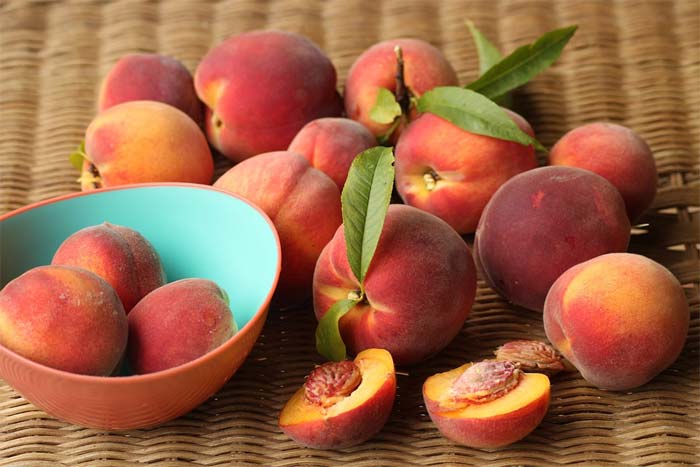 8. Promotes Weight loss:
Peaches are included in superfoods by doctors, dietitians and nutritionists all over the world due to its low calorie count, low glycemic index, and zero cholesterol. This makes the stone fruit a very apt choice for weight loss as a snack or in breakfast with cereals /oats etc. The fiber content and other bioactive components in peaches help in reaching satiety easily and quicker too.
The above-mentioned health benefits of peaches make it a great choice to eat as a snack at any time of the day across all age groups. It is also known to reduce stress, keep skin healthy and glowing, and helps in combating anemia too (presence of iron and vitamin C).