Lychee is a tropical fruit that belongs to the soapberry family. It is also known as lichee. Some other common fruits of this family include rambutan and longan. The cultivation of Lychee began in China, Vietnam, and Malaysia years ago. There are several benefits of lychee fruit. During the Han dynasty, leeches were used as a tribute item. After it caught the attention of European travelers, it was introduced in other parts of the world as well. Lychee was introduced in India during the 18th century. Then it was spread to many countries.
Lychees are grown in subtropical areas of the world and are very popular in China. It has a sweet and beautiful aroma. It can be eaten fresh. Often it is added to delicacies to enhance the flavor and the taste. They are rich in vitamins, minerals, and other antioxidants. They have beautiful pink and leathery skin to be removed before eating. It has a dark-colored seed in the center.
Nutritional Content in Lychee
Single Lychee is about 10 g in weight. About 100 grams of Lychee is ideal for females, and 79% is good enough for males. The fruit contains small amounts of Vitamin B and other minerals such as magnesium and potassium. The calorie intake is around 66 for every 100g of Lychee. It has about 0.83 g of protein, 0.44 g of Fat, 16.5 g of carbohydrate, 1.3g of fiber, and about 71.5 mg of Vitamin C. Lychee is available raw as fruit or canned food even as a part of drinks. 
Benefits of Lychee fruit:
1. Rich in Vitamin C
Lychee is rich in vitamin C, which is extremely good for our body. As per research, it is believed that Lychee can provide up to 9% of RDI to our body. The intake of Vitamin C helps reduce the risk of stroke by almost 42%.
2. Source of Antioxidants
Lychees have a very high level of polyphenols. It is like a storehouse that can help improve your heart and overall health. It even helps to reduce any risk of cancer or diabetes. They also have a high content of rutin. This helps to protect the body against chronic diseases such as diabetes, cancer, and other cardiovascular diseases.
3. Helps reduce Fat in the abdomen
Though it does not occur naturally in a fruit, a mixture of litchi skin and green tea named Oligonol helps reduce the body's abdominal Fat, inflammation, and fatigue. One can consume this mixture as it is highly beneficial to the body's overall wellbeing.
4. Help fight Cancer
As per a scientific journal named "Cancer Letter," the Litchi Fruit Pericarp (LFP) extract is rich in nutrients. It has anti-cancer properties, and the nutrients help fight liver cancer or any other sort of disease.
5. Lychees are rich in Vitamin E
Lychee contains vitamin E, which helps to get rid of sunburns. It becomes easy to get rid of pain and irritation and keeps the skin healthy and shining.
Must Read – What Are The Benefits Of Bananas? Why is banana the ultimate fruit? Let's find out.
6. Lychees can reduce inflammation
Lychees contain flavonoids that have anti-inflammatory properties. It helps to fight flu and other infections during the summer.
7. Boosts Your Immunity
Lychees being rich in vitamin C, are rich in ascorbic acid and can work well in a single serving. It helps boost immunity. Vitamin C stimulates the activity of white blood cells in the body, which helps to protect the body against any foreign substances.
8. Helps in Digestion
Lychee has dietary fibers which help regulate bowel movement. It improves metabolism and can relieve those suffering from constipation and other stomach ailments. It even stimulates the digestive juices helping to absorb the nutrients from the food.
9. Improves Blood Circulation
Lychee is rich in copper and helps boost blood circulation in our bodies. Like iron, copper helps in forming Red Blood Cells in the blood. The more the count of RBCs, the better blood circulation in the body. There is high oxygenation of the cells and the organs in the body.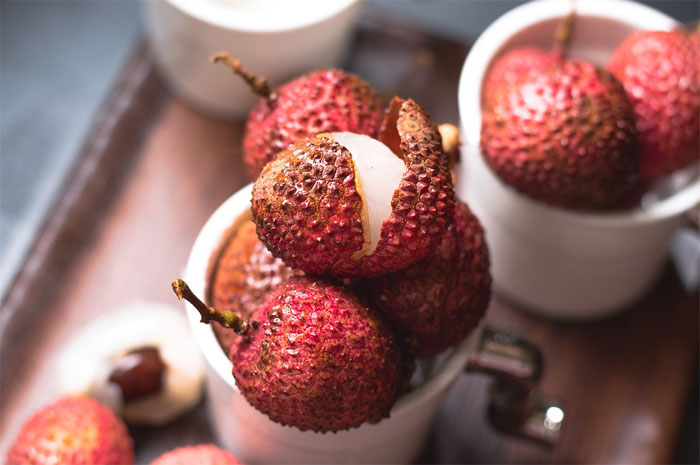 10. Helps Regulate Blood Pressure
Another health benefit of eating Lychee is that it helps regulate blood pressure by maintaining the level of fluid in the body. It is rich in potassium and very low in sodium which helps to regulate blood pressure. Potassium prevents any constriction of blood vessels and the arteries. This, in turn, helps to reduce cardiovascular ailments in the body.
11. Antiviral capabilities
Lychee contains Lycheetannin A2, which is a component of Lychee. This helps prevent the spreading of diseases as it has strong antiviral capabilities.
12. Helps in weight loss
As Lychee is rich in dietary fiber, it plays a great role in weight loss. The fruit has high water content and the least amount of Fat, making it an ideal fruit for weight loss. It is very low in calories and so is the best fruit to be included in your diet.
13. Helps strengthen bones
Lychee is full of nutrients such as iron, phosphorus, manganese, copper, and even iron. Such minerals are helpful as they can increase the power of calcium absorption in the bones. Thus, your bones will turn out to be strong and healthy.
Is Lychee considered a dangerous fruit? Why?
It was reported that children in India residing near orchards had seizures and comas and even died in some of the cases. Such outbreaks were becoming common, and they would end during the monsoons. This followed each year until scientists were able to find out the cause. The malnourished children were consuming the fruit on an empty stomach. They often had unripened ones which contained high levels of amino acid derivative hypoglycin.
Also Read – 5 Fruits That Are Good For Your Heart | What food is good for heart blockage?
As per lab tests, it was confirmed that the children's urine was affected by high levels of hypoglycin. As a result, the blood sugar level of the kids decreased drastically. Health experts advised parents to make sure that the children had a full meal before trying lychees, and it should be restricted to how many they can have in a day. Also, it is not suggested to consume unripened ones. Finally, this mystery was solved. 
As Lychee has many health benefits, one can make it a part of their healthy life. Being so rich in proteins, minerals, vitamins, and other nutrients, it is the right fruit that can do wonders to your hair, skin, and immunity.