Xiaomi has been to the Indian smartphone business what Nokia once was to the feature phone segment in the country and it is one company that has literally established itself for offering the most for the least.
When JioPhone entered the Indian market with its Smart-feature phone specifications, it became everything but a flop at the effectively free device crossed an untouched boundary while also gathering huge sales numbers.
But it was a game that Xiaomi has been known for and since being on a roll, especially in India and a lot of these efforts have proved exceptional fruitful. But the Chinese smartphone maker is in no mood to settle down and is all set to launch the 'Desh Ka Smartphone' on 30 November.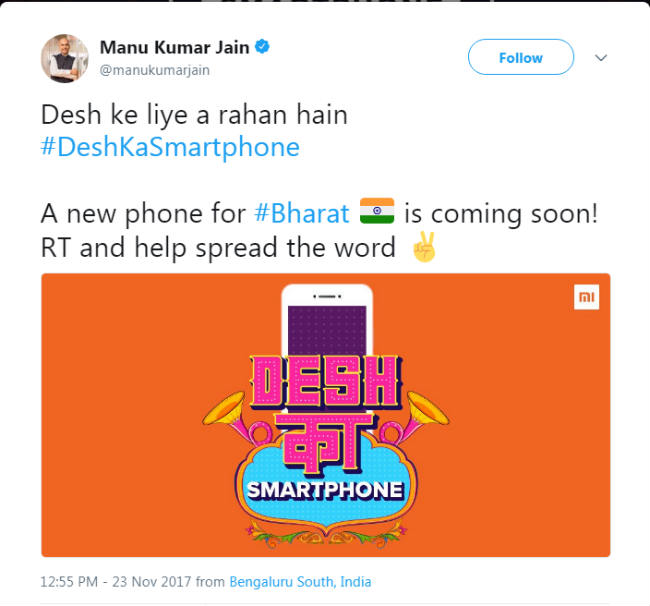 The name itself implies that it will go against the likes of JioPhone, Karbonn A40 Indian, and the Micromax Bharat, to name a few, in the low-cost entry-level phone category.
That said, JioPhone, in itself, is a benchmark as far as affordability and practicality are concerned and the battle of 'India Ka Smartphone vs Desh Ka Smartphone' will be an interesting one to witness.
Unless you have been living under a rock, you might know the hype created by Reliance Industries Pvt Ltd's featured phone that came with features like 4G connectivity, a 2.4 inch colored screen, 512MB RAM and 4GB of expandable internal storage, supported by a 2000mAh battery.
While the hardware package was not as great as that of the re-launched Nokia 3310, it was the 4G connectivity that made it stand out in the low-cost almost-smartphone segment.
But the Xiaomi we know, is expected to even better its competition and come up with an even sweat deal with the Desh Ka Smartphone, which will also be a Made In India device.
While the Chinese company has been busy in launching Android-based smartphones as well as announcing the opening of new Mi Home stores across India, Xiaomi's upcoming Redmi phone aka Desh Ka Smartphone may be a little different from its previous efforts.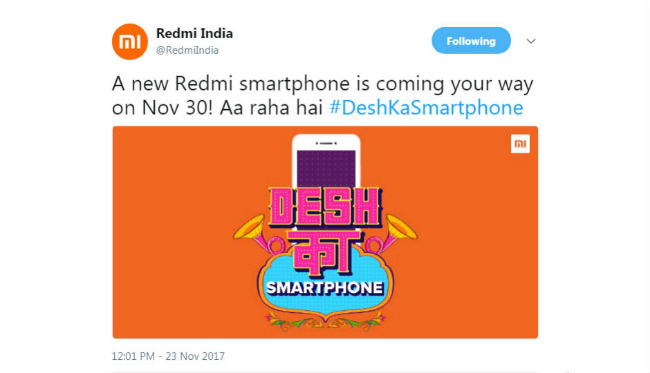 Xiaomi's VP and India MD Manu Kumar Jain has been teasing this upcoming Redmi phone via a series of tweets and while it is confirmed that the Desh Ka Smartphone will indeed be a smartphone and not a feature phone with smart features, one of the tweets also says that it will be launched on 30th November.
Interestingly, Xiaomi already has the Redmi 4A as an ultra-affordable smartphone which is priced at Rs 5,999 and the said Desh Ka Smartphone goes any lower with the price tag but carries its VFM legacy, it sure will be another success story for Xiaomi.
While no other detail has been unveiled about the upcoming device, all these developments have definitely left us eagerly waiting for 30th November.
As for the company, according to IDC data, Xiaomi currently holds the number one position as the leading smartphone manufacturer, tied with Samsung in India. Moreover, the company has announced that it would begin manufacturing its Mi Power Banks in India and has opened a new production plant in Noida in association with China's Hi Pad technologies.
Follow this space for more updates on Xiaomi's 'Desh Ka Smartphone'.