Vivo is known to come up with the best internals when it comes to smartphones and if a new leak regarding the Vivo Xplay 7 is to be believed, it could be the first smartphone to ever feature a whopping 10GB of RAM.
Yes, you read it right. That much of random-access memory into a smartphone which will make Vivo Xplay 7 the best performance oriented handset ever created. It should be noted that a premium Laptop doesn't even feature this kind of specification and while some will say that it is too good to be true, as per previous experiences with Vivo, the Chinese manufacturer might make it a reality.
A couple of images have surfaced on on Weibo disclosing the specifications that Vivo Xplay 7 might come with and the 10GB RAM is just a small bite of the whole pie. According to the leak, the smartphone will be powered by Qualcomm Snapdragon 845 SoC, which will make Xplay 7 the second smartphone from Vivo to feature the Snapdragon's processor after the Xplay 6.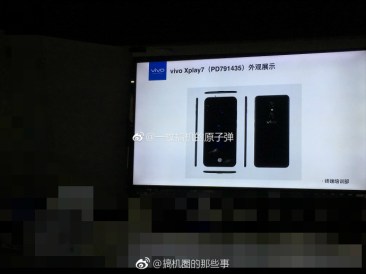 Apart from that the Vivo Xplay 7 is said to come with a 4K OLED panel and while earlier rumors suggest that the device will essentially lack bezels, these new leaks suggest that it will come with 92.9 percent screen-to-body ratio, which is even more than the iPhone X and Samsung Galaxy Note 8.
The high-end offering is expected to be available in two variants, both of which will feature 10GB of RAM but will differ in storage space. The high-end model of Vivo Xplay 7 will reportedly boast 512GB of internal flash memory while the base version will come with 256GB of storage.
The smartphone industry is yet to come up with a device which offers half a terabyte of storage and while we were expecting Samsung to take the first mover's advantage with the Galaxy S9 Plus, Vivo Xplay 7 might just do the same in the coming months.
However, it is still unclear whether Vivo will use the Samsung-made memory chip but going by the scenario, it is most likely to happen as Samsung is the only manufacturer of flash-storage which already mass produces 512GB memory chips.
As for other specifications, Vivo Xplay 7 is rumored to come with a dual-camera setup with dual Sony Exmor RS sensors and 4X optical zoom, Face Unlock 2.0, which is Vivo's facial recognition next-gen solution, along with an under-display fingerprint scanner, first seen in the Vivo X20 Plus UD.
If Vivo indeed manages to infuse all this into the same specs-sheet, we might be looking at the best smartphone ever produced by a Chinese smartphone maker, purely based on the internals as well as features.
Coming to the pricing, Vivo would want to price the Xplay 7 between the $500-600 segment in order to make it an instant hit.
With 2018 already touted to be the year of many first and having already witness the launch of Under-display fingerprint scanners, Snapdragon's newest flagship and smartphone going all-screen at the front, the fact that Vivo Xplay 7 is expected to come with all these internals, has already made this year, the most anticipated one, as far as smartphone launches are concerned.
What are your views on Vivo Xplay 7? Share your thoughts in the comments section below.