Lower body functionality is very crucial for us. Lower-body exercises are curated to develop muscles of hips, legs and lower back mainly. The most common ones with or without weight are squats, lunges, deadlifts, calf raises, glute bridges, etc. Most of our day to day activities involve our lower body like standing, walking, mopping, running, dancing, etc. So, a strong lower body is essential for all of us.
This can be achieved with regular exercise and nowadays various kinds of workouts like weight lifting, yoga, pilates, power bhangra, zumba, aerobics, etc are available easily which provide a non-monotonous routine for lower body workout. But one of the most trusted and followed ways is the lower body workout with dumbbells. Dumbbells are a really powerful tool when it comes to adding weight to add more muscle mass in your body along with strength and stability.
The parts of the body which are included while performing exercises of the lower body workout with dumbbells are:
Hips (glutes)
Legs (hamstrings, calves, quadriceps)
Lower back muscles (secondary muscles involved in lower body workouts)
Lower body workout with dumbbells may look like this:
| | | |
| --- | --- | --- |
| | EXERCISE | SETS & REPS |
| 1 | Walking Dumbbell Lunge | 3 sets & 10-12 reps |
| 2 | Dumbbell Squat | 3 sets & 12-15 reps |
| 3 | Dumbbell Step-Up | 2 sets & 13-15 reps per leg |
| 4 | Dumbbell Crossover Lunge | 2 sets & 7-9 reps per leg |
| 5 | Dumbbell Stiff-Leg Deadlift | 3 sets & 10-12 reps |
| 6 | Standing Calf Raises | 3 sets & 16-20 reps |
Benefits of lower body workout with dumbbells:
1. Dumbbells provide two types of overload that causes muscle growth:
a. Mechanic Overload: helps in increasing muscle size by muscle contractions to such an extent that it causes damage and in order to rectify that body the repair process adds more muscle to our body. It is achieved by heavy weight dumbbells.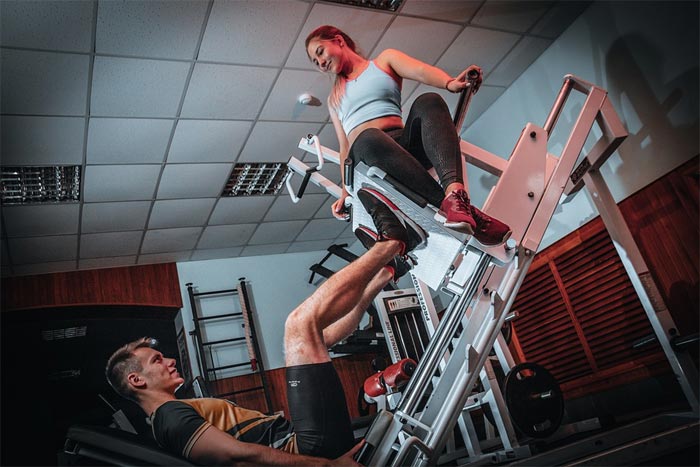 b. Metabolic Overload: causes increase in size of muscle by reaching fatigue. Fatigue leads to adaptation of muscle cells to store more glycogen (muscle glucose). It is achieved by medium or low weighted dumbbells with high reps count.
2. With dumbbells the elastic tissue and contractile tissue can be benefited. Contractile tissue of muscle helps in contracting whereas the elastic component stores mechanical energy which is released when a rapid muscle shortening takes place during an exercise. Heavy dumbbells increase contractile tissue and light weight dumbbells enhance the elastic component of the muscle.
3. Dumbbells also increase intramuscular and intermuscular coordination which leads to higher levels of activation of muscular cells.
4. The other reason to use dumbbells is to use one limb at a time, although both can be worked simultaneously too.
Precautions and Safety guidelines For Lower Body Workout
1. If you have a previous injury or any medical issue then consult your doctor or trainer before doing rigorous workout as it may worsen the condition.
2. Do not overdo a single body part workout. Like doing lower body weight training everyday is harmful in the long run. Keep a gap of 24-48 hours to repeat the workout of the same body part.
3. Warm up is as essential as exercise itself to avoid injuries like sprain, ligament tears, fractures, etc.
4. Add weights according to your body type and always follow the technique correctly for the superlative results.
5. Proper rest and a high protein-carb diet is recommended post workout for better results.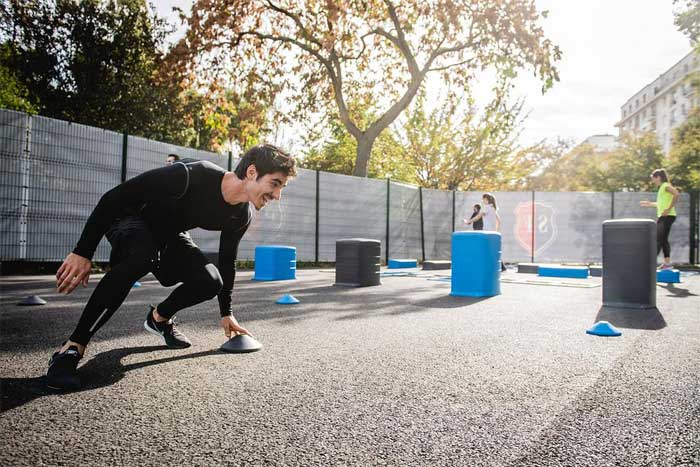 Lower Body Workout For Men
Now let's talk about lower body workout which is curated and programmed for men's lower body. Although there are no hard and fast rules when it comes to exercise, as exercise is a gender neutral entity. But many trainers, with the help of physiotherapists and nutritionists, plan workouts which are more effective for men especially to gain muscle(bulk).
For gaining muscles you have to follow some set rules. This includes working out the toughest exercise at the beginning with heaviest loads (varies according to the person). Hitting thighs from different angles with high volume (sets and reps).
The lower body workout for men for mass building includes:
| | | |
| --- | --- | --- |
| | EXERCISE | SETS & REPS |
| 1 | Barbell squats | 4 sets & 6-8 reps ; 8-10 reps |
| 2 | Leg Press | 4 sets 7 10-14 reps each side |
| 3 | Dumbbell Walking Lunges | 3 sets 7 10-14 reps each side |
| 4 | Leg Extension | 3 sets & 10 reps each side |
| 5 | Romanian Deadlift | 3 sets & 8-12 reps |
| 6 | Lying Leg Curls | 3 sets & 8-12 reps |
| 7 | Standing Calf Raises | 4 sets & 12-20 reps |
If a man goal is get ripped, then he must follow this kind of routine which includes:
| | | |
| --- | --- | --- |
| | EXERCISE | SETS & REPS |
| 1 | Smith machine back squat | 4 sets & 8-10 reps |
| 2 | Leg press | 3 sets & 10-12 reps |
| 3 | Goblet squat | 3 sets & 10-12 reps |
| 4 | Barbell reverse lunge | 3 sets & 10 -12 rpes |
| 5 | Leg extensions | 3 sets & 12-15 reps |
| 6 | Lying leg curls | 4 sets & 12 -5 reps |
| 7 | Weighted calf raise | 4 sets & 12-15 reps |
If the goal is to achieve the strength then follow the following workout routine which includes:
| | | |
| --- | --- | --- |
| | EXERCISE | SETS & REPS |
| 1 | Goblet squat | 4 sets & 10-12 reps |
| 2 | Leg press | 3 sets & 10-12 reps |
| 3 | Leg extensions | 3 sets & 10-12 reps |
| 4 | Seated leg curl | 3 sets & 10-12 reps |
| 5 | Standing calf raises | 3 sets & 15-20 reps. |
Also Read – Design Your Perfect Workout Plan With These Exercises
We came to the conclusion that lower body workout is mandatory if you are looking for stability, flexibility, strength and good posture for the rest of your life. So go ahead pick up those dumbbells light or heavy whichever you need. Sweat and work hard to feel more powerful and energetic. As they say "No Pain No Gain."