In the last few years we have been hearing a lot about gut health, intestinal health, good microbes of the gut, or chronic inflammation of the digestive system, etc like health topics are getting ample focus and discussions on varied health platforms. In ancient medical manuscripts the role of the gut is believed to be the core reason of many disorders. In today's era many researches have established a solid connection between the gut and overall health. So, today we will enlighten the viewers with "The Leaky Gut Syndrome" to help them understand its main features, causes , symptoms and possible treatment.
What Is Leaky Gut Syndrome ?
Leaky gut syndrome is a condition in which the tight junctions of the intestinal wall become loose, allowing harmful substances to enter the bloodstream. Leaky gut in medical practice is referred to as Intestinal hyperpermeability. Due to which the bacteria and other toxins release into the bloodstream and may trigger inflammation.
The phenomenon of leaky gut
There is a protein named Zonulin, which is the only known regulator of intestinal permeability. When zonulin is activated in already genetically predisposed susceptible individuals then it can lead to the phenomenon of the Leaky gut Syndrome.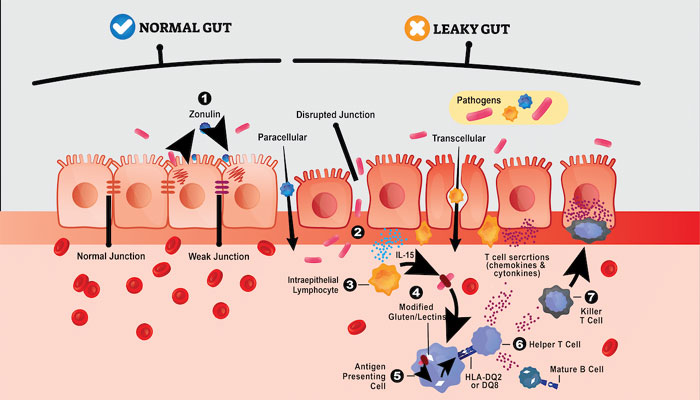 Now, the factors that causes increased secretion of Zonulin protein in humans are
Gluten
Intestinal bacteria
So, these are the two main factors which can lead to a leaky gut syndrome. But some other factors which may affect Zonulin secretion and increase the intestinal permeability includes :
Excessive sugar intake
Non steroidal anti-inflammatory drugs
Excessive alcohol intake
Nutritional deficiencies esp. Vitamin A, Vitamin D and Zinc deficiency.
Stress and depression
Poor gut health
Yeast overgrowth in the intestines.
We all have some degree of leaky gut, as this barrier is not completely impenetrable. Some of us may have a genetic predisposition and may be more sensitive to changes in the digestive system. Only genetics is not to be blamed, modern lifestyle is the main driver of gut inflammation.
The increased intestinal permeability plays a role in certain gastrointestinal conditions such as celiac disease, Crohn's disease, and irritable bowel syndrome. The biggest question is whether or not a leaky gut may cause problems elsewhere in the body. Some studies show that leaky gut may be associated with other autoimmune diseases (lupus, type 1 diabetes, multiple sclerosis), chronic fatigue syndrome, fibromyalgia, arthritis, allergies, asthma, acne, obesity, and even mental illness.
Causes Of The Leaky Gut
The main causes of the leaky gut are –
Poor nutrition (junk food, processed foods)
Conditions that have inflammation of the gut like Irritable Bowel Syndrome, celiac disease, etc.
Lifestyle patterns (sleep deprivation, eating habits, etc)
Stress, anxiety, depression, etc
Chemotherapy and radiation therapy that harms intestinal mucosa.
Diabetes
Other autoimmune medical conditions like Lupus, HIV/AIDS, etc. which can cause intestinal injuries.
Alcohol and smoking
Uses of NSAIDs (Non Steroidal Anti Inflammatory Drugs) like aspirin, ibuprofen.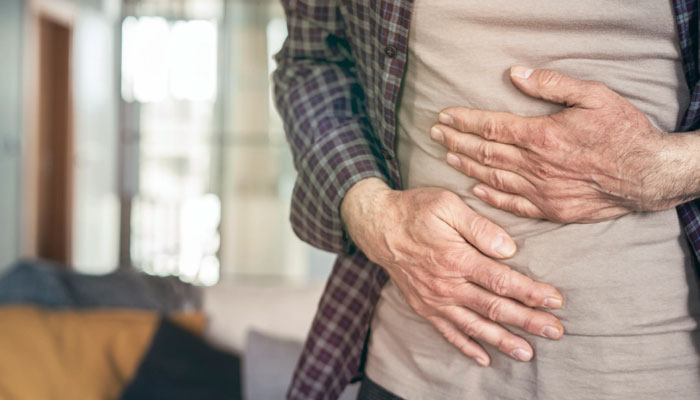 Symptoms Of Leaky Gut
The most common symptoms of leaky gut syndrome includes –
Chronic diarrhea or constipation
Bloating
Burning sensation in the gut
Indigestion
Nutritional deficiencies due to poor assimilation of food
Fatigue or weakness
Headaches
Widespread inflammation in body
Skin problems like acne breakouts, itching, redness, etc.
Joint pains due to increased inflammation in body
How To Take Care Of A Leaky Gut?
Scientists are continuously investigating the benefits of various therapies which can maintain the integrity and overall wellness of the gut. These therapies mainly involve the diet and lifestyle factors that have a major effect on the gut. The main therapies are:
Probiotics – In general, probiotics help to maintain the health of gut lining by preventing overgrowth of the wrong bacteria in the gut, especially the small intestine.
Prebiotics – Prebiotics are food for the good bacteria in your gut to help give them an edge in the fight. They are usually plant fibers, one more reason to include vegetables and fruits in your diet.
Reduce dietary fats and sugars – These substances encourage the growth of the wrong kinds of gut bacteria, thus they may trigger the release of harsh dietary emulsifiers that may inflame your gut.
Nutrition – A balanced diet, complete with all the necessary macronutrients and micronutrients (vitamins and minerals) can help fortify the gut. Vitamin D and an amino acid called L-glutamine specifically helps in repairing the gut lining.
Low FODMAP Diet – It is called Fermentable OligosaccharideDisacchride, Monosaccharides And Polyols Diet. These sugars are not well absorbed by the gut and it's a specific diet that is often suggested for people who have IBS and certain food sensitivities. It systematically eliminates most of the common food triggers. Using it briefly may give your gut the rest it needs to repair, while also clueing you in to which food triggers you are sensitive to. So, that you can eliminate or decrease those food items in your day to day life.
Now, the following lifestyle changes that can improve digestion and support a healthy gut are :
exercising regularly
getting enough sleep every night
reducing stress
avoiding unnecessary use of medication without doctor's recommendation
Quit drinking and smoking 
Also Read:
The leaky gut syndrome is a condition that arises mainly due to poor diet choices and unhealthy lifestyle which lacks proper sleep, exercise, and mental calmness. The gut is supposed to be the center of all other issues as it may spread inflammation in the body which can lead to other issues like joint pains, skin problems,etc. So keep your gut healthy to stay healthy.