Childhood obesity is one of the biggest health concern issues which is engulfing kids too quickly. The issue is a deeply rooted one as there are multiple factors that precipitate the disease such as lifestyle, genetics, socioeconomic factors, junk food access, etc. Beside the causes of the disease there are many myths and misconceptions about childhood obesity, which further worsens the problem.
So, today we will focus on the common myths and misconceptions about childhood obesity in detail, which includes:
1. It's Just A Baby Fat Will Disappear Gradually with Age.
One of the most common things we hear is "ohh it's just baby fat. My kid will lose it as he ages". This is not what the data tells us. In Fact according to WHO in 2022, 41 million kids under the age of 5 years are facing obesity issues. This number will shoot up to 70 million by the year 2025. Various studies have shown that more than 50% obese kids will turn into obese adults.
2. It's A Rich People Problem.
Unhealthy food choices are not restricted to rich family dining tables. You will be surprised to know that poor and developing nations have a huge share of childhood obesity worldwide. The main factors for this are the cheap rates of packed and processed food, easy availability of junk food, ready to eat , easy to carry, easy to transport, etc are some of the major culprits that give quick and easy access to junk food to all the sections of society. So, this myth and misconception about childhood obesity in the present day scenario is just too wrong.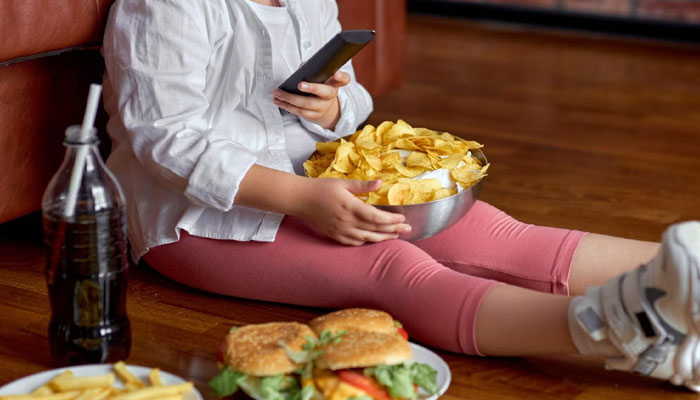 3. Parents Are The Culprit
It has been seen that parents are easily blamed for their child obesity because eating habits are usually copied from parents. People also blame parents for genetics. But healthy parents have fat kids and vice versa. Around 25% cases are due to genetic predisposition. So, proper testing for medical conditions is important.
4. Only Excessive Eating Causes Childhood Obesity.
The commonest myth and misconception about childhood obesity is that excessive eating is the cause of childhood obesity. This is not true at all as there are many medical and psychological conditions like hypothyroidism, Cushing Syndrome, medication like antidepressants, antipsychotic drugs, depression, stress, anxiety, unexplained food cravings, etc can lead to weight gain despite the child eating moderate quantities.
5. Crash Dieting Is Beneficial.
One of the ways to shed weight is to control the diet. But we have seen in many cases the kids are forced to go on crash diets. As eating less calories will help in losing weight,that's true (Only for a small span of period). But crash diets will cause other medical issues too such as depression, mood swings, anxiety, disturbed sleep, hairfall, headaches, dizziness, etc. So, for losing weight a balanced diet is important to maintain overall health.
6. Obese Kids Are Inactive And Lethargic
The other myth and misconception about childhood obesity is that obese kids are lethargic and inactive. This is false, many obese kids can do day to day activities with equal ease like other kids be it dancing, swimming, playing, studying, etc. in such cases it is seen that the cause of obesity is underlying genetic makeup.
Now learn the main causes of childhood obesity and how to define it ?
The parameters which are helpful in finding that the child is overweight or not includes –
BMI ( Basal Metabolic Rate)
BRI ( Body Round Index)
VAI ( Visceral Adiposity Index)
ABSI ( A Body Shape Index)
The Main Causes Are :
Unhealthy food habits include timings, portion, number of meals, and nutrient density.
Lifestyle Choices mainly revolve around sleep pattern, physical activities, screen timings, eating habits, etc.
Genetic predisposition
Psychological and behavioral conditions like stress, anxiety, depression, etc.
Medical conditions like Hypothyroidism, Cushing syndrome, Insulin irregularities.
Habits That Help Prevent Childhood Obesity
Role of parents is the most crucial and they can easily ingrain good habits to overcome the issue in following ways :
Talk to kids about obesity and its effects through pictures, short movies , stories etc. Communicate about the health hazards of obesity in a playful manner rather than being too harsh.
Parents are aware of their kids' food liking. So, plan and make small achievable targets in terms of diet changes, physical activities, screen time, etc. The process needs to be a gradual one. So, that your kid adapts to it and gains results slowly but steadily.
Engage in more outdoor activities like playing, walking, vegetable or grocery shopping etc.
Reduce screen time for children.
Do not offer food as a reward.
Introduce new activities which your kid never tried before. Like dancing, swimming, kickboxing, pottery, etc.
Sleep is also very important for kids to rejuvenate and repair their bodies. A good sleep and on time (ideal time is between 7-9 pm) decreases cravings.
Drink enough water throughout the day.
Never hesitate to take any expert viewpoint like a counselor, dietician, nutritionist, pediatrician, and others.
Habits take time to develop so be patient with kids.
Also Read:
Conclusion
Childhood obesity is an intricate phenomenon but it is a reversible condition in most of the cases. Main factors include diet and lifestyle changes to overcome the issue. So, focus, access to correct information and dedication are ways to get rid of childhood obesity.