Name– Christopher Henry Gayle or Chris Gayle!
Nickname– The Universe Boss!
Hobby– Frequently making white-balls disappear/ giving heartache to bowlers of all kind: spin or pace!
Signature shot– the pull, the mighty heave and punch toward long-on and over cover!
Status in IPL 2021– horribly out for form!
Weeks before the fourteenth season of the IPL began, there was a loud and clear warning issued to all bowlers featuring in the famed franchise-based T20 league: Gaylestorm predicted.
But then just what do we find four games later with the mighty Chris Gayle having batted in each of the four occasions for his Punjab Kings?
Matches– 4
Runs– 76
Fifties– 0
Highest score– 40 (having struck 8 boundaries in all)
So where have the mighty sixes disappeared and why aren't umpires calling for new balls in the wake of the existing ones being smashed to their very pulp?
Probably there are things that Chris Gayle alone can answer for the fan who stays obsessed in picking the best fantasy picks just can't. His current woeful form lays open a few questions that only KL Rahul and his team management stand in the best position to answer.
Why, despite failing for two back to back innings- right at the start of their campaign- was Gayle still accommodated at #3?
Would it make sense to reposition Chris Gayle as the opener?
Here's a fact that no Gayle fan or critic can dispute. In 2019, Chris Gayle reached his highest IPL score for the season- that domineering and unbeaten 99- as an opener. A year before, when he fired another unbeaten knock, that unforgettable 104 against the Sunrisers Hyderabad, he was drafted again as an opener.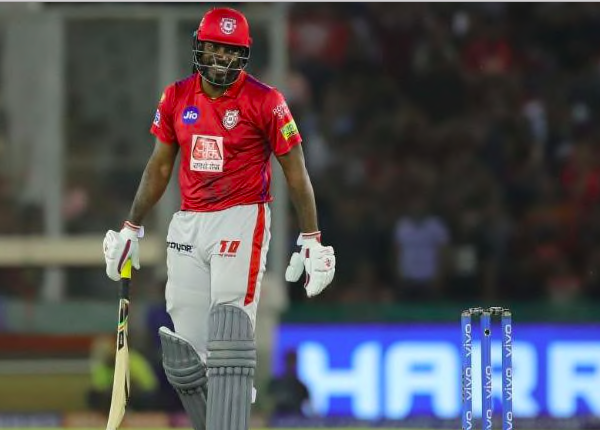 In both innings, he simply blew apart the opposition, taking pressure on his broad shoulders and making light work of bowlers who've earned their right to represent such a fantastic premier T20 league.
But this time around, the Chris Gayle fans excitingly come to see having spent the entire day on their sofa sets in these lockdown times is a different creature.
He takes one ball too many to open his account. The sixes that blunt the confidence of bowlers have vanished. There's visible struggle to find the gaps.
Just what is happening?
Though, there's no doubting the potential of Gayle- the big match winner. Here's how!
This is a batsman who sits just 152 away from completing 5,000 IPL runs- which is no small feat.
And hence the troubling question- how is it that a batsman familiar for striking sixes at will is struggling to put bat to ball?
But the trouble, truth be told, surrounding Punjab Kings isn't Gayle alone; what's worst for the exuberant outfit from North of India is that famous white-ball hitter Nicholas Pooran, widely recognised as the great find of West Indies cricket is himself struggling for runs.
As a matter of fans, Chris Gayle and Nicholas Pooran- batsmen with strike rates of 149 and 162, respectively- haven't managed 100 runs collectively.
Did you ever give this humbling statistic a thought?
Now, fundamentally speaking, whether or not you are a fan of the Punjab Kings, you cannot ignore the fact they are a mercurial side. With names like KL Rahul as the skipper (as also the keeper), Mohd. Shami, Mayank Agarwal, Nicholas Pooran, and Chris Gayle- this is a side that exudes a certain amount of flair and style.
Also Read: Dada Showers Praise on Pant, Calls Him True Match Winner For India
But implicit in Punjab Kings' struggles at this time is the very fact that they currently find themselves languishing on the seventh spot on the IPL table (at present).
Being just ahead of Rajasthan Royals, the bottom-dwellers can do more harm to the side's confidence than good.
The only positive, if any, that Punjab can take having seen Agarwal and their captain striking splendid fifties the other day is that not all is lost at the moment. They are yet to play a game each against each of the seven sides.
But in no uncertain terms must it be mentioned that if they are to progress toward the play-offs then it is about time they make the one prominent change- bring the mighty Chris Gayle up the order. Let him pace his innings. Give him that time to adjust before he explodes for dropping a numero uno hitter won't be the sanest of ideas!