When it seemed that the run-chase during India's famous Gabba win was way off reach for the visitors and that only one result seemed inevitable- an Indian defeat- he stood up and changed the very completion of the contest. At 5 down for 265, with another 63 needed for a win but with Agarwal back in the dugout, he continued undeterred and fought on. And akin to the truly unforgettable 2001 Kolkata Test match where to this day, we celebrate the heroics of Dravid and Laxman, there came the magnanimous winning moment with Halewood being struck for a meaty boundary, Rishabh Pant being the hero around an uncertain but ultimately, invincible Indian triumph! Perhaps that four may not be forgotten for times to come.
While there may certainly be bigger run-chases that await our keen attention, perhaps we may never forget the hair-raising boundary with Rishabh Pant playing the mighty victor.
From the onset of 2020, if there's been a great rise in the stocks of an Indian cricketer, then it has to be the dogged left-hander, one who plays the game akin to his personality- simple, fun-loving and uncomplicated. If there's shot to be hit, a boundary to be etched, a big hit for six to be executed- he will, quite simply, do so.
Not always has a left-hander from the annals of Indian cricket been appreciated in such magnanimous regard as Rishabh Pant. Surely, cricket in India has birthed many a great righty. You talk of Tendulkar. You admire Dravid. You admire Laxman and Sehwag endlessly. And then, there was Dhoni and now there's Virat.
But the last left-hander to have been truly loved all around the world, not just in India was always Saurav Ganguly, aka the Dada of Indian cricket. The very man who has recently expressed undying love for the great star in making- Rishabh Pant.
So the question is- what did the great former captain of Indian Cricket team say on Pant?
Well, here's what you need to know:
"There are some fantastic players. As president of the board, I shouldn't say who's my favourite player. They're all part of a team and they're all favourite to me. But I enjoy Virat Kohli and Rohit Sharma's batting. I am obsessed with Rishabh Pant because I think he's an absolute match-winner. Jasprit Bumrah is good, Mohammed Shami is good. I like Shardul Thakur a lot because he's got the courage and the guts to perform at the top level."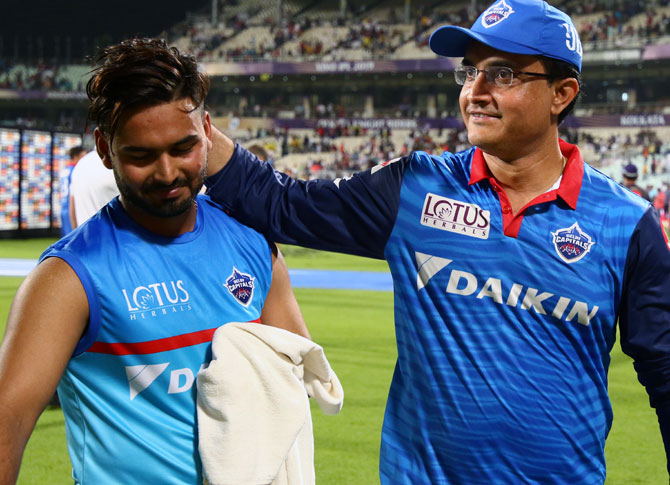 It's hardly a surprise that Ganguly thinks of Pant as a true match-winner for India. It's not that it's some commentary-box assertion or analysis from a distance. The duo closely interacted during the 2019 season of the famed Indian Premier League wherein Saurav was closely affiliated with the famous Delhi Capitals team, working in the capacity of the unit's mentor.
Here's what the Hindustan Times noted of Ganguly's association with Rishabh Pant:
Ganguly worked closely with Pant and has been very vocal towards his support for the young India wicketkeeper. Even when Pant was battling inconsistent form and was left out of India's limited-overs squad in 2020, Ganguly, along with some of the best former cricketers, Ricky Ponting included, had backed the keeper batsman, often labelling him as the 'X-Factor' that India needs.
Also Read: IPL 2021 Schedule And Fixtures Announced- Here's All You Need To Know
To conclude, with the way the ballsy left-hander is approaching his batting- striking the ball with fierce power and expressing himself freely- his team will be certainly reserving high hopes of his fearless craft to serve the country well when it hosts the tournament that perhaps all are keenly waiting for, i.e., the T20 world cup, 2021! Can Pant's heroics lift India?