The healthy cooking fad is here to stay. If you cook regularly it is even more important that you use as little oil as possible and retain the freshness of your veggies. For this reason, most of us opt for non stick cookware to keep our food crispy and light. We have compiled a list of best non stick cookware brands in the Indian Market that are both economical and of good quality.
There are a lot of brands available to choose from but in the end, it completely depends on a person's requirements and budget. If you are a single person cooking occasionally you would probably look for the economy and not care for long-lasting qualities, whereas a small family may invest in cookware that lasts through the years.
We have compiled a list of India's most famous brands for Non Stick Cookware in a particular order. These are brands which have proved to be better than other of the same category. This list is compiled on the basis of personal experience and combined user opinions.
Nirlon – Best Non Stick Cookware Brands in The Indian Market
I remember the first time my aunt prepared dosa for me at home. I was but a child and she called out to bring out the Nirlon for this purpose. So synonymous was the brand with the non stick tawa those days.
Over the years Nirlon has improved their ware to be made of high-grade aluminum and stainless steel and developed a 100% non-toxic non-stick coating. They now produce cookware with an induction base and well-insulated handles for safer usage.
Suggested Read: Fried Rice Recipe Free From Preservatives and Taste Enhancers
Tefal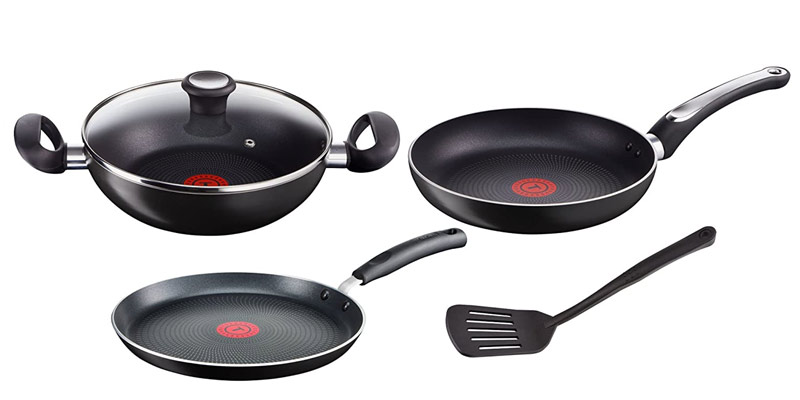 Tefal is a brand under a French Company. What better than the French to aid your art of cooking. Their products are built to last and ensure homogeneous heat diffusion and fast temperature rise. Some variants may not be induction based.
Wonderchef – Best Non Stick Cookware Brands in The Indian Market
This is another brand which has put a lot of thought into their Non Stick cookware to provide Italian designs coupled with German technology to its users and add a dash of color to the boring palette of a kitchen. They boast of up to 25 color variants in multiple designs of their products. Their products are also much easier on the pockets.
Prestige and Hawkins are two brands present in all Indian household and I personally go for their pressure cookers but in the non-stick cookware category they would never be my first choice.
Suggested Read: How To Make Pav Bhaji
The aim of this article, best non stick cookware in the indian market, is only to help you make an informed decision. If you get experimental and try some lesser-known brand please share your reviews with us on this page.
Don your fancy chef hats and get cooking.