Pav bhaji is an Indian Delicacy that is famous across the globe. It is not only tasty but has all the nutritional values of healthy food. Let's learn how to make Pav Bhaji.
Ingredients
250 g Potatoes – peeled & diced
2 Carrots – sliced
125 g Cauliflower florets
150 g Peas – fresh or frozen
2Tsp Clarified butter (Ghee)
2 Onions – red & diced
1 teaspoon Ginger garlic paste
1 Chili peppers – green
1 Bell peppers – green & diced
3 large ones Tomato – diced
1 Chili peppers – red & hot
3 tsp Tomato paste
1 teaspoon Cumin powder
3 tsp Spice mix (Pav Bhaji Masala)
1 teaspoon Turmeric powder
3 Bun, soft
1 Lime (n)
For pav Butter
For Garnish Coriander leaves
To Taste Salt
The recipe – How To Make Pav Bhaji
Cook the potatoes, carrots, cauliflower and peas in a little saltwater. Mash the vegetables with the cooking water.
Heat the clarified butter(ghee) in a pan and saute the cumin seeds until brown. Add the onions, and fry until they become translucent. Keep apart 2 tbsp of onion for later use as they are integral ingredients in this particular recipe about how to make pav bhaji and would be used as garnish later. Add the ginger and garlic paste and fry until the smell fades. Now cut the green chili into small pieces with or without seeds, add and fry for 30 seconds.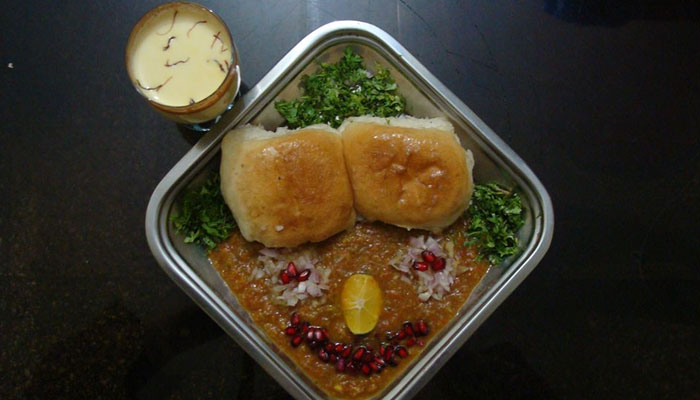 1. Add the tomatoes and fry until softened. Now add the peppers and simmer for 2-3 minutes.
2. Mash the red chili in a mortar. You can also use the red chili powder available in the market. If you like it milder, remove the kernels and the white seeds beforehand and only use 1/2 pod of red chili. Put it in the pan with the turmeric, masala and tomato paste. Cook briefly, then add the mashed vegetables and salt. Add water if necessary. Let it simmer for another 10 – 15 minutes. Stomp again and again until it becomes mushy.
3. Chop the coriander into small pieces, quarter the lime and roast the halved Pav rolls on the cut sides in hot butter. Season the bhaji with salt, masala, butter, and red chili. The consistency should neither be really fluid nor really firm, it lies between soup and porridge.
4. Place the bhaji on deep plates, add a little onion, coriander, butter and a lime slice to each serving. Serve with the bun. You can now dip the bhaji on with the bun, or you can eat it with a spoon and just add the bun.
Also Read- How to Make Poha | Easy and Tasty Poha Making Recipe
Now that you know how to make pav bhaji, you can surprise your loved ones by making it at home. Just make sure that you use fresh vegetables for a better taste.