Poha is an Indian dish made from rice flakes. The dish is primarily popular in Central, Southern and Western India. It is usually eaten as breakfast. It is a snack and street food and is just as popular in India as Upma. Let's learn how to make Poha.
The main ingredient of Poha is rice flakes (also called Poha). You can get the Poha in almost all grocery stores. There are different types of Poha with peas, potatoes, mixed vegetables, onions, etc. As with Upma, roasted peanuts or cashew nuts go well with Poha. Fresh curry leaves are also used as is often the case in Indian cuisine. You will surely find many other Poha variants with a unique added ingredient.
Poha is really quick and it is easy to make the dish for breakfast, lunch or dinner and is easily digested. Poha is a great dish and it is ready in under 15 minutes. If you come home from work hungry in the evening, you can cook it quickly. There are no excuses for cooking too long.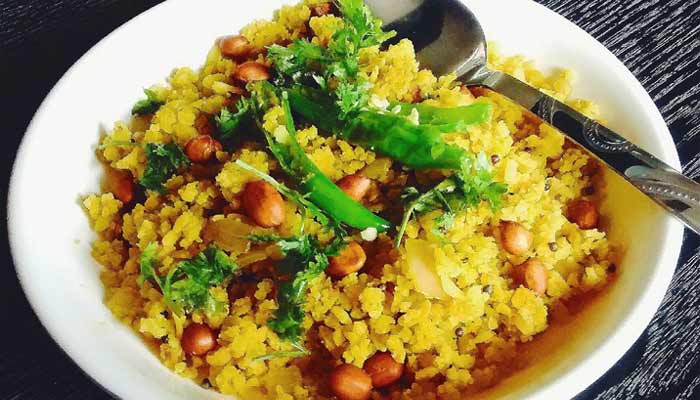 1. 150 g Poha Medium Rice Flakes
2. 1 teaspoon chili powder
3. 1/2 tsp turmeric, ground
4. 1 tsp salt
5. 1 tbsp coconut oil
6. 1 teaspoon mustard seeds, black
7. 3 green cardamom capsules
8. 1/2 walnut-sized piece of ginger a
9. Little fresh green chili – optional for spiciness and taste
10. 180 g peas, frozen
11. 1 tsp lemon juice
12. 1 pinch sugar
13. 1/4 tsp garam masala
14. 2 tbsp fresh coriander, chopped
15. 1/2 tomato, cut into small cubes
How to make Poha: Preparation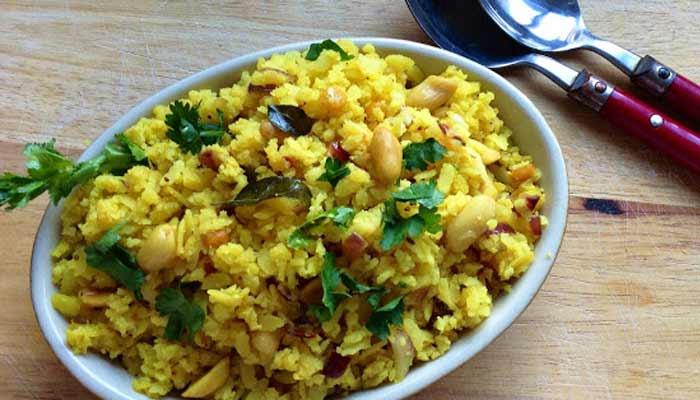 Place the rice flakes in a sieve, carefully water or wash them and place the sieve on a bowl to drain the flakes. The flakes should drain in about 10 minutes meanwhile the other things can be prepared.
Crack the cardamom with a mortar or with the back of a large knife and remove the seeds.
Peel the ginger, it is best to scrape it off with a teaspoon instead of with a knife, and then cut it into fine cubes. Finely cut green chili. It is up to you, whether you use it with or without seeds and also how much of the chili you use. In addition, the type of chili is always very important. Here, You need very little fresh green chili.
Suggested Read: How To Make Pancakes – Perfect Simple Recipe
Let the oil heat up in a coated pan. Put the black mustard in the hot oil and wait until it starts to crack, then add the ginger and chili and stir-fry briefly before adding the peas. Turn down the heat a bit and fry the peas until they're done.
Mix the chili powder, turmeric, and salt and mix gently with the spoon into the rice flakes until they are nice and yellow.
Add the rice flakes in the pan with the peas and mix everything. If the rice appears too dry, add about 2-3 tablespoons of water. Fry for a few minutes until the rice is hot and soft. If it gets too dry in between, simply carefully add tablespoons of water again.
The Poha is ready to be served and is preferably eaten hot. Now you know how to make Poha. You can prepare the ingredients in advance and later use them to cook it under 5 minutes as well.