Be it binge-watching or coming home late at night from the office, there's nothing more fulfilling than having a bowl full of snacks by your side and satisfying your midnight cravings. But even the thought of it is often cut short due to the amount of calories and unhealthiness that has been associated with late night snacking, in general. Every fitness guru or nutritionist advises to not eat anything post a certain 7 or 8 o'clock at night. However, what if you put a healthy and nutrition-first spin to your late night snacking with some of the most delicious and healthy late night snacks.
There are tons of healthy late night snacks that come with tons of health benefits associated with them, along with the attached nutritious values. Moreover, they're quick and easy to make and hog on.
Check out some of the best and easiest recipes for healthy late night snacks for your next hunger pang.
1. Murmure or Puffed Rice
Murmure or puffed rice is a perfect healthy snack to satisfy your cravings; rich in fiber, low in calories, and filled with Calcium, iron and Vitamin D. Puffed rice has the property of regulating blood pressure. Add some roasted peanuts, toss a little with curry leaves, garlic, cumin seeds, chili powder, and turmeric. And, to enhance the taste, just add some lemon juice to it. Your crunchy munchies are ready within 10 minutes.
2. Seed Crackers – Healthy Late Night Snacks
Flaxseed crackers are crunchy, full of flavors, and have a high nutritional profile. Seeds are high in Omega-3 fatty acids which are good fats and have great healthy heart benefits. They contain lignans and antioxidants which possess anti-aging properties. Take pumpkin seeds, ground flax seeds, sesame seeds, chia seeds, add some spices, dried herbs, and a dash of salt to it. Stir it all together. Spread the mix on parchment paper and in the oven to bake. Your healthy, crunchy crackers are ready to appetize you.
3. Oatmeal
Want antioxidants, low calories, benefits like improving blood sugar level, lowering of cholesterol levels, rich in vitamins, minerals in one single meal? Have oatmeal!
This late-night snack is incredibly healthy, tasty, and nutritious. It will not only satisfy your hunger but also ensures you a good sound sleep as oatmeal is high in melatonin, a hormone that is responsible for regulating sleep cycles. Have it with toppings of blueberries, oranges, or apples or some chia seeds, figs, and a drizzle of honey or put some nuts and a dash of salt to it, every combination of it is going to be enlivening for your taste buds!
4. Sweet Potatoes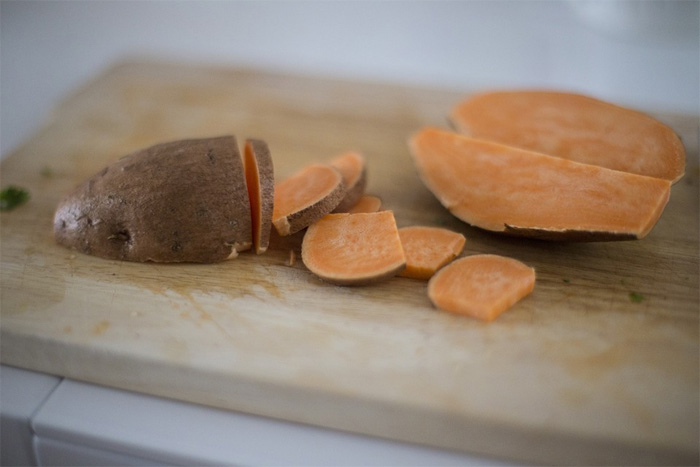 These are sweet, starchy root vegetables easily available. Sweet potatoes are rich in Vitamin C, Vitamin A, Manganese, Potassium, and a high source of antioxidants which take care of your gut and prevent you from chronic diseases and vision loss. Steam them a little, mingle some chaat masala, chilies, and lime juice.
This healthy late-night snack will provide you with greater satiety and a great treat for your tastebuds.
5. Popcorn – Healthy Late Night Snacks
Planning an online movie night with friends and wondering what snack to have? Grab a bowl of less butter popcorn and enjoy healthy snacking!
3 cups of low-butter popcorn have less than 100 calories. In addition to fiber, it has antioxidants such as polyphenols which are considered for digestive health.
Also Read – These Healthy Snacks Will Curb Your Overeating
6. Dry Fruit Yogurt
If you are craving something crunchy and creamy, roast almonds, figs, pistachios, and cashews; crush them a little and mix it with a bowl of yogurt.
Yogurt is a high source of calcium and protein. It helps in high bone density and prevents osteoporosis. It is also high in probiotics which makes your gut more strong. This low-fat dry fruit yogurt will take care of your weight as well as your mid-night cravings.
7. Peanut Butter Sandwich
Sandwiches are one of the easiest recipes which are appetizing as well as lighter on the stomach. Peanut butter sandwiches are low in carbs and have a perfect balance between fats, carbohydrates, and protein. Use multigrain/brown bread slices, spread peanut butter on them and toast a little. And your healthy snack is ready within 5 minutes to bid goodbye to your hunger.
8. Sweet Corn – Healthy Late Night Snacks
Sweet corn, a type of corn, high in fiber, vitamins, minerals, and good gut bacteria boosts your immune system, digestion and ensures you radiant skin. And if you are gluten intolerant, it's a perfect pick for you as corn is gluten-free. Steam corn in a pressure cooker and add spices of your choice. And your nutritious bowl of fulfillment is ready!
9. Chocolate Pistachio Bites
And who doesn't love the choco bites when it comes to satisfying your taste buds with something sweet. And if it's filled with high nutritional value, then why not!
Pistachios are bursting with high levels of potassium, antioxidants, unsaturated fatty acids, and protein which takes care of your heart, blood pressure, sugar levels as well as your gut by providing it with good bacteria. Make a fine paste of pistachio with coconut flakes to make fine flour and add almond butter, cocoa powder, vanilla extract, and maple syrup. Mix it well and roll it into round bites. The healthy sweet snack is ready.
10. Crunchy Chickpeas
Chickpeas are a high source of fiber and protein. They also contain several vitamins and minerals. They have a range of nutrients that are necessary for the better health of your bones, muscles, and skin. Bake boiled chickpeas, saute some garlic on olive oil and add chickpeas to and mingle them with spices of your choice.
And the crunchy healthy late night snack is ready.
So, these were some of the most delicious, easy to whip together with high nutritious values, healthy late night snacks that you should start adding in your snack cabinet, as soon as possible!