With a name that resembles one of the fiercest animals, Dragon, dragon fruit on the other hand is a heavenly fruit for mankind. Dragon fruit benefits are plenty with looks which are quite astonishing as well ambiguous too for many out there. It looks unique with a bright pink outer covering with green spikes, and a white black spotted pattern is seen inside the fruit. Some varieties have pink flesh with black seeds.
Dragon Fruit is also known as Pitaya and Strawberry Pear in different parts of the world. Dragon fruit benefits can be enjoyed from summer to early fall. It's a native fruit of Mexico and South America although now easily cultivated and grown globally.
Health benefits of Dragon fruit
Eating dragon fruit regularly provides multiple health benefits which are as follows :
Enhanced Glycemic Control :
One of the crucial health benefits of dragon fruit is its ability to control the blood sugar levels. That means regular consumption leads to better glycemic control over time. This happens because dragon fruit promotes pancreatic cell growth which releases insulin in our body.
Helps In Reducing Inflammation :
The studies show that the anti-inflammatory properties of dragon fruit helps in reducing inflammation with the help of antioxidants present in it. This helps in providing relief pain, tenderness, and redness in cases of chronic inflammation like in arthritis, gout, etc.
Aids In Weight Loss :
One of the other major health benefits of dragon fruit is to promote weight loss due to its high fiber content. This keeps you full for a longer time along with that it is a great probiotic that helps in improving digestion and overall gut health.
Boosts Immunity :
Dragon fruit are rich in vitamin C and antioxidants. They both help in strengthening the immune system.
Great for Cardiac Health :
Betalains are the red pigments from the flesh of the dragon fruit that have been linked to protection against bad cholesterol (LDL). It prevents LDL from oxidation and damage. Betalains are a type of antioxidants that are found in dragon fruits. In many people it helps in controlling blood pressure due to the presence of flavonoids, carotenoids, and betacyanins. But in very few people it may lead to hypotension too.
Improves Skin Health :
For a younger, radiant, smooth and flawless skin you must eat dragon fruit regularly. As dragon fruit is rich in vitamin C, which helps in formation of collagen, skin protein that keeps skin elasticity and firmness intact. Not only that vitamin C also helps in removing pigmentation and wrinkles too.
Anti Cancerous In Nature :
Hydroxycinnamates, the anti-cancer benefits of dragon fruit come from this group of antioxidants. Various studies have suggested that dragon fruit can prevent or decrease cancer growth.
Helps In Digestion :
Health benefits of dragon fruit is incomplete without discussing its effect on the digestive system of humans. It is a prebiotic fruit that helps in colonizing good bacteria in our gut which includes lactobacilli and bifidobacteria. These bacteria kill pathogens in our gut and also help in digestion.
Good For Bone Health:
Good bone health aids in contributing to many factors like avoiding injuries, sprains, joint pains, tenderness, swelling of joints, etc . Dragon fruit contains 18% magnesium with plenty of calcium and thus aids in stronger bones and good bone health.
Why Is Dragon Fruit healthy?
Dragon fruit is considered a very healthy fruit because of the following qualities which are listed below :
Rich in dietary fiber
Rich in antioxidants
It is a prebiotic.
Contains zero fat
Cholesterol Free
Contains healthy fatty acids
Nutritional Value Of Dragon Fruit
The nutritional value of dragon fruit per 100 grams as per the USDA (United States Department Of Agriculture) is as follows : 
| | |
| --- | --- |
| Calories | 60 grams /100 grams |
| Carbohydrates | 12.94 grams |
| Protein | 1.18 grams |
| Fat | 0.0 grams |
| Dietary Fiber | 2.9 grams |
| Sugar | 7.65 grams |
| Calcium | 18 milligrams |
| Iron | 0.74 gram |
| Magnesium | 32 milligrams |
| Sodium | 0 gram |
| Vitamin C | 2.5 gram |
| Cholesterol | 0 milligram |
Overloading Of Dragon Fruit : Side effects of Dragon Fruit
Although dragon fruit is considered as one of the superfoods or superfruits, overconsumption can lead to some lesser known facts, they are as follows: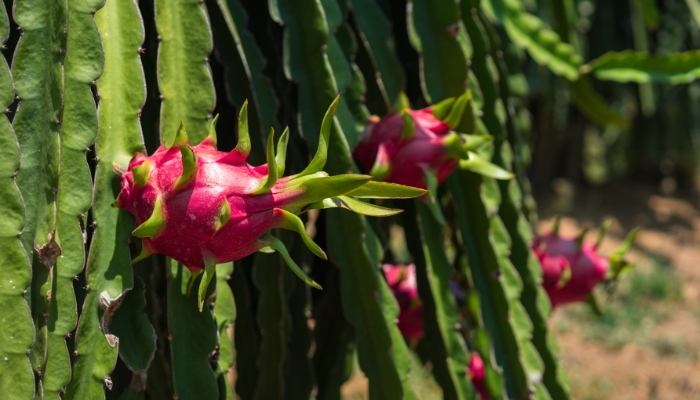 Allergic Reaction: It is very rare in nature but may occur. Dragon fruit is generally safe to eat, although studies have reported isolated allergic reactions. Symptoms include swelling of the tongue, hives, and vomiting.

Hypotension: as we know dragon fruit is rich in magnesium so overeating for longer periods due to high magnesium levels can cause hypotension. Symptoms of hypotension are dizziness, nausea, tiredness, lethargic, and may lose consciousness.

Too much Fiber: Consuming too much dietary fiber can lead to gas, bloating, swelling of stomach as dietary fiber holds the water and can also disturb the absorption of nutrients. So, eating a balanced amount of dragon fruit is a must.

Over dosage of antioxidants: This is a very less known area and according to studies excess of antioxidants like beta carotene can cause lung cancer or excess of vitamin E can increase risk of hemorrhagic stroke.

If you eat enough red dragon fruit, it might turn your pee pink or red. This symptom looks more alarming than it actually is. The same thing can happen if you eat a lot of beets. Your pee should turn back to its normal color once the fruit is out of your system.
Is Dragon Fruit Good For Diabetics?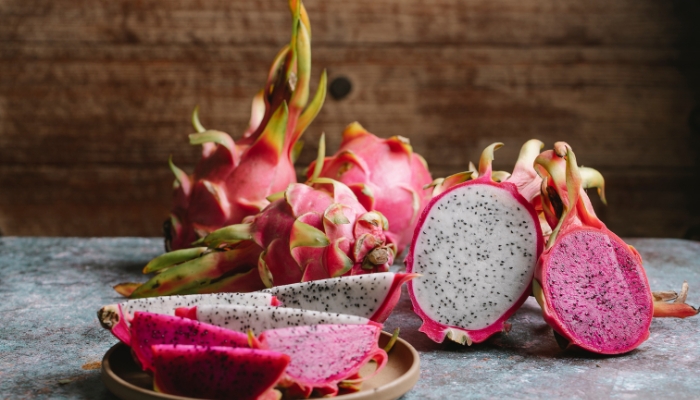 Dragon fruit belongs to the cactus species, also known as Pitaya. It is a fruit loaded with properties like antioxidants, phytonutrients, vitamins, and minerals. All of which can do wonders for your overall health. It is also rich in dietary fiber, which can help control your blood sugar levels. Dragon fruit is considered to be low glycemic index fruit. It has a low GI between 48-52 so consuming this in moderation helps control blood sugar. The high flavonoids and antioxidant content of dragon fruit prevent oxidative stress and damage to the pancreas thereby preserving beta cells of the pancreas as well as their function. Betacyanins present in dragon fruit have proven to improve insulin resistance.
Also Read:
Conclusion:
Dragon fruit is an exotic super fruit which is full of nutrients and is laden with many health benefits like keeping your sugar levels, blood pressure in control, aids in losing weight, keeps skin healthy, and many more. You can enjoy eating it directly or add it to your salads, juices, smoothies, cakes, etc.