Breakfast is the most important meal of the day and it is seldom complete without a nice grilled sandwich of your choice. Grilling sandwiches the old fashion way is so time consuming and unappealing. Investing in a contact-based grill is a favor everyone could do with.  How to choose the correct grill sandwich maker from hundreds out there? To save you up from this hassle, we have compiled a list of the best grilled sandwich makers in India.
Anyone who cooks regularly would agree that choosing the best-fit grill for your kitchen depends on –
Capacity – Most sandwich grills make 2-4 sandwiches at a time and you could choose according to your requirement.
Non-Stick Coating – This helps in even grilling in lesser fat and doesn't leave a mess in case of cheese being used.
Easy to use – Operating a sandwich maker is easier when the cord length is not too short. The auto cut off feature is very helpful for novice cooks as it prevents burning if attention is not paid to the duration of cooking.
If you are trying to figure out which is the best sandwich grill to buy, here's our attempt to help you make an informed decision. We looked at all major brands available and spoke with people who have actually tried their hand on it. Prestige wins as a brand, hands down. Philips, Nova, Bajaj, V-Guard and Wonderchef are all brands which are equally popular for qualities which are liked by consumers with varied tastes.
1. Prestige PGMFB 800 Watt – Best Grilled Sandwich Makers in India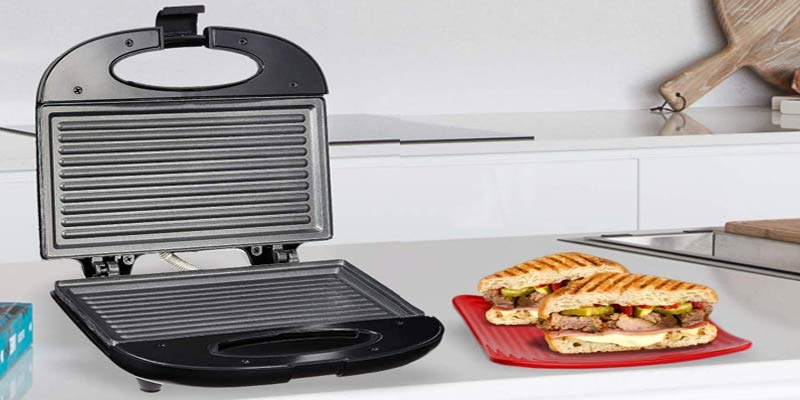 Prestige gives you this non-stick coated Panini grill which gives your sandwiches an evenly crisp finish. Its 800-watt power is good enough to give a powerful grill yet it does not burden your electricity bill.
2. Prestige Sandwich Maker PSMFD 01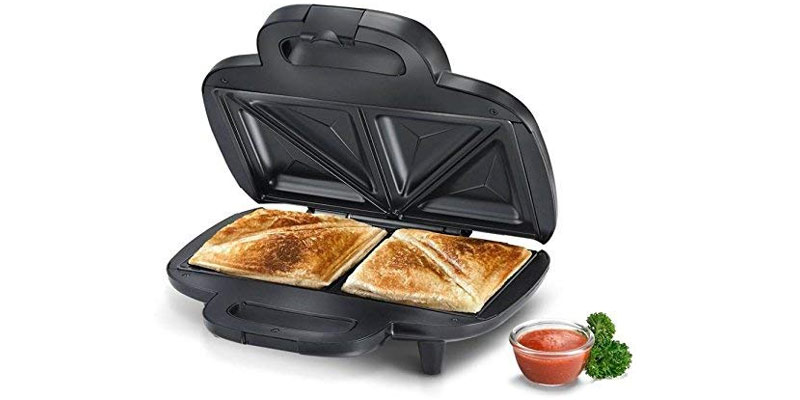 People who have used it say that the German technology non-stick coating is very durable and does save them a lot of cleaning. It dishes out two triangular cut slices at a time. Priced at just about 1200 Rupees it is a nice deal.
3. Bajaj Majesty SWX400 700-Watt – Best Grilled Sandwich Makers in India
This is a Panini finish sandwich grill. Bajaj being an Indian company people trust this brand better. We liked a tiny detail which makes it user friendly, it has a cord winder at its base which makes storage easy in case you have a small kitchen counter.
Suggested Read: Best Non Stick Cookware Brands in The Indian Market
4. Nova NGS 2449 1000 Watt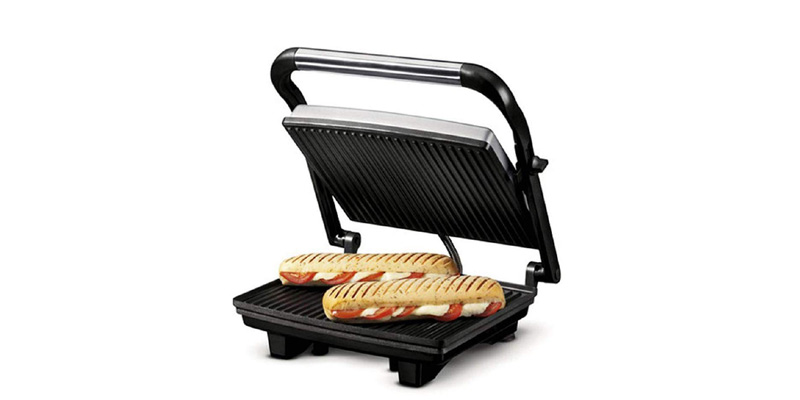 Nova offers you a superior professional Panini finish sandwich grill which operates at a powerful 1000 watts. It has an auto cut off feature which never lets your sandwich get too crispy. You can also use it to prepare toasts.
Once you own a sandwich grill you will learn put it to a lot of other uses instead of just grilling sandwiches. You can also use it to grill cottage cheese or chicken once in a while. Just make sure it cools off entirely before making any attempt to clean it.
Suggested Read: Best Espresso Machines in India: Brew a Perfect Cup Everytime
You may use a damp cloth or soft tissue or sponge to clean the grill properly. Never try to scrape off food from the non-stick coating using anything metallic such as a knife, fork or tongs. We hope that one of these best grilled sandwich makers in India will be a great addition to your kitchen for a million brilliant breakfasts'.