Hot Dogs are one of the most common food items that are consumed by billions of people around the globe. It has become synonymous with sausage. The sausage used in Hot dogs is either a Wiener (Vienna Sausage) or a Frankfurter (Frankfurter Wurstchen/Frank).  The preparation and condiments of Hot dogs varies from one region to the other. So how to make a Hot dog? So that it tastes as original as possible. Well, the basic condiments which are included in any basic Hot dog recipe are Mustard, Relish, ketchup, and Onions in tomato sauce or cheese. Along with this sauerkraut, onions, jalapenos, coleslaw, bacon, olives, etc are the common granshises used on Hot dogs.
Let's now learn the basic steps that How to make a Hot dog? Although there are many variations present to make a hot dog. But we will start with the basic version.
So the first thing is to cut the sausage or not. There are three ways to use the sausage in a hot dog bun: one with No cut, other with a slit/slashed cut or the spiral cut is the third way. The no cut sausage is the juiciest one followed by the spiral cut then the slashed one.
Now the second step is how to cook a hot dog: well this can be done over flame or grill if you are looking for hot dogs with notes of a campfire. But if you want the juiciest flavorful dog then simply boil it in beer or for a juicy hot dog with subdued flavor you can boil it in water too. But the betset way to cook a juicy hot dog is to slow cook using slow cooker preparation which takes around 4 hours.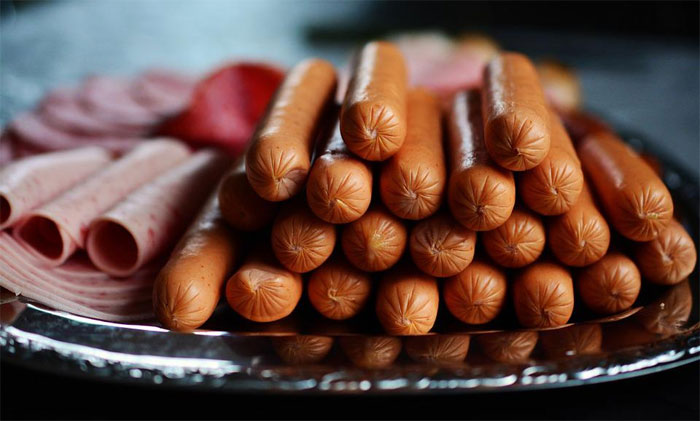 After this take the hot dog bun, slit it and keep the sausage in it. Now add condiments/sauces of your choice. The most classic choice of sauce is the Mustard sauce. Some people may add tomato ketchup or cheese etc. One can add toppings also like mushrooms, onions, bacon, chilies, etc as per choice. The options are endless which can vary from a simple classic version to a completely loaded one with new and different toppings.
How To Make A Hot Dog On A Stove?
There are many methods to cook a hot dog but cooking it on the stove remains one of the most popular ones. So before we learn the steps, how to cook a hot dog on a stove. Let us know why it is a preferred method of choice.
1. Takes Lesser Time: It is one of the fastest methods to cook hot dogs. You just need a hot skillet or a pan and within three minutes your scrumptious hot dog will be ready.
2. More easy: It is fairly an easy method as you do not need to preheat the oven or a grill. It is a hassle free way to cook hot dogs on a stove.
3. Changes Can Be Done As Per Choice (Not Fixed): Well, if you are cooking on a stove then you can insert any last moment changes if you want as per your need or availability of the ingredients. Like you can use water or oil for cooking hot dogs on a stove. You can add toppings like onion, peppers, other vegetables of your choice and stir fry them easily to perfection.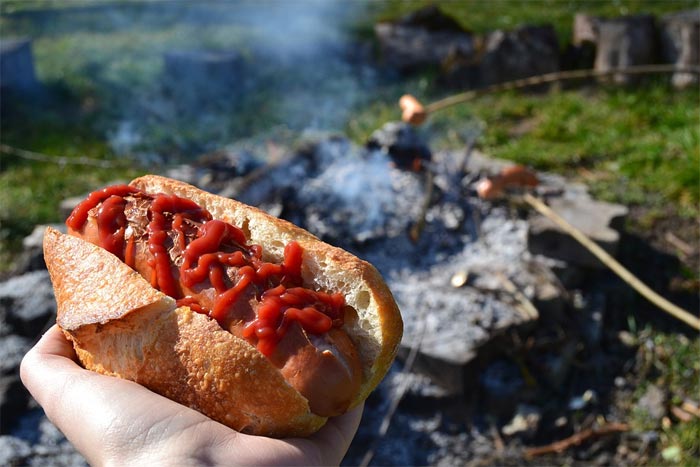 Some important tips to cook a hot dog on a stove includes:
1. Choosing Hot Dogs: The sausage ( hot dog ) can vary from beef franks, chicken franks or regular ones. Make sure they are cured and cased in natural skin.
2. Cooking Hot dogs: It can be done by boiling them in water or browning them with some butter in a skillet. If you want to cook by boiling the process takes around 3 to 5 minutes. For stir frying or frying in butter it is recommended to choose spiral cut or slash the dog. This is done to avoid the bursting of hot dogs while frying them (hot dogs brust because of the steam encased in them while cooking/frying). This process usually takes 5 minutes to complete.
Suggested Read – The Recipe To Cook Spaghetti Squash In The Microwave!
So it's pretty clear that hot dogs are one of the easiest recipes to cook. They are one of the most popular fast food items that are sold across the different nations. Every nation has their own way to cook hot dogs. If you don't want to buy a hot dog from a food truck or restaurant, then we have told you "How to cook a hot dog?" so grab the hot dog bun with your choice of sausage and toppings and enjoy one of the most yummiest food items present around us.