Sweet potatoes are indeed sweet in taste. Sweet potatoes are enjoyed among all ages and across all geographical boundaries. It is one of the omnipresent food items. They are one of the best ways to add nutrition, flavor, fiber, and energy (from carbohydrates) to your meal.
They can be eaten at any time, be it in the morning as a breakfast option, in lunch as salad or as a side dish like potato mash or as an evening snack as sweet potato roasted fries. There are many different ways to cook a sweet potato but the most used one is cooking it in an oven. But everyone is not a pro at cooking sweet potatoes. So, let's learn how to cook a sweet potato in the oven. 
Before heading into the ways to cook a sweet potato in the oven, let's discover the nutritional value of sweet potato and why it is recommended by so many nutritionists and dieticians all over the world.
Nutritional Value Of A Sweet Potato (Baked, serving size 200gms)
| | |
| --- | --- |
| Calories per serving | 180 |
| Carbohydrates | 41.4 Grams |
| Protein | 4 Grams |
| Fat | 0.3 Grams |
| Fiber | 6.6 Grams |
| Vitamin A | 769% of the Daily Value |
| Vitamin C | 65% of the Daily Value |
| Managanese | 50% of the Daily Value |
| Vitamin B6 | 29% of the Daily Value |
| Potassium | 27% of the Daily Value |
Along with these major nutrients, vitamins and minerals; sweet potatoes are a rich source of antioxidants. Sweet potatoes come in various shapes and colors like yellow, orange, purple, white, etc.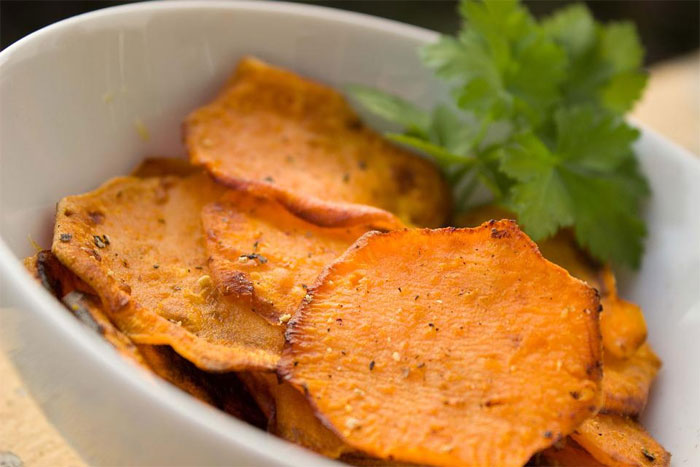 Two Different Ways to Cook A Sweet Potato In The Oven:
If you are planning a Sunday brunch or an evening tea party and want something delicious yet nutritious, think of sweet potatoes as a perfect choice for you. Let's see how you can cook a sweet potato in the oven, the two ways to do that are as follows:
Oven-Baked Sweet potatoes
Well, we all have eaten baked sweet potatoes especially on Christmas eve with our roasted turkey or chicken as a perfect side dish. Whereas vegetarians can enjoy it as a wholesome meal. If you are making baked sweet potatoes in large numbers then keep the size similar, not too big nor too small. Preheat the oven to 400 degrees before you start prepping.
So the first step is to wash the sweet potatoes under running water. You may need a scrub brush to remove the dirt from them. Now with the help of a fork pierce the sweet potatoes. This allows steam to escape while cooking. Depending on the size of the sweet potatoes 6-12 piercing can be done.
Now the second step is to apply some oil (olive oil or vegetable or any neutral cooking oil can be used) to the skin of the sweet potatoes and after that you can add seasoning to the sweet potatoes with salt (coarse salt is preferred) and pepper (black or red or yellow). 
Now in the third step, you need to wrap sweet potatoes in the foil individually or you can place them on a baking tray lined with foil. Both ways are effective. Now if you are wrapping sweet potatoes in foil then you can keep them directly in the oven rack and cook for 40-45mins. After that check it with a knife and you can adjust the timings according to the size of the sweet potatoes. 
Once they are done you can leave them for 10-15 minutes in the oven itself. This helps in the uniform cooking of sweet potatoes. The best baked sweet potatoes are those which are crispy on the outside and soft on the inside. 
Suggested Read – The Recipe To Cook Spaghetti Squash In The Microwave!
Now, you can just open them with the help of a fork or a hand and you can add different toppings for more flavor and variety. Like you can add feta cheese, butter, sugar, bacon, sour cream, chives, tahini, etc.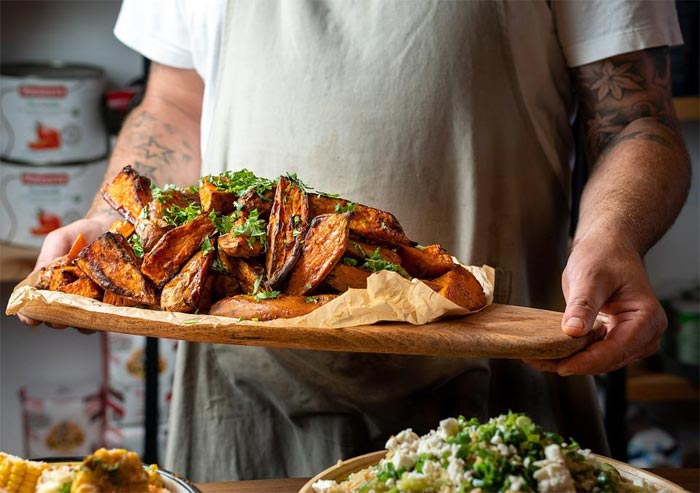 Oven-Roasted Sweet Potatoes
Roasting sweet potatoes in the oven is a popular way to cook a sweet potato. For roasting you can cut sweet potatoes in any shape of your choice like cubes, wedges, medallions, etc. Preheat your oven to 450 degrees before starting the prep to roast them.
So, the first thing is to wash and clean sweet potatoes and then cut them as per requirement. But make sure the pieces are uniform in size otherwise while roasting small pieces may get burned and charred excessively. This will give a bitter taste. Now, toss them in olive oil with some salt, pepper/ chili flakes, garlic, rosemary, thyme, etc. or any flavor combination of your choice.
The next step is to place them on a baking tray. Keep space between the diced potatoes if you want crispy and well-roasted potatoes. Set the timer for 30-35 minutes but keep tossing the sweet potatoes after every 10-15 minutes for cooking them evenly. The perfect roasted sweet potatoes are crispy and soft from the inside, not clinging to each other (this happens if the baking tray is overcrowded or not spaced uniformly).
You can serve them as a side dish or can use cubed ones in a salad, wedges with chicken or pork as a source of carbs. You can serve them with eggs for breakfast, or just eat them as a snack or mid meal. You can serve them with various dips like mayonnaise, herb butter, tomato ketchup, sour cream, hung curd, tahini, garlic chili sauce, etc. Options to enjoy the roasted sweet potatoes are endless.
Now when you know how to cook sweet potatoes in the oven, choose your option baked or roasted. Enjoy this super food at any time of the day and get so many health benefits. You can also cook sweet potatoes by boiling them or microwave them too.