The small dark matty looking yellow seeds which can be seen in every household in Asian, Mediterranean and European households has multiple health benefits along with a peculiar and a slight pungent flavor profile. The benefits of Fenugreek are so many that it is difficult to summarize in a one go but to tell the most important ones include its role in milk production in lactating mothers, menstrual cramps, bloating, hair fall, anti-aging effects, diabetes mellitus and many more disorders. It has been used in traditional medicine for over centuries for its extensive health benefits.
Fenugreek nutritional Value:
Fenugreek has a wide range of health benefits because of the presence of ample amounts of fiber, minerals, and antioxidants in it. The scientific name of Fenugreek is Trigonella foenumgraecum and belongs to the family Fabaceae. It is an annual plant with leaves arranged in three small oblong leaflets. India is the major producer of the herb Fenugreek and maximum amount comes from the state of Rajasthan as it grows well in semi arid conditions.
Fenugreek health benefits can be obtained from its leaves ( fresh or dried both), seeds, stems or twigs and oil. Not only that it is super rich in minerals like Iron, Magnesium, Calcium and Manganese. It is also a great source of Vitamin D, Vitamin B6, B2 and B1. It has a good amount of dietary fiber 25gm/100gm too.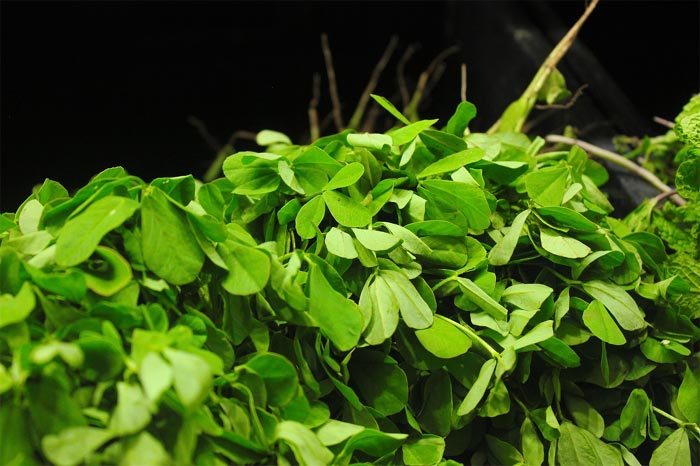 Benefits of Fenugreek in women:
Over the centuries it has been seen that the common practice which every lactating woman does is to eat methi ke ladoo to promote production of milk. Though not much scientific data is present, yet people have seen its potent effect on lactating mothers. Not only this Fenugreek helps in relieving the menstrual cramps and abdominal pain during the periods due to its anti-inflammatory properties. The alkaloids present in the herb blocks the sensory receptors that allow the brain to receive the pain signals. But one important observation which people say is to avoid excess consumption of Fenugreek in pregnant women as it can lead to uterine contractions.
Benefits of Fenugreek in Men:
Well not only in women but in men too the benefits of fenugreek are seen in the reproductive system. It has said that it has the power to increase the sperm count and testosterone in males. It also improves the libdo and vigor of male due to the enhancement of testosterone level in males.
Benefits of Fenugreek in general:
Not only Fenugreek has health benefits in males and females, in fact, it can be consumed among all age groups from children to senior citizens. It is one of the most commonly used herbs in day to day life especially in the Asian continent.
Few of the common conditions in which we have used Fenugreek as a tried and tested remedy in following conditions:
Diabetes, particularly in Diabetes Mellitus.
Weight loss and obesity
High blood pressure and cholesterol levels
Bacterial infections
Fungal infections
Gut health maintenance: constipation, gastritis,
Different kinds of cancer
Cardiovascular disorders
Skin conditions like boils and acne
Anti-aging effects
Hair fall and hair smoothening
Arthritis or joint pains
Bone strengthening
Headaches or migraines
Benefits of the Fenugreek leaves:
Well, both fresh and dried leaves of Fenugreek have multiple benefits when consumed in a balanced way. The fresh green leaves can be used as a vegetable directly and are considered very nutritious and healthy. Fresh leaves not only provide a good source of dietary fiber but are also rich in minerals like Iron and Magnesium, along with vitamin B complex in good quantities. The leaves are anti-diabetic and anti-carcinogenic in nature. They also help in digestion, skin and hair growth because they contain antioxidants and anti-inflammatory substances like Omega -3 and -6, beta carotene, vitamin C and many more. It also promotes bone strength as it is rich in Calcium, Vit.D and Magnesium. A substance called Diosgenin is present in Fenugreek that decreases the functioning of bone-eating cells called Osteoclasts thus preventing Osteoporosis.
Suggested Read – What Are The Health Benefits Of Oregano
Benefits of Fenugreek seed water
Fenugreek benefits in the health and weight loss industry are immense. It is projected as one of the miracles of nature because of its potent health benefits. The best way to consume the Fenugreek seed is to soak it for a few hours or overnight and then strain and drink the water at normal temperature. This water helps in removing bloating and aids in digestion thus better absorption of nutrients from the gut. It improves metabolism. It promotes weight loss as it is rich in fiber and thus satiety is reached early. Along with this it helps in flushing out the toxins thus detoxifying blood. It also helps in lowering cholesterol and also controls blood sugar levels.
There are no two ways that Fenugreek is a super potent substance that nature has provided with multiple health benefits. It plays a crucial role in the reproductive system of males and females. Along with multiple health benefits digestive system, bone health, blood sugar and cholesterol.