Well, the very first thing we can recollect if we say Pizza or Pasta is the flavor full condiment called Oregano. It not only enhances the flavor of the food we eat, but it has multiple health benefits too. As we further study the health benefits of the Oregano, we will find how useful it is for us in so many ways. 
It has become synonymous with Pizza in our country like we say butter and parathas or rabri and jalebi. But you all will be surprised to know that Oregano is not only used as a condiment in cooking. It is obtained from leaves of the plant called Origanum Vulgare. Although we use the dried leaves of the Oregano plant, as a spice or condiment in cooking in various cuisines like Italian, Mexican, French, Spanish and Greek. It is essentially used as a herb or spice and as an oil for health benefits across the globe, but with predominance in Mediterranean region and temperate Northern hemisphere regions.
Some essentials Features of the plant Oregano:
Well, Oregano is a flowering plant which belongs to the mint family called Lamiaceae. It is a plant which grows perennially with purple flowers and leaves are placed opposite to each other. It is commonly known as Wild Marjoram or Spanish thyme.
Plant of Oregano survives well in dry soil with a pH range from 6 to 9 i.e. slightly acidic to strongly alkaline. For culinary purposes, we see many cultivars of the Oregano plant as the original plant leaf is far bitter than what we eat on our tables. This is done for flavor enhancement with the help of techniques like grafting, tissue culture, etc.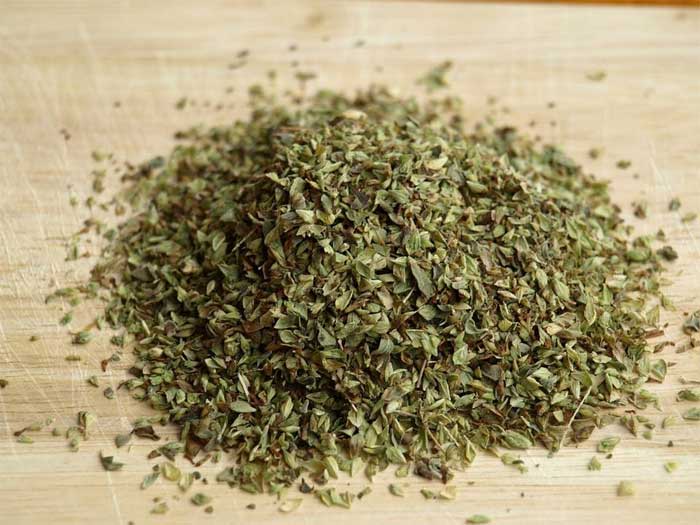 Health benefits of the Oregano:
Well we consume oregano plants mainly in two ways in our day to day lives one as a spice or condiment and second as an essential oil.
Health benefits of the Oregano leaves:
The use of the oregano plant as a herb or spice is done via dried leaves as dried leaves have more flavor than fresh ones. Dried oregano leaves in cooking have been used for thousands of years. That can be easily tracked down as the word is derived from the Greek words "oros" meaning mountain and "ganos" meaning joy. 
The leaves are super rich in antioxidants like thymol, carvacrol, limonene, terpinene, ocimene and caryophyllene. These antioxidants are the reason for the flavor and smell which oregano leaves exhibit and are the sole reason to use it in cooking. Not only flavor and scent, these antioxidants help in curing different ailments like skin sores, muscle cramps and aches, asthma, Indigestion and Diarrhea, Cold and Flu like symptoms and act as a general immunity booster for the body. Not only this, the antioxidant present in oregano leaves called Carvacrol has anti-microbial qualities too.
Also Read – What Are The Benefits Of Peppermint Oil?
Health benefits of the Oregano oil:
It is an essential oil which is extracted by drying the leaves and shoots of the plant Origanum vulgare. The oil is extracted and concentrated by the process called Steam Distillation. The Oregano oil has phenols, terpenes and terpenoids in abundance. These compounds have antioxidants properties and exhibit scent to the oil. Carvacrol is a kind of phenol which exhibits antibacterial properties. Thymol is another phenol which has antifungal properties and enhances the immune system. One another major antioxidant in Rosmarinic acid which protects the body from free radicals thus help in relieving stress and depression.
Most common uses of Oregano oil are as follows:
Natural antibiotic as it can fight against bacteria and fungal infections. 
It may help in reducing cholesterol levels due to the carvacrol. 
It is a powerful antioxidant as compared to other essential oils, so more potent.
It is really helpful in treating issues related to the digestive system like diarrhea, flatulence, bloating, stomach ache etc.
Some studies show that carvarol also helps in reducing inflammation thus acting as an anti-inflammatory substance too.
It may act as an inhibitor in cell growth and multiplication. Thus, it may help in spreading cancerous cells. Although there are many studies needed to come to a conclusion for this effect. 
It is a great tried and tested remedy from the kitchen of grandmas for skin and hair health issues. In acne, hair loss, anti-aging, etc oregano leaves fresh or dried and oil is used.
So we have briefly learned the health benefits of the Oregano which is now considered as one of the superfoods present in and around us. As much as we like eating oregano as a topping on our pizzas, pasta, meatballs, salads, chicken, breads and other staples in day to day life. We are surely adding some good antioxidant rich condiments into our bodies. It is one of the easiest ways of adding good healthy things in our diet. From toddlers to older men anyone can enjoy the benefit of this superfood day to day. It is not too expensive to use either.