The consumption of Beer in America is humongous. This can be easily correlated with the data that by the end of 2021 the beer industry values a whopping 94.1 billion dollars with more than 9,000 breweries of various kinds. In fact it is the 5th most consumed beverage after coffee, water, soft drinks and tea in America. As we know that Americans love drinking beer. So let's find out the top five best selling beers in America.
Before doing so, did you know what beer is? Well, beer is a fermented beverage obtained from a mixture of water, malt and yeast. The first beer production dates back 12,000 years back. At present the beer can be obtained from a variety of malted grains like wheat, corn, rice, oats and barley. The most common malted grain used for beer production is barley. The Hops flower is added in the process of beer making. This flower acts as a stabilizing agent and also adds flavor, fruity citrus aroma to the beer along with some bitterness. This flower also helps in providing freshness and good foam to the beer. So now let's come down to the top five selling beers in America, which are as follows:
1. Bud Light
As per the data, the top position is acquired by the Bud Light for the year 2020-2021. Bud light is the product of Anheuser-Busch InBev Brewery. As the name suggests, it's a light beer. It is available in bottles, cans and dreft kegs ( which makes it easy to stock). The unit sales accounts for 17.8% and volume sales accounts for 9.4%.
2. Corona Extra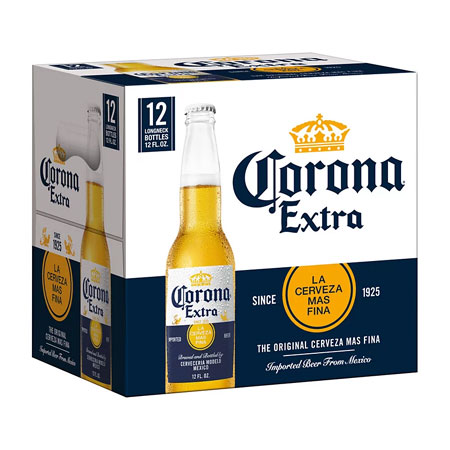 The second position of the top five selling beers in America is grabbed by the Mexican beer Corona Extra. It is a light beer. It comes from the same brewery that makes Bud light, that is Anheuser-Busch Inbev. It accounted for 14.1% sales via restaurant unit sales and only 6.8% in terms of volume.
3. Michelob Ultra
At the third spot in the list of top five selling beers in America is the Michelob Ultra. This beer is meant for those who love to drink but don't want to gain too many calories either. So if you are on a low carb diet then it can be an ideal choice. In 2020 it accounted for 8.6% of bottle sales and 5.5% of overall sales volume.
Also Read – Ever Heard About A Post-Workout Beer? It's Time You Had One
4. Coor Light
At the number four spot we have the classic American light lager the Coors Light. It is produced by the Molson Coors Beverage Company. It accounts for 7.3% of all sales volume as well as 7.3% in the unit sales.
5. Miller Lite
In the list of the top five selling beers in America at the fifth spot we have the original light beer Miller Lite. It is also part of Molson Coors Beverage Company. It accounted for 7.1% of unit sales in 2020 and 3.7% in volume sales.
Suggested Read – What Is The Future Of Cannabis-Infused Beer?
The Best Selling Beer In America
As we all know now, Bud Light is the top grosser in the list of best selling beers in America for another consecutive year. Let's now learn some details about the composition of America's favorite beer the Bud Light, which is as follows:
Nutritional Value for Bud Light per portion (30 grams):
Calories — 8.6 calories [78% of the calories comes from the alcohol, 17% from carbs and 4% from protein].
Total Fat — 0 grams
Sodium — 0.9 grams
Total Carbs — 0.4 grams
Dietary Fiber — 0 grams
Protein — 0.1 grams
Calcium —0.9 milligrams
Potassium — 7.7 milligrams
Iron — 0 grams
Others — Alcohol (ethyl alcohol): 1 gram and Water: 28.02 grams.
Bud light was first introduced in 1982 as Budweiser Light but by the end of 1984 it was known as Bud Light, the flagship light beer from Budweiser (ABV 4.2%). There are different varieties of Bud Light which are:
Bud Light Platinum — introduced in 2012 it is a sweeter and higher alcohol version of Bud Light (ABV 6%).
Bud Light Seltzer — launched in 2020 as an alcoholic seltzer water beverage. It comes in four flavors namely blackberry, lemon-lime, strawberry and mango. One can has 5% ABV and 100 calories per 354.8 grams / 12 fl oz.
Bud Light Apple — has 4.2% ABV same as Bud light. It has 151 calories per 12 US fl oz. It was introduced in 2015.
Bud Light Lime — released in the year of 2008 with an alcohol content of 4.2% same as Bud light. This Bud light version has 116 calories per 12 US fl oz (354.8 grams).
Bud Light Lime-A-Ritas — the flavored malt beverages launched in the year 2012 by the AB breweries with 8% alcohol comes in flavours like Lime, mango, strawberry, raspberry, cranberry, apple, watermelon, cherry, peach, orange, grape, passion fruit, coconut, etc.
With time to time new additions and subtractions have been done with the flavor profiles of Bud light series according to the market feedback and sales.
The American state which consumed a whopping amount of 41.5 gallons of beer is New Hampshire, which took first place. On the other hand, Maryland is the state with the lowest consumption of beer across America with 19.7 gallons of beer.
Also Read – Have You Heard About Oenobeer- A Cross Between Wine And Beer?
The American state with maximum breweries is California with a total number of 1466 breweries. The least number of breweries at the count of 26 belongs to Mississippi state.
Clearly, the data shows how much Americans love to sip this beverage. The numbers are increasing only and surely the beer industry is going to thrive more in the coming days. So grab one of your favorite beer from the top five selling beers in America and enjoy it with your family and friends and make loving and happy memories.