Cannabis and alcohol! Two absolutely unrelated, uniquely different and not so vague means of getting high. You get sloshed when you consume copious amounts of alcohol. And you feel something quite unique, nothing like how an inebriated person feels when you get high on cannabis! But if ever the two were to be infused together to produce an alternate means of getting high, it had to be through beer, right? So it ought to be asked- have you tried cannabis-infused-beer- how unique is that?
At a time where the future of the beer-drinking market is seemingly standing at the cusp of great change, more and more beer versions trying to flirt with the idea of sugary, sweetened tastes, cannabis-infused beer prompts the beer enthusiasts to retreat to the classic bitter-ways of the taste.
Just take, the blubeery-muffin flavored beer, for example! Just who thought that something like that was coming? But it is here! As the global beer market attempts to salvage some lost pride with the rise of the ever-growing wine culture and sweetened mocktails providing hearty competition, something like cannabis-infused beer is an interesting idea to play around with.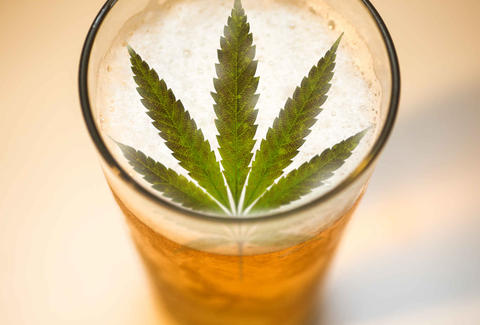 Yet, one must tread with some caution. The rather interesting, off the run-of-the-mill beer product is yet to become a mainstream version of what can be called one of the world's most popular and friendly beverages (of all time, alongside coffee)!
It must be said that the cannabis-infused beer never arrived as a mainstream option. To beer lovers and those who didn't really think of beer as a regular drink, it became more of an alternative drink. Its entry or forays into the beer market was tougher than what most would think.
That's down to the fact that the alcohol industry veterans or stalwarts tried to prevent the legalization of cannabis. But once the realization kicked in that banning of cannabis was no longer the option to contend with, they kicked out their attempts at creating roadblocks toward its consumption and instead, joined in the market to create a cannabis-infused beer, creating a new alternate drink available in bars and lounges!
Now that told, it's important to know where is the cannabis-infused beer headed to; what remains in the course of the future!
Here's a look at what Corona and Boston Beer are doing:
Boston Beer is another big name that announced its entry into the cannabis market after the success of its hard seltzer business. Others, like Lagunitas Brewing, launched cannabis-infused sparkling water. Moreover, Corona beer maker Constellation Brands bought a sizable stake in cannabis maker Canopy Growth, and Molson Coors acquired a majority stake in cannabis producer Hydropothecary.
The interesting point, nonetheless, is the fact that much of the cannabis-infused beers that are readily available in bars across geographies like Canada, US and others are, in fact, non-alcoholic beverages. And to their defence, the makers of these beers also suggest that their products are healthier than most others and more in sync with what the millennials want today.
All of this said it must be contended that these are interesting times for the beer and non-alcoholic beverages industry. So have you tried this rather unique form of beer yet?