Women are exposed to a large and interesting market where everything is available for each of their problems, from acne to acne scars, the skincare industry in India is dumped with a large number of products for women's skin. And, the same is now happening for men too. Various brands are coming out with some of the most interesting and amazing products to reach out to the male population which is exposed to the same amount of pollution and dirt and an Indian woman is.
As for today, we'll be discussing some of the best face washes for men in India. These face washes are known to deliver what they advertise and are gaining a great response in the market which makes their relevancy in the market, as well as, among the consumers, stronger.
Now if you are someone who believes face washes are for only women then you're entirely wrong mister. There's a wide variety of face washes for men in the Indian market and they are loved by the consumer for properties like a much cleaner face, acne and acne scars reduction, as well as, for the eliminating dark spots and oily skin. So, if you're someone who is going through a similar problem then keep on reading and find your skin's best friend.
Here's a list of 7 Best Face Wash for Men
1. L'Oréal Paris Men Expert Volcano Red Foam Face Wash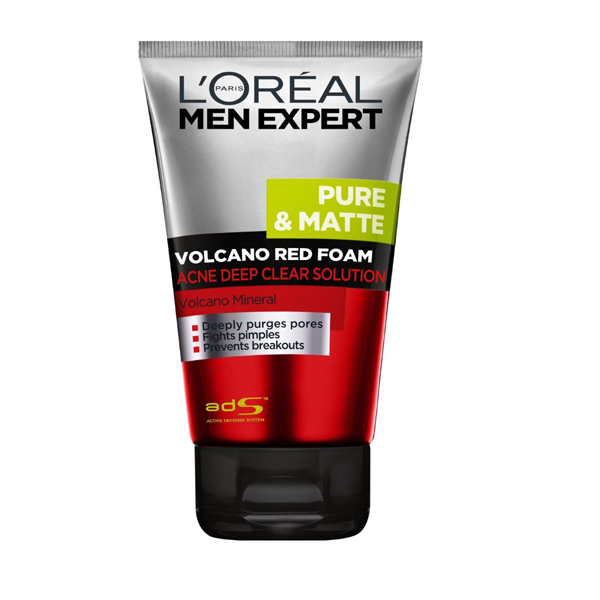 This might sound like a biggie for some, in terms of the name, but it absolutely delivers what it promises. This is one of the best face wash for oily skin and can make your skin feel clean and oil free almost instantly after the usage. It's a transparent gel which is filled with volcano mineral extracts that work commendably on washing off the impurities and getting rid of pimples and acne scars.


2. Beardhood Caffeine Face Wash Cleanser
Amazon
It is one of the most amazing men's face wash for oily skin and cleans off all the impurities off your skin without leaving it to seem dry and maintains its pH balance. Best part, it is made from all things natural like coconut cake powder, tea tree oil, coffee beans extract and jojoba oil. Along with all this, Beardhood's caffeine face wash is also popular for unclogging the blocked pores which make your face look more dirty and tiring than ever.


3. The Man Company Charcoal Face Wash
Amazon
This charcoal face wash from The Man Company can easily be considered one of the best face wash for men in India. In fact, it is one of the best face wash for dry skin, which is bound to face problems like cracked skin, roughness, and itchiness, almost all year round. This face wash is filled with essential oils like Ylang-Ylang and Argon, along with a good amount of charcoal which combats some of the biggest threats of a dry skin. On top of it all, it is free of all harmful chemicals like parabens and silicon which is not only good for your skin but also for the environment.


4. Himalaya Moisturizing Aloe Vera Face Wash
Amazon
It is not specially targeted or made for men and yet it can easily be considered one of the best face wash in India for dry skin, be it men or women. It is rich in polysaccharides, enzymes and Vitamin E which cleanses, hydrates and moisturizes your skin. Plus point, it is extremely pocket-friendly and readily available.


5. Nivea Men All In One Face Wash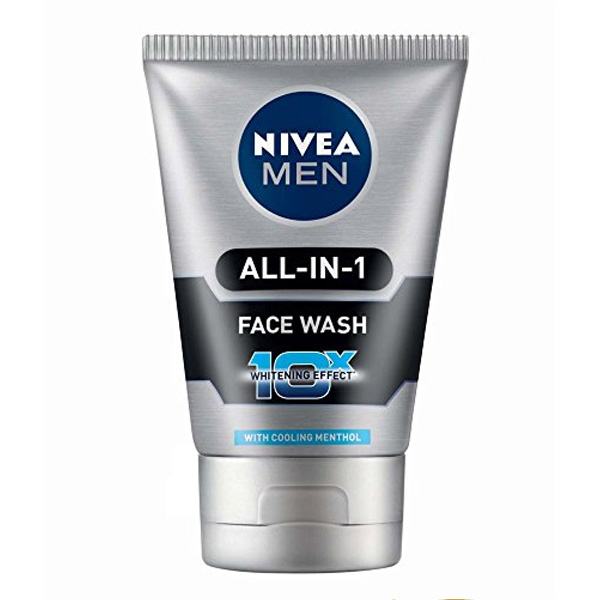 Nivea Men portrays itself as one of the best face wash for men in India and with the results that people have seen after using it, rightly proves it. These Nivea Men face wash seems to be tailor-made for men with oily skin and is infused with a natural charcoal formula, along with cooling mud. It reduces acne spots, offers a long-lasting oil control effect and prevents acne breakouts, leaving your skin looking fresh and clean.


6. Neutrogena Oil Free Acne Face Wash
Neutrogena is known to make some of the best face wash for oily skin and someone who has used it can easily vouch for the fact. Apart from leaving you oil-free, it is an effective tool in combating acne and it even exfoliates dead skin cells. These and many more benefits of this face wash make it one of the best face wash for men in India.


7. Garnier Men Intense Fresh Face Wash
Amazon
Talking about some of best face washes for men and not talking about this particular face wash is almost a crime no one dares to commit. It is a gel based face wash with a heavenly and refreshing fragrance. It advertises to leave your skins super clean and helps you get rid of impurities and it does absolutely that. Formulated with Ginseng and tea tree extracts, it is a perfect face wash for everyone's vanity.
These are seven of the best face wash for men in India and if you're someone with any skin kind then you need to try at least one of them and see the difference they offer to your skin, for yourself.