Are you searching for trees that can provide you with more privacy in the backyard? For privacy, these natural backyard trees are way better and eco-friendly than any artificial privacy fence. There are a lot of other benefits to it.
Choosing the right type of tree is crucial. Such plants will make your backyard look beautiful and add some privacy to your home. Adding the right trees for backyard privacy around your house will change the entire look into something else. 
This article will discuss the best privacy trees for the backyard, which you can add to your backyard. 
1. Darkstar Purpleleaf Sand Cherry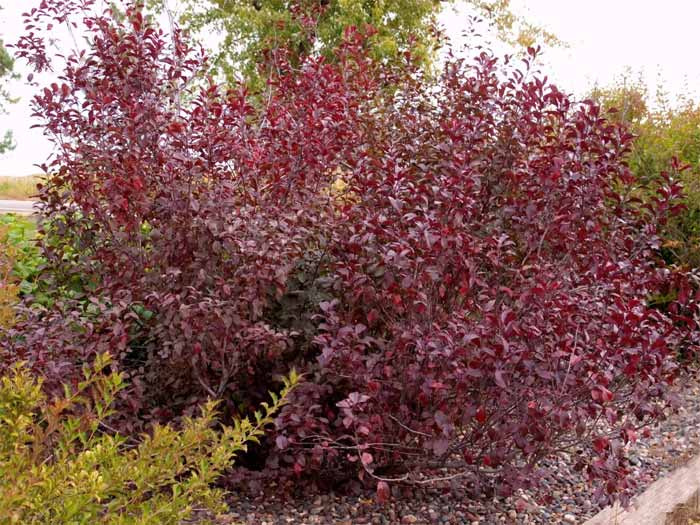 This tree has very dense branches. It starts right from the ground and grows as long as 5 feet above the ground. The plant is a perfect border plant that will add more privacy to your backyard. You can enjoy the purple-red and maroon foliage while, during spring, it blooms in white or light pink colors.
2. Jade Waves Fernspray False Cypress
Jade waves are another great backyard tree for privacy. The branches of this tree arches, and the green foliage brings a fresh feeling to the garden. You can plant an entire row of these Jade waves and enjoy privacy. The fern-like foliage creates a beautiful look in the garden. As time passes, these trees will grow up and may reach about four feet wide and as tall as eight feet. You can easily place around 4 to 8 fern sprays in a row. 
3. Hybrid Willow Tree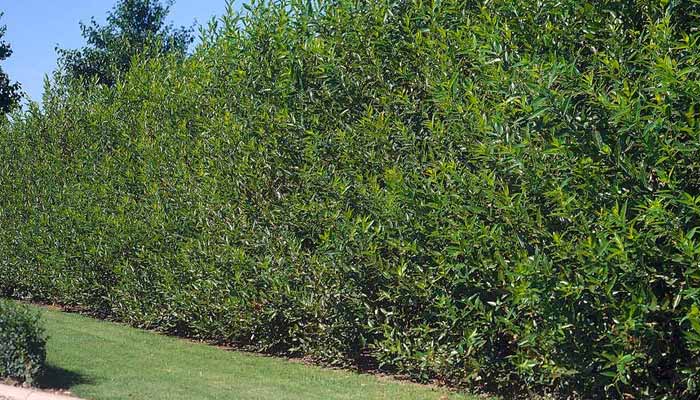 The Hybrid Willow tree grows about 10 feet per year. It reaches its maximum height in about five years. The good thing is the plant is resistant to diseases. These trees for backyard privacy were bred to work like thick walls and keep away neighbors as we have other sorts of chaos. The willow tree is suitable for cold weather as well. The dense foliage makes it a great windbreak tree. These trees are good for the soil as well. They can dry out swampy soils. These trees need a good amount of water but can then survive times of drought as well. If you have a large yard, this tree is perfect for you. Just make sure to leave a distance of 5 feet in between the plants. 
4. Spartan Juniper
If you have a smaller yard and cannot accommodate large trees, then this one can be a great option. You can simply plant these small trees for backyard privacy. It looks very uniform, and the compact foliage makes these effective windbreak trees. They can grow up to 15 feet in height. They need direct sunlight for at least six long hours in a day. These privacy plants for the backyard are preferable to be grown in dry soil and where there is an ample amount of sunlight. Excess water is not suitable for these trees. Hence one needs to be careful with heavy pruning as well. They need to have enough space between them and must fit naturally in the space up to their entire size. As they are water-efficient, there is no need to water them daily. Natural rainfall is good for these trees. The dark green color of the tree remains intact throughout the entire year. The spartan juniper can survive in both hot as well as cold temperatures. 
Also Read – 5 unique trees that grow in India and why you need to know about them
5. Green Giant Thuja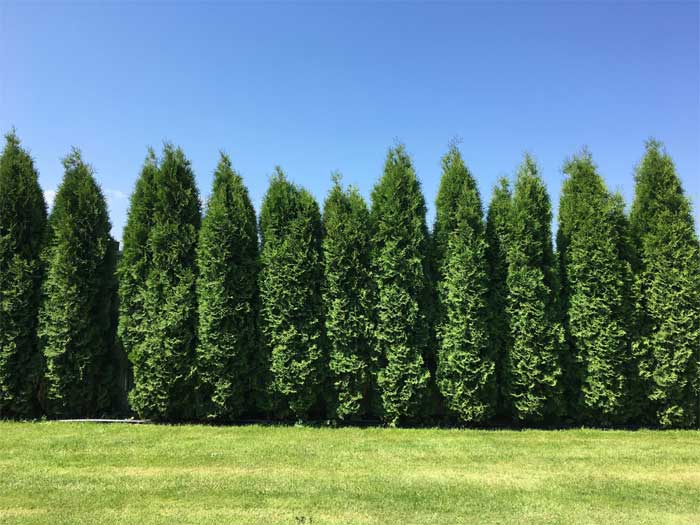 The Green Giant Thuja is one of the best trees used for privacy. It is one of the most popular trees when it comes to choosing the best ones from the backyard. These trees grow very rapidly and can endure extremely cold weather. These can survive long and are hardly affected by any pests or diseases. The cone kind of shape and its growth of 3 to 5 feet per year makes it a good choice. There is little to no requirement for pruning. You can either trim the top of it or just let it be as it is to retain the natural look. One needs to be careful about deers around. The soft, chewy leaves of the tree attract deer, so be careful about that. These giants can survive hot, humid, and even drought situations.
6. Mandevilla
The Mandevilla is a fast-growing plant. It attracts butterflies and other hummingbirds to it. It is very colorful as it has different flowers like red, pink, and even white. You can plant it in spring when the time of frost has passed by. Make sure you select a particular spot that gets an ample amount of sunlight. The Mandevilla plants are available in two types – Mounding and Climbing. If you are planning to plant the tree, then you must choose the climbing variety of the tree. You can be assured that the tree won't be disturbed by deer or rabbits.
7. Blue Arrow Juniper
The blue arrow juniper is quite a hardy shrub that grows to 3 feet wide and about 12 feet tall. The shrub is ideal as a living privacy screen. It will not take up a lot of space and will improve the look of your backyard. The base color is cool blue, and the tree can easily match with other varieties of plants. However, it takes a little maintenance to grow the plant. But once it is fully grown, it is easy to maintain the tree. It is completely resistant to drought factors. You can plant around 4 to 9 in a row or at different backyard zones.
Conclusion
Whenever you plan to have privacy plants for the backyard, just make sure that the tree fits well in your region. The tree needs to fit your region, the climate, and the soil. If you are not sure about the fit, you can consult an expert in the landscape. Take some good ideas of the space and the soil before you go ahead and plant them.