In our country, home is…where the food is delicious and hot. No Indian home is complete without an Indian Kitchen and no Indian Kitchen is complete without its stove or Gas burners as ovens and microwaves just cannot handle the heavyweight frying, sautéing and flambé. So, it is the gas stoves that comes to the rescue, and how to find a good one? For your convenience, we have compiled a list of the best gas stoves in India.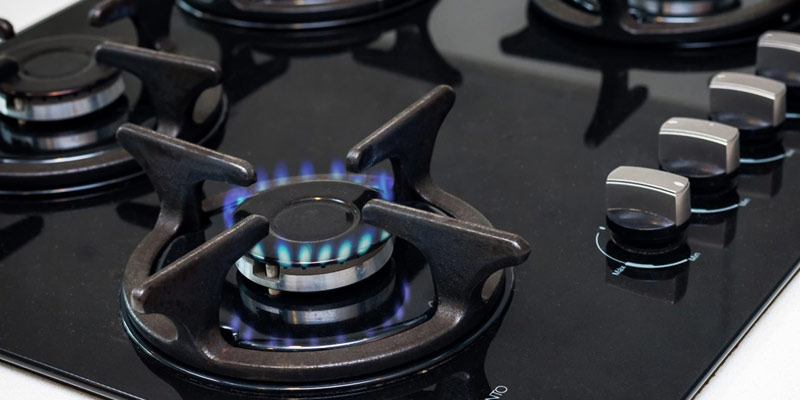 For the perfect 'tadka' to any Indian dish, it is but necessary to do it on a live flame and technology has made it easier for us to control the flow and intensity of these flames to get our dishes done just right. The best gas stoves in India are manufactured keeping the end-users requirement in mind. Any manufacturer worth his salt knows that the busy Indian kitchen requires efficient gas stoves for dishing out the most preferred regular dishes for all families. Have you ever tried making idlis in a microwave or poppadum in an air fryer? If you have, then you know what I am talking about.
For those looking for the perfect gas stove for their cooking requirements, I must say that first, you have to decide for yourself what you want it for?
Are you a single person who wants a gas stove for light and occasional cooking?
Are you an avid cook who would like to retain your favourite gas stove for future use as well?
Are you a family person on the lookout for the best gas stove for your small or large family needs?
Depending on your answer you may have to choose between twin, triple or four-burner gas stove model. Then you also have to decide if you want a regular steel cooktop or the glass hob top?
The best gas stoves in India are the ones which are bought in fair numbers across all areas regardless of local cuisine. Though a lot of people buy locally made gas stoves they develop snags very quickly, require frequent repairs and early replacements. To avoid these problems you may choose from a few brands of gas stoves which we have enlisted in this article. To simplify things I am going to list gas stoves by brand name in no particular order. Out of the hundreds of brands, these have proven to be 'the best gas stove brands in India'. Each of them have various models which you may choose from. For this article, I will mention the make and model which is most preferred by customers throughout the country.
1. Pigeon – Best Gas Stoves in India
Pigeon manufactures gas stoves with two, three and four burners. What I like most is the 3 burner glass top gas stove for its spill-proof design and durability. Its ISI certification and 2-year warranty are just added benefits.
Suggested Read: Best Microwave Ovens in The Indian Market
2. Sunflame
Though Sunflame also manufactures all kinds of gas stoves, my personal favourite is their two-burner model for it is reliable than most other dual burner gas stoves in a similar category.
High-quality brass burners and hardened glass top make everyday cooking much hassle-free.
3. Prestige – Best Gas Stoves in India
The prestige four-burner gas stove is the best in this price range. Along with great brand value, this prestige gas stove offers great pan support and is ideal for bigger families and kitchens.
4. Kaff
Kaff does offer a wide range of built-in kitchen appliances and accessories for modular kitchens; their KCM69 4 Burner cooktop with toughened black glass is perfect for heavy-duty kitchens.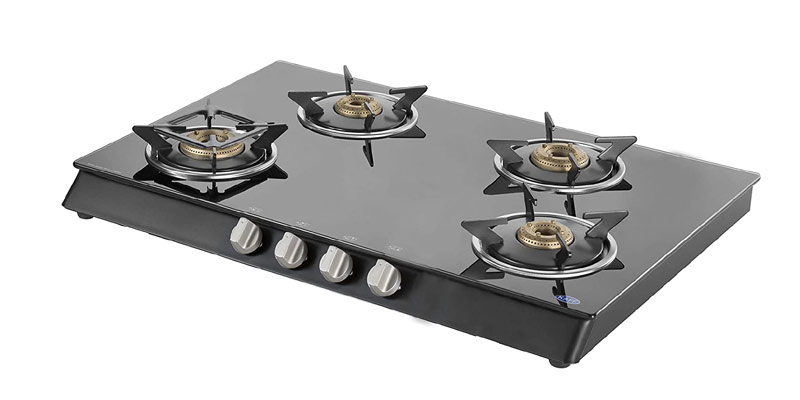 The brass burners and metal knobs are sturdy and will last you a long time.
5. Faber
Faber makes gas stoves in the higher price range but they are worth every penny spent. The best and most economically viable model is the 3 burner, auto ignition hob top – HCT 753-SR CRS LBK CI. The three burners are placed very conveniently as compared with other brands in the same category. The cast iron pan support is tough and there is a 5-year warranty on burner and valve.
6. Bosch
The Bosch four-burner hob top with tempered glass is an aesthetic addition to your kitchen. With great utility, it just makes your countertop more attractive and makes you want to stay near the stove for a longer time.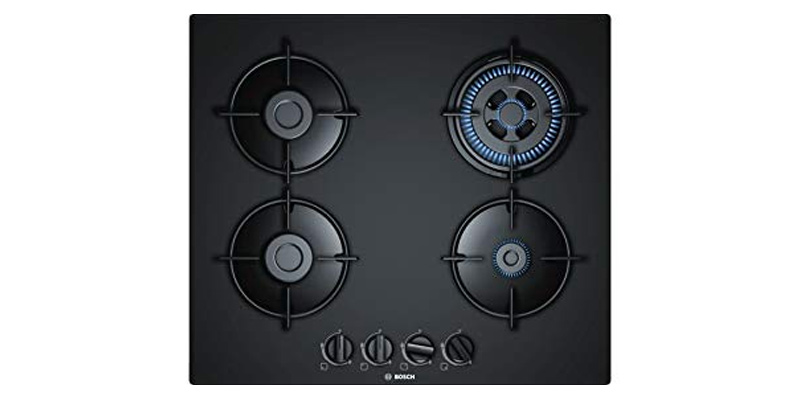 This gas stove is fuel-efficient and the individual steel pan supports are a pleasure to work with.
7. Elica
Elica is a close competitor to Faber gas stoves. Elica 4 burner hob top comes with a premium finish glass top. What works for me are the uniquely placed burners and knobs which are placed two at each side which makes functioning easier.
8. Butterfly
The two burners stainless steel gas stove is the best one for people living alone or with a roommate or partner. They are economic, efficient and easy to clean. Their pan support is excellent and the knobs are sturdy and don't break easily.
9. Lifelong
The 3 burner manual ignition glass top gas stove by Lifelong is truly what the name suggests. Brass burners, steel pan support and nylon coated heat resistant knobs are just the requirements of a long-lasting gas stove in the Indian kitchen.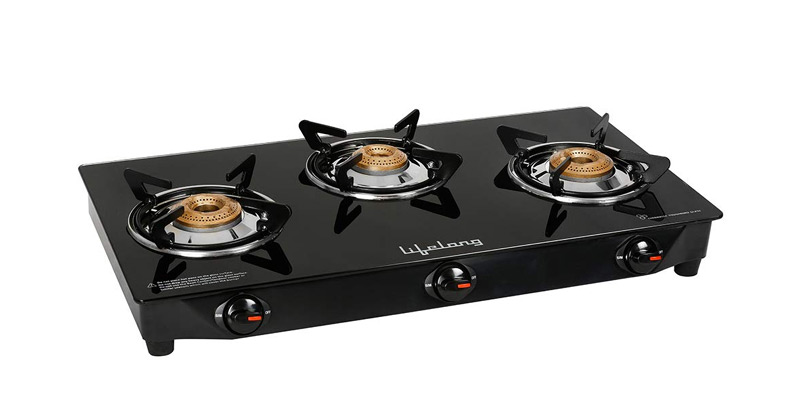 The gas stove is the most used appliance in all kitchens so you should look at the space available for your gas stove and focus on your or the family's cooking requirements. We have listed the best gas stoves available in India but once you purchase and bring one of them home, its life is much dependant on your use and upkeep. Daily cleaning of the stovetops and burners enhances their life and sheen many folds. If you ever face a problem with ignition or gas supply you must seek professional help and not try to repair these by yourself to avoid major mishaps.
Suggested Read: Best Non Stick Cookware Brands in The Indian Market
Each gas stove mentioned in this list of best gas stoves in India is 'best' for a specific purpose. You must choose the one most suitable for your usage and budget.