'Kabhi Khushi Kabhie Gham' is definitely one of the most iconic movies ever, it is a 3-hour family drama with the most emblematic characters ever (I mean who can forget Poo?). She was a strong example of No Fucks Given. It is the ultimate family drama which is mandatory for your Sunday afternoons. Today is the film's 15th anniversary, which calls for a celebration, right? Here are some of the most hilarious Kabhi Khushi Kabhie Gham dialogues that will leave you laughing your hearts out.
Let's talk about some of the most amazing dialogues from the movie that have shaped our childhood in the best way possible. The movie has everything, from Kajol's quirky dialogues to Hrithik's emotional ones, to Kareena Kapoor's confidence driven dialogues.
Here are some of the best ones.
1. "Gamlaa! Nai Gamla nai vase…."
*When you're sorry, yet don't want to hurt other's feelings*

2. "Morning Sprightley… agayi kamini bacchi chodhne?"
*Just say it with a smile, and they'll never know*
3. "Hey Poo! Movie tonight? "Tell me how it waaaaaaaaas."
*The most epic burn in the history of Bollywood*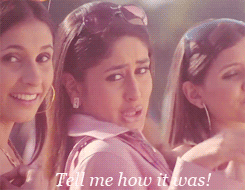 4. "Ye joke tha?" "Tha toh!" "I don't like jokes." "I don't like you!"
*Them Kuch Kuch Hota Hai feels*
Suggested Read: Iconic Sanjay Dutt Dialogues Scribed In Our Hearts Forever
5. "Chandu ke chacha ne chandu ki chachi ko chandni chowk mein chandi ke chamach se chatni chatayi. *pause* Chatni chatayi!"
*If only tongue twisters looked so hot on guys*

6. "It's raining men… Hallelujah!"
*Let's sing it with our girls*

7. "Kaun Ashfaq miya keh rahe hain… bade mazaaki ho, bade mazaaki ho!"
*How can you be so Innocent Kajol?*

8. "Main keh rahi hu Rukhsaar, main keh rahi hu. Woh meri dukaan hadapna chahta hain!"
*Kajol's innocence part 2*

9. "Fat?!" "P.H.A.T: Pretty Hot And Tempting"
*the best response to fat shaming*

10. "Tumhe koi haq nai ki tum itni khoobsurat lago"
*channel your inner confidence like never before*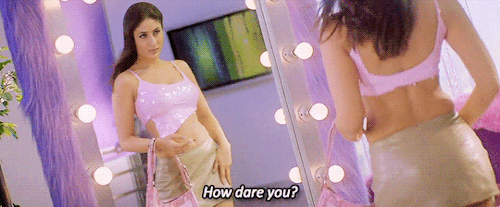 Follow us on Facebook, Twitter and Instagram for more updates. Don't forget to like and share. Do tell us your views in the comment box below.