An excellent way to stay healthy and upbeat, plus a remarkably easy way to be directly connected to one's habitat, few activities in life hold as much value as sheer charm as cycling. And it may not be entirely incorrect to say that never before in mankind's recent history has this particular activity been so famously explored than now, these being tremendously taxing times stifled with the COVID-19 Coronavirus.
Having said that, while cycling in itself, is an exciting prospect, regardless of day or time of the week or month, persisting with it in the green environs and serene charms of Europe is a truly fascinating experience.
Additionally knowing the proclivity of Europeans toward cycling, one could argue that there could only be a few other exciting engagements that may hold as much thrill as the fun that stems from peddling one's way to infite pleausures.
Surrounded by lakes and mountains, and finding one's connect deepening with the enormity of eye-pleasing pleasures all thanks to the bounty of Mother Nature- few other things can match the euphoria that stems from biking anywhere in Europe's serene landscapes.
Among the most popular images that conjure in the mind is the famous sequence from The Sound Of Music with Julie Andrews and the seven Von Trapp Family kids biking away under beaming Austrian sun, surrounded by boundless pleasures and fanfare! Right?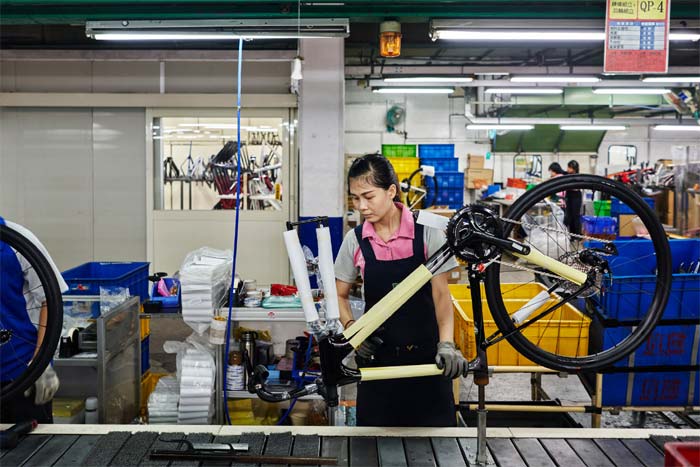 And truth be told, the current period is quite the boom time for anyone into the business of biking, which directly brings us to an interesting developing byte from one of the world's most enigmatic continents.
It turns out that despite much of the world grappling with one of the deadliest and contagious viruses ever experienced in mankind's entire history, there's nothing stopping the growth of sales and revenues for those who are in the business of producing or manufacturing bikes in Europe.
First up, let's gather what's most important to know. Just who is Europe's biggest bicycle maker as of now? In that regard, it's important to note that the Portuguese firm RTE S.A., currently all set to open a brand-new manufacturing facility in Poland, come 2021.
The said firm, with an annual production capacity of anywhere between 1.2 to 1.4 million units has enjoyed an unprecedented success catering to much of the 44-nation strong continent.
Importantly, it helps to know that in current capacity, RTE S.A. runs and operates the entire continent's biggest bicycle assembly plant.
And where the current pandemic stands, having enforced, time and again, restrictions on public or mass movement, then favourable situations pointing toward a boom time for European bike makers has decorated headlines every now and again.
What's, of course, aided in higher sales figures during this time than one may have imagined, has been the public fear (and very rightly so) associated with 'catching the virus' at public transport systems.
The greatest idea of recreation, therefore, amid troubled times, for much of Europe, has been to simply hit the road on one's bike.
A recent report published on the celebrated BBC captured the gravitas associated with this development, stating the following:
"Some bike stores are battling to meet demand. Broadribb Cycles in Bicester normally despatches 20-30 bikes a week, but manager Stuart Taylor says the shop is currently selling 50 bikes every day – and seeing a commensurate rise in demand for servicing."
Moreover, what's also helped sellers are the kind of schemes that have been newly introduced in such time. Various cycle schemes, for instance, across the United Kingdom, allow employees to claim a tax credit for those bikes that they buy at work.
Also Read: A Corona-made Disaster For Italy's Cruise Ships
Well, where Europe's biggest bike makers are concerned, their only hopes would be to enjoy a non 'cyclical' and repeat nature of this glowing success. So fair enough to say that not every business is faltering amid the deep pandemic, right?