The sun-kissed mountains, cool breeze, diverse flora and fauna and greenery all around. This is what comes to our mind when we think of Himachal, Right? Over the years Himachal has become overly crowded with tourists and the major tourist spots have seemingly lost their charm. But there are still some unexplored places in Himachal Pradesh that are away from the limelight and have that authentic rich mountain aura treasured in them.
These are some of the unexplored places in Himachal only avid travellers know about, finely hidden from the eyes of tourists
Barot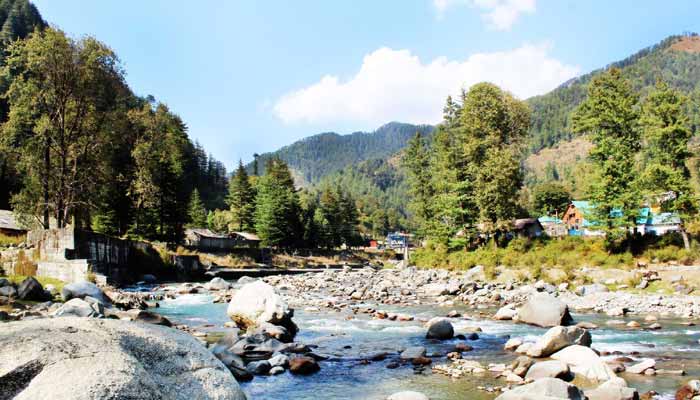 Situated in Mandi district of Himachal is a small town known as Barot. It serves as an ideal place for adventure activities and is also a breeding centre for fish such as trout and has several fishing farms. The Nargu Wildlife Sanctuary is situated in Barot which is home to many native Himalayan species like the Himalayan Black Bear, Gorals and many others.

For those who seek adventure, there are quite a few trekking trails in Barot that pass through lush green forests and the wildlife sanctuary.
Since Barot is not known by many, it is an ideal vacation spot to relax and rejuvenate away from the hustle and bustle of the city and also from the other crowded hill stations.
Barot Valley is accessible by roads, railway and air. The nearest airport being the Kullu airport and the nearest railway station is Jogindernagar railway station.
Kalpa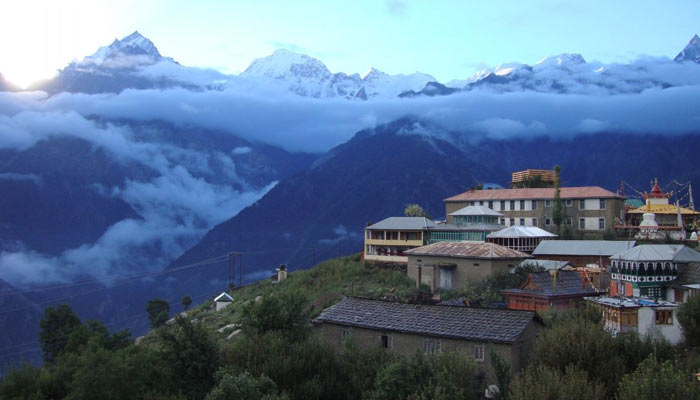 Kalpa is one of the biggest villages in Kinnaur district of Himachal Pradesh and is known for its picturesque scenery, lush pine nut forests and the snow-covered Mountain Mount Kailash in the backdrop.
For nature lovers, this place is like a paradise with countless numbers of apple orchards that drive the cash flow in this region. The sacred Kailash Shivling can be seen from here. It is said that the Shivling changes its colour throughout the day.
An ancient Kali Mandir is also situated near Kalpa. The temple is known for its intriguing architecture and is a must-visit place.

Sangla
Sangla valley is one of the most beautiful valleys in the entire Kinnaur District of Himachal Pradesh. It is located at a distance of 57 km from Kalpa. The moment you set your foot in the valley, beautiful scenery of snow-capped mountains and lush green surroundings will take your heart away.
Himachal is famous for its temples and one such temple named called Bering Nag Temple in Sangla is devoted to Naga's God, making it a must-visit. Other must-see places are Rackchham, Kilba and Kamru Fort.
Churdhar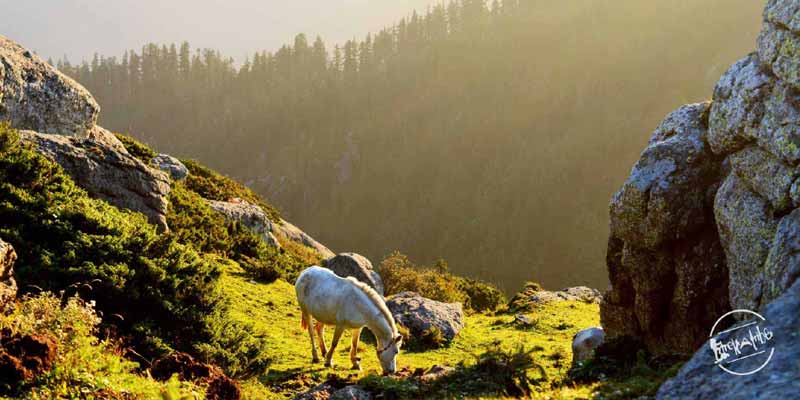 One of the best unexplored places in Himachal is Churdar which literally means 'Dressed in the moonlight', and it definitely lives up to its name. The nights here are completely serene, calm and as beautiful as they can be with the mountains basking in the grandeur of the moon.
The Sarain trek is a 48 Km long trek that takes you through the charming deodar forests to the ancient Srigul temple. The trek is a must-do to experience the thrill and calmness together.
A huge statue of Lord Shiva sits atop the peak and offers a birds-eye view of the surroundings. Sit in peace at the top of the hill, soak in some fresh air and sip on some hot tea. It can't get any better.
Thanedar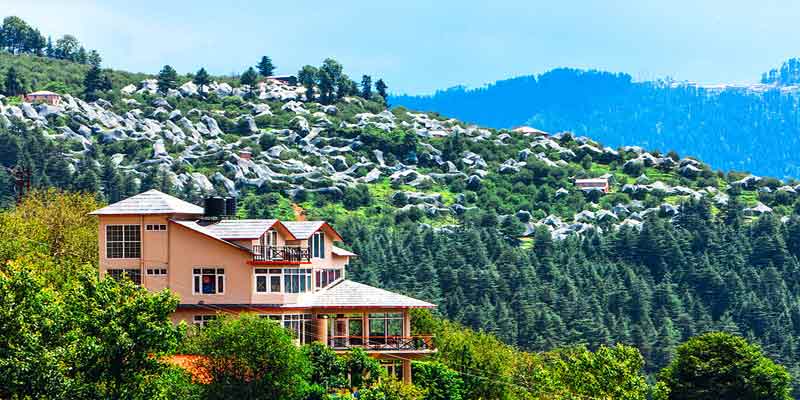 One of the biggest suppliers of juicy apples and cherries in domestic and international markets, Thanedar is a beautiful village sitting in the lap of nature and is situated near Shimla making its way as one of the best Unexplored Places in Himachal Pradesh.
Suggested Read: The 10 Most Beautiful Travel Destinations In Asia
Sitting at an altitude of 8000 feet, one constantly gets a bird-eye-view of the surrounding valleys, which is a truly beautiful experience.
The famous attractions to be seen here are the Nag Devta Temple, St. Mary's Church, Tani-Jubbar Lake and the Hatu Peak.
Thanedar is accessible only by road, the nearest airport is the Chandigarh airport from where you have to continue the rest of the journey by road.
Shoja
Situated near the famous Jalori Pass lies a small village called Shoja. A hidden gem in the list of unexplored places in Himachal Pradesh, Shoja is untouched by the commercialization unlike other crowded hill stations.
A perfect destination to relax and soak up in the freshness of the surrounding and the beauty of nature.
A famous attraction here is the Serloskar Lake known for its picture-perfect sunset. Near this lake lies a natural waterfall, and unlike other waterfalls which are usually crowded, this waterfall is uncongested, where one can take a refreshing bath or relax.
Gushaini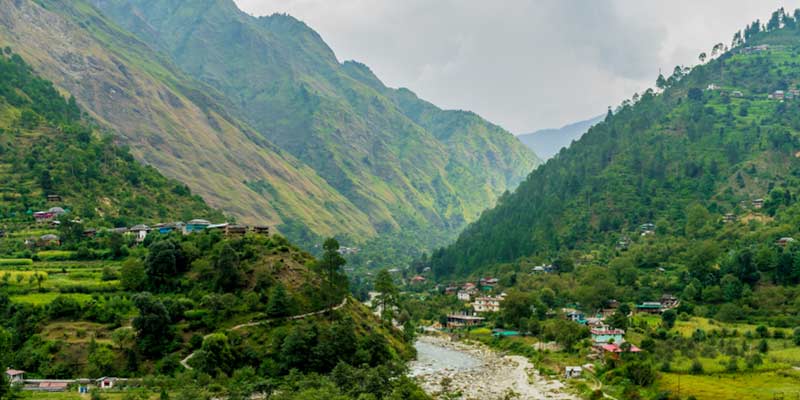 A plethora of Trout fishes in the Tirthan River, Gushaini is an ideal spot for fishing activities. For people that have an inclination towards adventure and outdoor activities, Gushaini offers plenty of opportunities for camping and trekking activities.
Setting up tents along the river banks, a bonfire, and a good company. Can you think of anything better? Some nearby attractions include the Great Himalayan National Park, Chhoie Waterfall, Syringa Rishi Temple and Chehni Kothi.
To reach Gushaini, the nearest airport is Bhuntur Airport. Himachal Pradesh Roadways bus service is also available and the nearest railway stations are Jogindernagar Railway Station and Chandigarh Railway Station.
Rakcham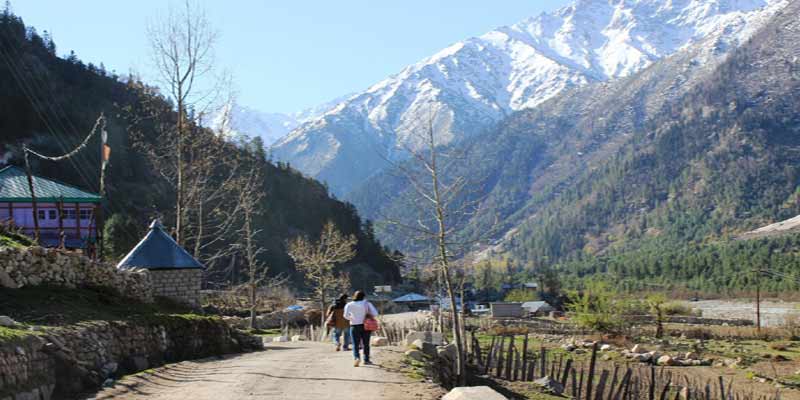 Another hidden gem in Himachal, Rakcham is a small village quietly nestled in the serene valleys of Himachal. Situated in Kinnaur district, the inhabitants are known as Kinnaurs and their main occupation is that of herding cows, sheep and farming.
Suggested Read: The 10 Offbeat Places In Goa Only a Few Travellers Know About.
If you want to escape the rushed life of the city then Rakcham would be one destination worth considering.
These are some of the unexplored places in Himachal that are yet to be hoarded by tourists. Serene, beautiful, relaxing, close to nature, having a majestic aura; these offbeat destinations will fill you up with new energy and enthusiasm to tackle the city life once again.