An airport is usually not a wellness oasis. It is usually full of baffled people and the gruff staff. And the food makes you depressed. However, there is an airport which is the exact opposite of what we just described. This is the Changi Airport Singapore.
The Business Traveler Magazine has selected Changi Airport Singapore as the best airport worldwide. Changi Airport Singapore offers space, air, and entertainment.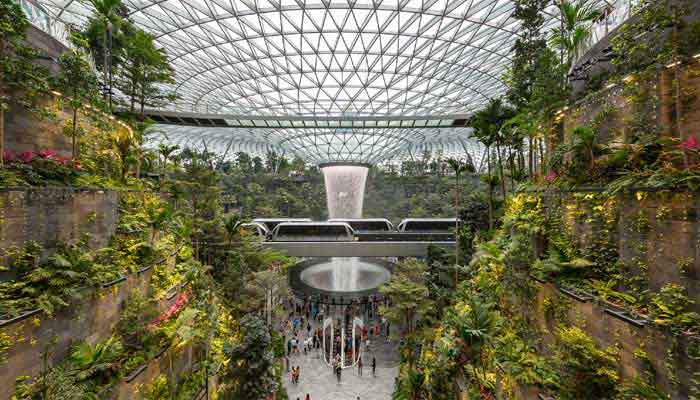 The pleasant naturalness of Changi Airport includes plenty of space, pleasant temperatures and comfort. The Changi airport is almost contemplatively calm.
All sounds are muffled by thick carpets. The huge kinetic sculpture of copper-colored drops that swing down in quiet rhythms on Terminal 1 blends the hectic pace of travel with its meditative beauty. Comfortable seating is available everywhere.
Changi Airport Singapore new terminal
Massage, swimming, cinema – there is something for everyone
Changi-Airports welcomes the weary traveller with the amenities of a spa hotel or fun spa, depending on your taste.
At each terminal, you can take a shower and massage your neck in a massage salon with professional hands.
Foot massage is free across the airport: There are wide leather armchairs in which you can stretch out, while your feet are machine-kneaded.
Though, you might have to spend around 10 euros to swim in the pool at Terminal 2. All these activities help passengers relax and regain strength to travel further to their destinations.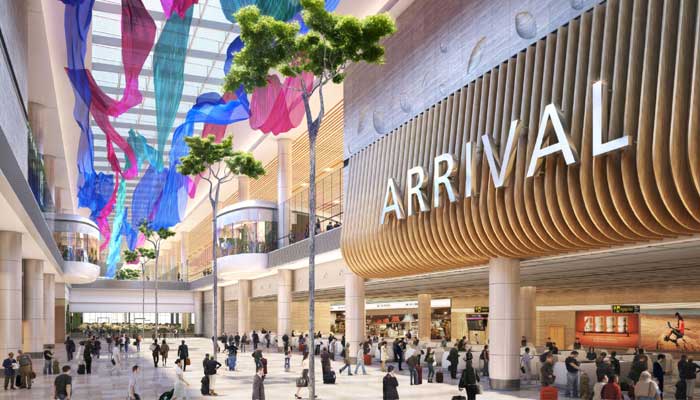 Butterflies, koi carp and tropical jungle
The tropical butterfly garden on Terminal 3 is a small oasis where you can relax while watching colorful butterflies.
Even more beautiful is the large Koi Fish Pond, where you can observe colorful Koi or take a nap in the pleasant lap of deep armchairs. Terminals 2 and 3 have cinemas showing the latest blockbuster and movie classics. Admission is free.
Throughout the airport, the Wi-fi works flawlessly and charging stations for smartphones and laptops are abundant.
50 million travellers a year and everything runs like clockwork
With amenities that other airports in the world can only dream of, Changi Airport Singapore annually sends over 50 million passengers to their connecting flights, and the arrival in Singapore also runs smoothly.
You will not experience waiting times at the passport control, where you are greeted in a friendly manner and with sweets. The luggage always arrives on time.
50 Million Passengers in a year would mean 1,37,000 passengers in a day, your luggage arriving on time is nothing short of a miracle of efficiency.
Restaurants: Hainanese Chicken Rice and Kaya Toast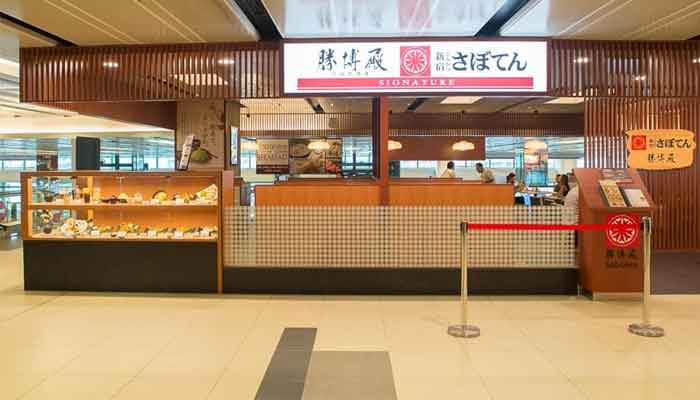 No stay is successful if the food is not good. Singapore is a gourmet's paradise and this is also noticeable in Changi airport Singapore.
Breakfast in Singapore means Kopi(Coffee), Kaya toast and two blanched eggs. One of the best Kaya toast stores is the Killiney chain, which maintains an outlet on all three terminals.
Dozing in the deep chair, scrolling through the phone, a tray of kaya toast and strong coffee in front of me, with the view of the runway, waiting for the approaching connecting flight, it does not get any better.
Sightseeing from Changi Airport for free
If you have at least five hours before your connecting flight, you can book a sightseeing tour of Singapore in Terminal 2. It takes place four times a day, between 9h and 18h and costs – nothing.
Of course, you can also go shopping in Changi airport Singapore which is extensively tax-free. All the fashion brands in the world are present here.
The only problem that you have at Changi Airport Singapore is that you might miss the connecting flight with all the pleasures.
Overview of the terminals:
Changi Airport Terminal 1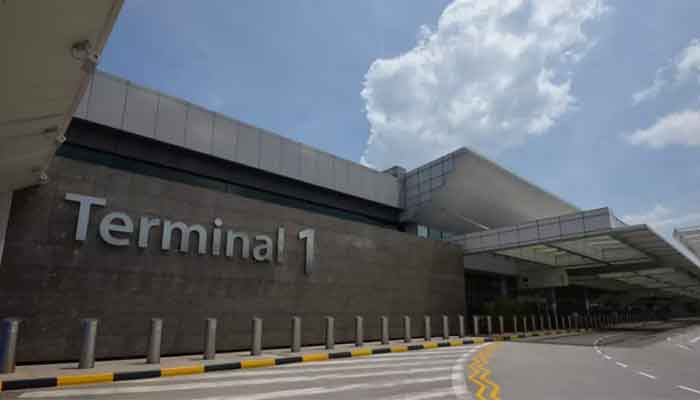 Flights: Emirates, Air Asia, Air France, British Airways, KLM and others.
Leisure in Terminal 1: Fitness centre, a children's playground, spa and lounge, TV lounge and a cosy relaxation area.
Dining in Terminal 1: Harry's Bar, Killiney Kopitiam, Wang Café and the Foodcourt "24h Food Gallery".
Shopping in Terminal 1: Beauty and cosmetics, Tory Burch, Uniqlo, Swarowski and Salvatore Ferragamo and many other brands.
Changi Airport Terminal 2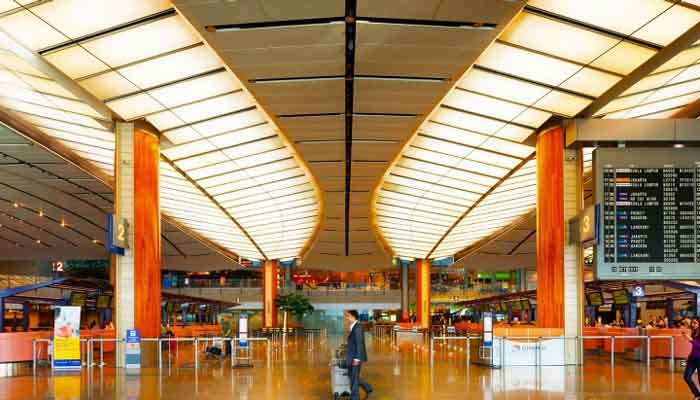 Flights: Etihad, Lufthansa, Singapore and Swiss, Tigerair.
Leisure in Terminal 2: Fitness centre, spa and lounge, children's playground, orchid garden, cinema and an entertainment deck with Playstation, Xbox and everything that pleases the gamer's heart. The sightseeing buses start here.
Dining in Terminal 2: Killiney Kopitiam, Kaveri Vegetarian Cuisine, Delifrance and the Foodcourt "Universal Dining @ Changi Airport".
Shopping in Terminal 2: Beauty and Cosmetics, Kiehl's, Victoria's Secret, Burberry, Calvin Klein, Charles & Keith, Gucci, Hermes, Prada, Tiffany & Co and many more.
Also Read: Tips To Book Cheap Flights On For Your Next Trip
Changi Airport Terminal 3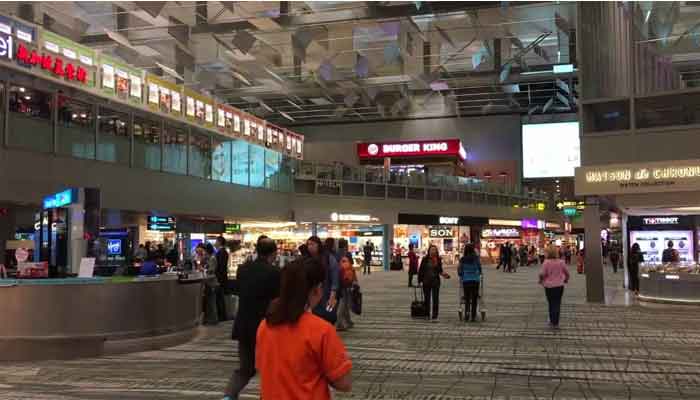 Flights: Lion Air, Garuda Indonesia, Oman Air, Singapore Airlines
Leisure in Terminal 3: Fitness Center, Spa & Lounge, Butterfly Garden, Koi Carp Pond, Cinema. You can get sightseeing buses from here as well.
Dining in Terminal 3: Killiney Kopitiam, Foodcourt "Singapore Food Street", Confiserie Paul.
Shopping in Terminal 3: Shopping: Bottega Veneta, Burberry, Bulgari, Gucci, Hermés, Prada, Rolex, and Tiffany & Co, cosmetics and perfumery and others.