With Windows 10, Microsoft introduced a whole series of new keyboard shortcuts that simplify working with the new operating system. We show which Windows 10 shortcuts make your everyday life easier.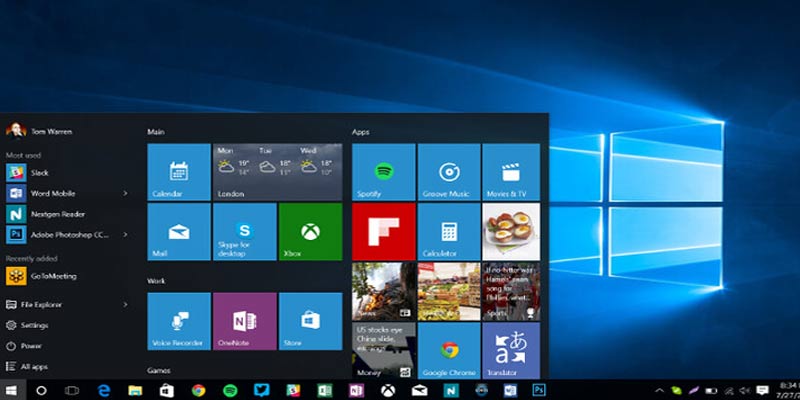 Anyone who works with Microsoft's current Windows 10 operating system will soon notice how useful certain keyboard shortcuts are. These shortcuts facilitate and accelerate many work steps that would otherwise require several mouse clicks.
The New Info Center in Windows 10
New in Windows 10 is not only the virtual desktops, but also the notification center, or Info Center for short. Microsoft has summarized important system and software notifications in this bar, which always opens lengthways to the right of the screen. Here you can find system messages, for example, but also incoming emails and a switch for general Windows settings.
Windows 10 Keyboard Shortcuts – Windows 10 Shortcuts
Instead of clicking through menus or buttons, you can use keyboard shortcuts to perform many tasks and functions. We have compiled the most important shortcuts in the following table.
| | |
| --- | --- |
| Keyboard shortcut | Function |
| Windows Key + Ctrl + D | Create a new virtual desktop |
| Windows Key + Ctrl + Left / Right Arrow Keys | Change of virtual desktop |
| Windows key + Ctrl + F4 | Close the currently open virtual desktop |
| Windows key + tab | Calling Task View (Task View then remains open) |
| Windows key + up / down / left / right arrow key | Maximize / minimize or align window in the left or right half of the screen |
| Alt + Tab Hold | Opens Task View |
| Alt + Tab Release | Switches to the app |
| Windows key + I | Opens the settings |
| Windows key + A | The Info Center opens on the right side of the screen |
| Windows key + S | The search input field is activated and the cursor is placed in the field |
| Windows key + C | Voice assistant Cortana opens (Must be activated in Settings beforehand) |
| Windows Key + L | Lock your PC or switch accounts |
| Windows Key + X | Opens the admin menu in the lower left corner of the screen |
Functions that are not used regularly are quickly forgotten. But practice makes perfect. Over time, you can save a few clicks and work steps are much faster. 
Suggested Read: How to Remove Password From PDF File
The Function of Function Keys
Every computer keyboard also has many keys, the functions of which are little known. One of the great unknowns is the complete row at the top of the keyboard, which is labeled with the cryptic abbreviations F1 to F12. Even the name 'function keys' does not reveal much about the actual use.
The F keys are often assigned very useful and frequently used functions. However, the allocation varies from program to program. The F5 key, for example, In a browser, you use it to refresh the website displayed. This function is further useful along with the Ctrl key. The browser then reloads the page directly and completely from the Internet, bypassing its cache. This prevents an old image of the page from the memory from being displayed. This quick refresh is very practical for Internet pages whose content is changed at short intervals.
The Use of Function Keys – Windows 10 Shortcuts
| | |
| --- | --- |
| Key | Function |
| F1 | Opens a help screen |
| F2 | Renames a highlighted icon, file, or folder |
| F3 | Opens a search feature |
| F4 | Open the address bar in Windows Explorer and Internet Explorer. |
| F5 | Refreshes or reloads the page |
| F6 | Move the cursor to the address bar in Internet browsers |
| F7 | Spell check and grammar check a document |
| F8 | Function key used to enter the Windows startup menu or Safe mode |
| F9 | Refresh document in Microsoft Word. |
| F10 | Activates the menu bar of an open application |
| F11 | Enter and exit fullscreen mode in all modern Internet browsers. |
| F12 | Open the Save as window in Microsoft Word. |
Traces of the Past
Other keys on the PC keyboard undeservedly lead a shadowy existence. Even after years, they are still rough and unused, while some keys already have a smooth greasy sheen. Pressure, scrolling, and pause are some of those neglected keyboard buttons. Some helpful functions are slumbering among them.
Suggested Read: Is Your Windows 10 Working Too Slow? A USB Stick Can Help
The keys above the block of arrow keys are hardly used anymore. They are leftovers from old DOS and Terminal days. From time to time, however, they are also useful in modern Windows times, for example, to record the screen content.