Youtube is the biggest video platform and the second-largest search engine in the world. Uploading videos on Youtube is another big leap towards success. These instructions explain the step by step process of How To Upload Video On Youtube.
Youtube ensures global outreach and popularity of your video. Posting videos on Youtube is easy and free of charge. Here is how To Upload Video On Youtube.
Step 1: Register With Youtube
You can register for free on YouTube to upload your video. You will find the registration button on the top right corner. You might be redirected to the Google sign-in page because YouTube belongs to Google.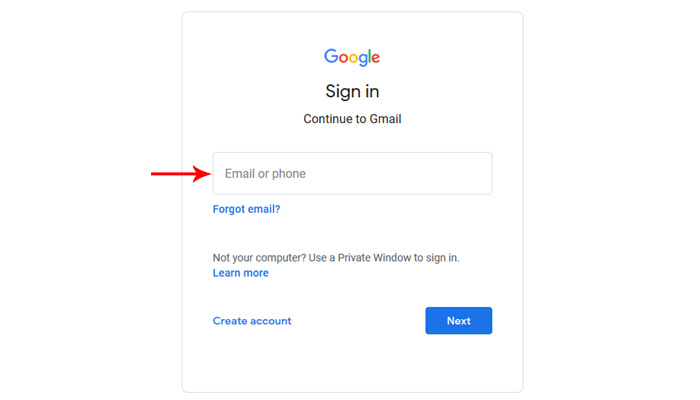 If you are already logged in to Gmail, you can use Gmail's login credentials to register with Youtube. If not, you can fill in the details asked by Youtube to create your login.
Step 2: Upload Your Video
After registration, you will land on your personal Youtube channel. You will already find options like MY SUBSCRIPTIONS, HISTORY and PLAYLISTS on the left. The videos that you watch will appear here later. The button UPLOAD VIDEO at the top is important.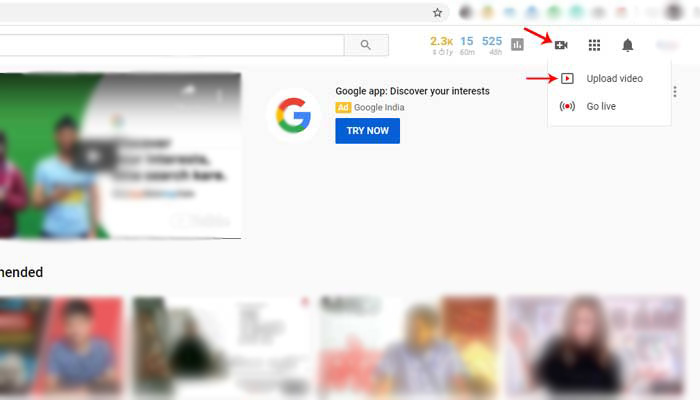 To upload the video on Youtube, click on UPLOAD VIDEO and a new page will appear. Here, you can drag your video directly onto the predefined area with the arrow or click on it and then navigate to your video file on your local hard drive.
Note: limited length of your video
Usually, videos with a maximum length of 15 minutes can be uploaded. If you want to publish longer films, Youtube / Google will ask you to authenticate yourself with your mobile number.
Step 3: Upload and settings of your video
YouTube immediately starts uploading your video. Depending on the length, video format or bandwidth of your internet connection, this can take a while. Time that you can invest well in further settings for your video.
Title, description, keywords, category
The title, description and keywords should contain the same terms. If these three components are coordinated, then the videos are optimally listed. You can also select the appropriate category.
Title
The title shouldn't be too long. In the description, there are options to insert links to your website or Message for subscribers. Whenever you post a new video, new video notification will be sent to your subscribers. It is also possible to chat with your subscribers through private messages.
Thumbnails
Youtube automatically selects three random images from the video, from which you can then choose a thumbnail as a preview image. Uploading your own preview image is also possible.
Comments and dissemination options
The comments under a video can be activated or deactivated or set so that comment is only displayed under the video after you have permitted it.
Share on LinkedIn, Facebook and Twitter
The social networks sharing has already been set up on Youtube and it works smoothly. Under the Youtube video, there is the option to share the video on other social networks. You can use this to quickly and easily distribute your Youtube videos via various social networks and reach more viewers for free.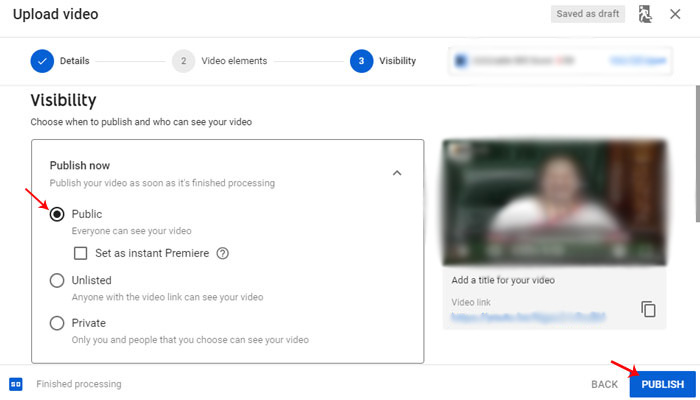 Tip on video formats
Youtube recognizes all common video formats. The best way to upload the video is in the highest quality and YouTube will adapt it accordingly. This gives viewers the option, depending on the internet speed, of individually selecting the video quality in which they would like to watch your video.
Suggested Read: How To Make and Send GIFs on WhatsApp
Step 4: Video Analytics
The various websites, content management systems and social networks are now so well adjusted on Youtube that the calculation of the video matrices works very smoothly.
Regardless of which website or social network the video is viewed, all clicks are collected and displayed below the video on Youtube. This also allows you to measure exactly what range the video has and how many people watched the video.
This can also be used to figure out from where are you getting the best responses on your video and put more efforts to promote it further.