Less than a year after his bust was unveiled at the Madeira Airport which was renamed as the Cristiano Ronaldo Airport in his honor, Ronaldo has just received another such acknowledgment as his ice sculpture has been unveiled at the Ice Sculpture Festival at Pobedy Park in Poklonnaya, Moscow, Russia.
The Real Madrid star's statue is just one of 40 that have been erected in Russia for the festival taking place from 29 December to January 8.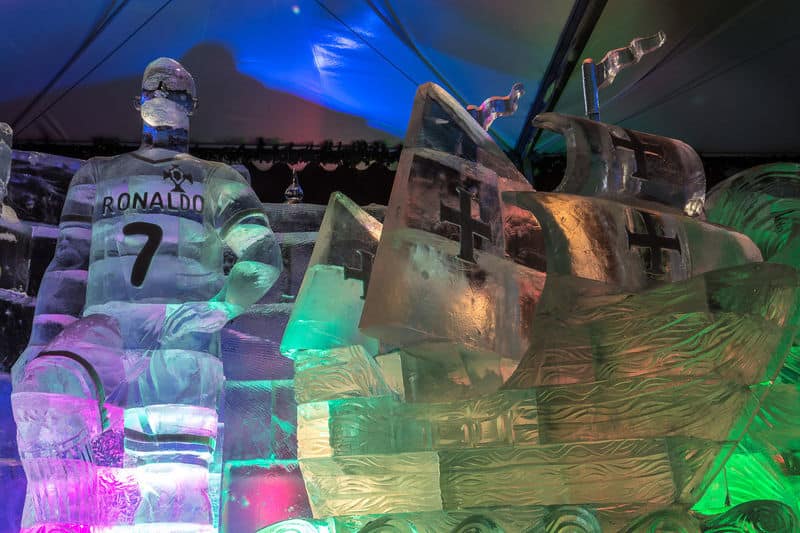 While every die-hard Cristiano Ronaldo will be on the seventh sky after hearing this news, sadly, the ice sculpture to so realistic that it draws striking similarities to that awful statue at the Madeira Airport. (Pun definitely intended)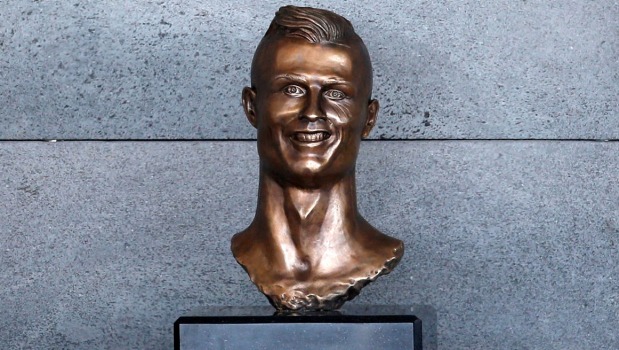 However, Cristiano Ronaldo's Ice Sculpture indeed shows his stature in International football and while the bronze bust is a permanent embarrassment for the player, the statue in Moscow is just a temporary thing as capital of Russia, is beginning its preparations for the upcoming 2018 World Cup and has taken several measures in an attempt to increase enthusiasm among the fans, construction of 40 football related ice sculptures being just a one of them.
That said, the ice sculpture has invariably put the modern art industry into question as to from what angle does this statue bears resemblance to a real-life Cristiano Ronaldo?
On the other hand, when it comes to the whole build, the unknown artist has done a great job in highlighting Ronaldo's ripped body, especially his thighs, but the moment to take your eyes to the face, from the jawline to an unbalanced pair of eyes, there is not even a single thing that bears resemblance to the actual Cristiano Ronaldo face.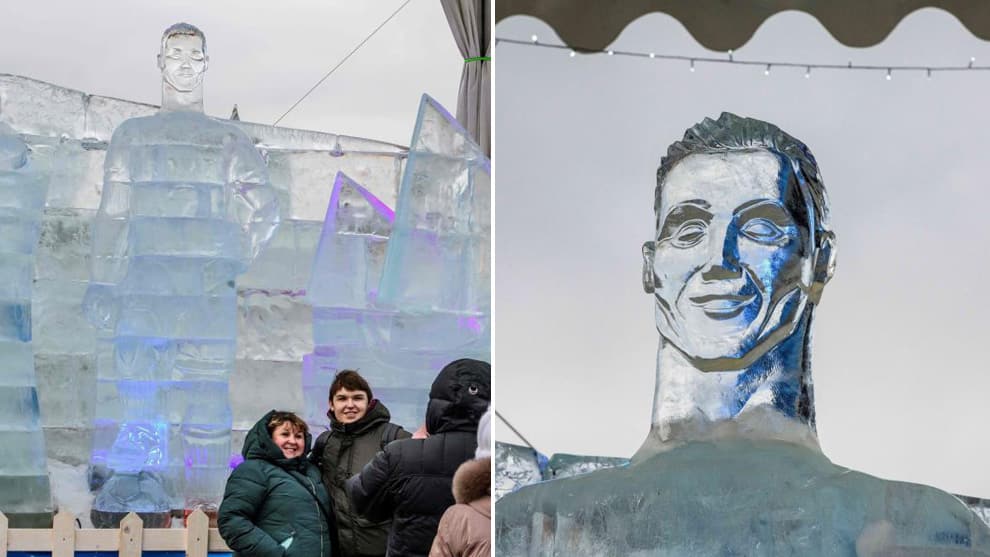 Just like the bronze bust, this ice statue hardly does justice to one of the most marketable athletes in this world and Twitterati were quick to once again take a jibe at this disastrous attempt at Cristiano Ronaldo's sculpture.
A Cristiano Ronaldo ice sculpture in Moscow
@brfootball Better than is statute in Madeira
@BleacherReport @Cristiano Oh wow that one doesn't look like him either
@BleacherReport @Cristiano "No officer, I'm…I'm not drunk.
@BleacherReport @Cristiano thats not Cristiano
@BleacherReport @Cristiano It's interesting that all of the tributes look like the same person, but none of them look like Cristiano…
@brfootball Somehow still better than the statues
Everything said and done, we couldn't help but question whether the amount of ice and man-hours used for Cristiano Ronaldo's Ice Sculpture were even worth it?
Cristiano Ronaldo has bagged all major awards of 2017 such as Ballon d'Or and Fifa Player Of The Year due to his record-breaking endeavors in 2016/17 which saw him becoming the first player to score 100 European as well as Champions League goals. Real Madrid successfully defending the Champions Trophy title and registering a European double with the La Liga title acted as the silver lining to Ronaldo's highly successful season.
As for his recent performances, Cristiano Ronaldo is the leading goal scorer in the UEFA Champions League having netted 9 times in six appearances but he still struggles to repeat his performance in La Liga where he has just scored 4 times in 12 appearances, while Real Madrid trails behind Barcelona by 14 points.