Cristiano Ronaldo now has an airport named after him as the Madeira Airport, in his hometown, has been renamed Cristiano Ronaldo Airport in honour of, naturally, himself. The 32-year-old attended a ceremony at the airport, a day after scoring his 71st international goal during Portugal's 3-2 friendly defeat against Sweden.
Despite some of the local politicians opposing the decision, Miguel Albuquerque, the president of Madeira's government, believed it was a worthy tribute for Cristiano Ronaldo given everything the player has done to represent them.
Moreover, a sculpture of Ronaldo's face was unveiled at the ceremony, which his partner Georgina Rodriguez and mother Maria Aveiro also attended, and everything was going as expected until we saw that!!
It's the most bizarre thing you will ever see and some of you will even feel sorry for Cristiano Ronaldo, given he had to stand next to it. He somehow managed to remain all smiles but the highest paid footballer in the world might be screaming internally at the sight of this 'THING'.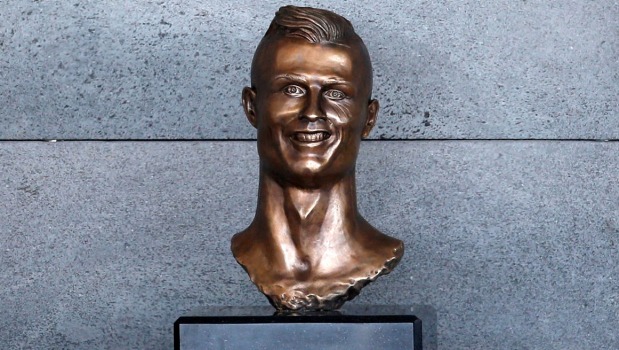 The bust hardly did justice to the most marketable face Football as it was exactly in contrast to Ronaldo's chiseled looks.
Anybody know why there's a bronze bust of David Coulthard @therealdcf1 in the new @Cristiano Ronaldo Airport? pic.twitter.com/ltM7OGKM83

— Lee Benecke (@leebenecke) March 29, 2017
To make matters worse, a prankster, dressed as Batman, appeared on the balcony before being led away from the scene by police. While Ronaldo has many records and moments to cherish, this ceremony will definitely be an unforgettable one.
Madeira Airport was renamed Cristiano Ronaldo International Airport & we have no idea what was going on…#CR7 #CristianoRonaldo #Batman pic.twitter.com/gxVxjdZFyl

— Omnisport (@OmnisportNews) March 29, 2017
Needless to say, Twitterati had a gala time and ridiculed the artwork that reportedly took 15 days to come into form.
When you're not happy about Brexit but you're putting on a brave face pic.twitter.com/8tIuBFi5Md

— Matthew Stanger (@MatthewStanger) March 29, 2017
Apparently, Cristiano Ronaldo turned into a psychopath from 1957 while sitting for his bust to be made. https://t.co/6NvDgwGx2r

— Tony L. (@OffHiatusBBC) March 29, 2017
The new bust of Cristiano Ronaldo outside the airport in Madeira… Looks like something I would've made for GCSE art class, when I got a D. pic.twitter.com/JxYBzX8H5N

— John Bennett (@JohnBennettBBC) March 29, 2017
The worst bust of all time, to stand there for all future generations to see, that Cristiano Ronaldo looked like a ugly monster pic.twitter.com/Dx13nFquov

— André Noruega (@AndreOstgaard) March 29, 2017
Jesus, check out the bust of Cristiano Ronaldo at this new airport named after him. Looks like someone melted David Coulthard. pic.twitter.com/tYBjLZ9ebQ

— D A V I D (@Blue_Bag) March 29, 2017
The Cristiano Ronaldo bust at the airport carrying his name. This is Art Attack… pic.twitter.com/tTVmQBMgms

— Simon Peach (@SimonPeach) March 29, 2017
Can you see what the fuss is about @CheapPanini? https://t.co/Krx0nncSTJ pic.twitter.com/STtKxamszv

— gdpreston (@gdpreston) March 29, 2017
Did the new Ronaldo bust melt in the heat or something? pic.twitter.com/7TVmwIhyuS

— Rohith Nair (@RohithNair) March 29, 2017
I defy you not to feel better after viewing this picture of Cristiano Ronaldo alongside his portrait bust. pic.twitter.com/kBCc7RtoUC

— Tom Sutcliffe (@tds153) March 29, 2017
https://twitter.com/RichLawidge/status/847087419807711232
I don't know what you're talking about guys, I think the Ronaldo statue looks pretty good pic.twitter.com/JIUwQBuqUY

— keewa (@keewa) March 29, 2017
New horror movie trope: Ronaldo's bronze face. pic.twitter.com/MKrumgHdLv

— Football Ramble (@FootballRamble) March 29, 2017
https://twitter.com/TheFootballRep/status/847089716491173888
— TayMe1943 (@TayMe1943) March 29, 2017
Breaking: The sculptor behind the Cristiano Ronaldo bust has been revealed! pic.twitter.com/aogh26uRww

— Soccer Manager Games (@SoccerManager) March 29, 2017
30th March 2017
Rohan Jaitly