The day has come, Cristiano Ronaldo has finally matched Lionel Messi's Ballon d'Or tally after lifting his 5th such trophy in Paris. For all that has been said about the Portuguese's current performance, the Ballon d'Or 2017 victory will definitely give a boost to his La Liga 2017/18 endeavors.
For the unknown, Ballon d'Or is one of the most coveted individual awards in the Footballing world and is voted for by 173 journalists. Since 1956, it has been awarded by France Football every year, but for six years (2010 to 2015) it became the Fifa Ballon d'Or, however, Fifa ended its association in September 2016 and the world football's governing body named Cristiano Ronaldo the world's best male player of the year.
Cristiano Ronaldo lifted the Ballon d'Or award for the fourth time in the last five years after guiding Real Madrid to LaLiga and Champions League glory last season which was the first ever European double in the history of this sport. Moreover, the 32-year-old also moved past his 600 career goals with a brace in Champions League finals against Juventus.
As for the whole 2016/17 season, Ronaldo scored 25 La Liga goals in 29 appearances and 12 in 13 Champions League outings. Interestingly, Cristiano Ronaldo was once trailing behind Lionel Messi 4-1 in 2012 and from there on, apart from 2015, he has pipped Lionel Messi every single time, with both of them sharing the trophy for the last one decade.
Watch Cristiano Ronaldo Lifting The Ballon d'Or 2017 Here
Cristiano Ronaldo Ballon d'Or @francefootball 2017 ! #BallondOr https://t.co/XbPS7anVRL
As expected, Cristiano Ronaldo is receiving appreciation from all over the globe but in what turned out to be the biggest compliment he might have ever received, Brazilian legend Pele too had some words for Ronaldo.
Congratulations to @Cristiano on winning this year's Ballon d'Or. I would love to have played on the same side as you! // Parabéns ao @Cristiano por conquistar o Ballon d'Or este ano. Eu adoraria ter tido a chance de jogar ao seu lado! #BallondOr
Pele took on to Twitter to congratulate the Real Madrid superstar and said, "Congratulations to Cristiano on winning the Ballon d'Or 2017. I would have loved to play on the same side as you!"
While for some, it could have been a dream come true, one might also think that in the presence of Pele, could Ronaldo or Messi have dominated Ballon d'Or for a decade?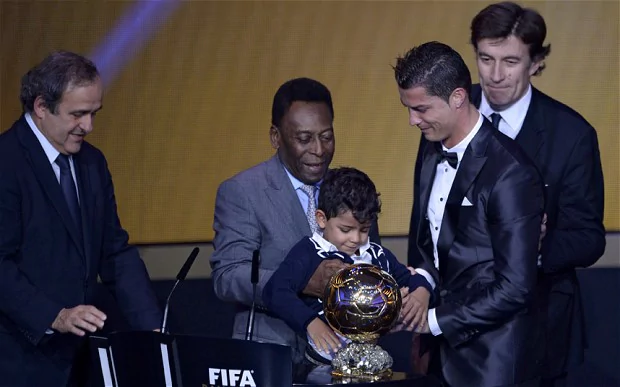 That said, Pele is regarded as the finest footballer of his generation and an all-time great as the 77-year-old has been the part of three of Brazil's World Cup victories and scored over 1000 goals in his club and International career.
On the other hand, after lifting the Ballon d'Or 2017 award, Cristiano Ronaldo also had something to say about Lionel Messi, Neymar, the other two in the top three and his future at Real Madrid.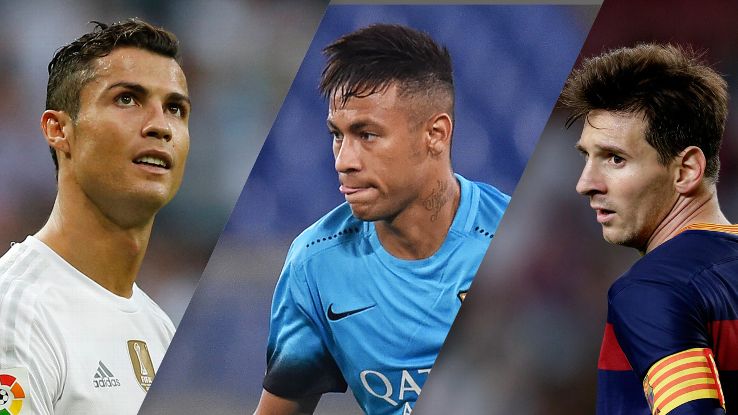 "I hope to play at this level for more years, I hope the battle with Lionel Messi continues, things happen for a reason. I feel good this season with Real Madrid and we'll see what we win at the end of this year. I'm happy at Real Madrid and I want to stay there, if possible."
When asked about Neymar, who has been in the top three for two years in a row now, CR7 said, "Neymar has a lot of talent and potential. I'm sure he'll have some chances to win in the future."
Coming to Cristiano Ronaldo's performance in 2017/18 season, while his failures to score in La Liga are already well documented, having netted just twice in 10 appearances, the same cannot be said about his UEFA Champions League endeavors, where he has just made another record of scoring in every single group game while achieving a tally of 10 goals in seven appearances, while also taking his overall tally to 115 goals in 152 outings.
Considering all this and the fact that Cristiano Ronaldo is yet to get in form in La Liga, Lionel Messi and Neymar will definitely have to fight it out in the next few years.