Fact. 'Hammertime' is ahead of him and by a margin too big to ever repress. Schumacher weighs bigger in numbers and draws level in wide-reaching appeal. Another fact. Prost has more world titles than him. Here's yet another, fact. The great Fangio is also ahead: not only by two (more) world titles but also four (more) fastest laps. 
Why are Stats the key differentiator (if not the ultimate) to separate the great from the greatest, wonders the bemused fan, for whom there's less meaning to life if there isn't FORMULA 1!
Yet, none of the above have- not that they are or were determined to the cause- been able to limit or outshine one certain Ayrton Senna.
You can value a sportsman for either success or his appeal. But how do you succeed in defining a subject whose appeal is far bigger than the reach of mere numbers? How would you stand to cage in words of appreciation a mortal of mere flesh and blood albeit one whose essence was that of an unsurpassable spark?
In Ayrton Senna, Formula 1 had a racer among drivers, his contemporaries had both- a subject worthy of incessant adulation as also a beast who'd go hound everyone, time and again, on both tarmac and gravel in the globetrotting adventure called Grand Prix Racing. But was that all?
In Ayrton Senna, motor racing had a freak force of nature and the world of sports an idol that was both flawed as also a phenomenon.
The lamest definition of Ayrton Senna da Silva- 1960-1994- can be to suggest he was gifted.
Heck, why not say you need to breathe in order to continue living?
But truth certainly is, Senna was every bit of both- as sparkling a FORMULA 1 talent as none the sport had seen. He was as consistent in bagging podiums as he was maddeningly drawn toward winning.
Throughout the course of his all-too-brief a journey (in the highest echelons of Motor-Racing), Senna defined speed, gave it a new dimension, broke established norms of what it meant to be a great driver. And that's not all. For when it even seemed that "that's all a very gifted driver might be able to achieve," he came and tampered with more biases and mindsets, rendering to the spirit of FORMULA 1 a truly undiminishing spark.
Whether you go to Suzuka or Monza, Estoril or Spa, Brands Hatch or Sao Paulo- it's always fascinating to note just how many lives- fans, critics, haters, adorers, racing nerds- did Ayrston Senna touch.
Here's a poem dedicated to the man-messiah of F1, someone who, though left the planet a little over two and a half decades back, but in reality, has never been allowed to leave, if you know what I mean.
To Ayrton Senna (ever loved, gone but not forgotten):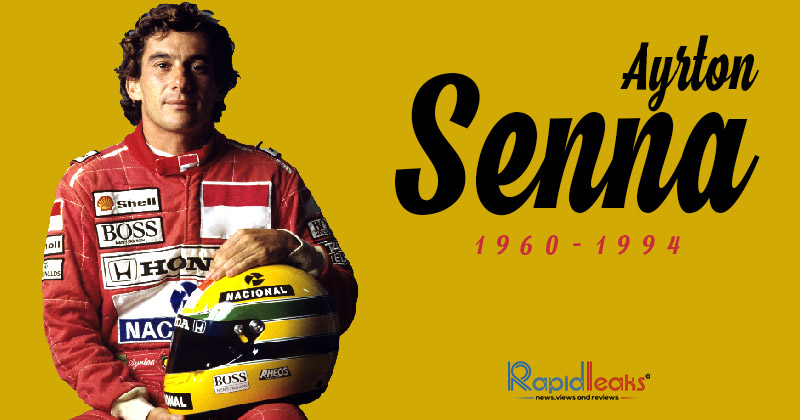 He who dares – wins, and he who wins, visits the other side of dare,
There are some among us who can narrow the gap between greatness and the impossible but I guess there are hardly any who have ever been "there,"
He brought to speed the famous identity it always lacked,
Armed with endless courage, approaching the podium like a lion that doesn't care, it was pure speed and energy, with which every opponent was attacked,
Back in those days the circuit was not just a tricky turnstile made of concrete,
It was a ring of fire during the reign of its most celebrated king, and could set the speed demons "free,"
He sought to eclipse that, which the mortals realized as difficult boundaries,
Behind every fastest lap set by this Messiah, there was this devastating accuracy that never occurred to him as some boundary,
The vicious felt he was over-aggressive, the flippant thought of him as one who didn't greatly matter,
But his legacy is sealed in pure gold punctuating F1's tenets and every chapter,
There can't be another like him and there can never be another,
The charm of every lady love, the idol we aspire to be, the racer among drivers,
Would it be wrong to say, the dream son of every mother,
A fiery comet of energy that comes around once in a million nights, he was wave revered endlessly on globetrotting T.V. antennas,
In the annals of FORMULA 1, there'll probably be more statistically successful drivers,
But there'll be none quite like the inimitable Ayrton Senna!
Also Read: Bienvenido de nuevo, Fernando Alonso. A Titan Returns