Yuvraj Singh, the man who gave Indian Cricket a hope to witness the resurrection of one of the most prominent finishers in the world after his career best knock of 150-runs against England this January, has been left out from team India's recent endeavor after failing to pass the yo-yo endurance test.
However, while the world is talking in whispers about Yuvraj Singh's retirement from International cricket, the player has been preparing for a surprising comeback and is leaving no stone unturned to show everyone that there is still a lot of cricket left in him.
A couple of days back, Yuvraj Singh's mother, Shabnam Singh said during an interview that it's just a matter of few weeks before Yuvraj attains the fitness parameters (16.1 points in Yo-Yo Test) set by the team management.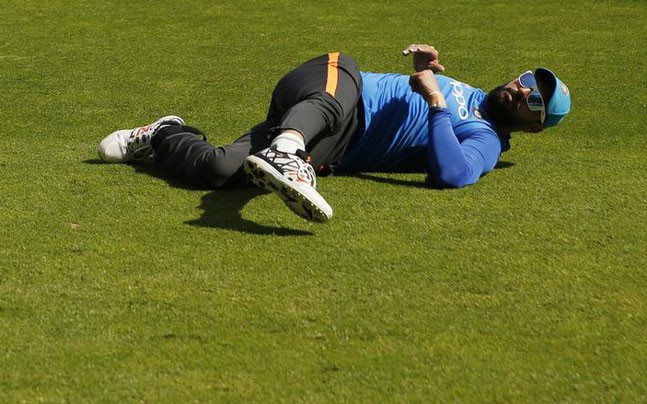 Now, the player has shared a video on his Instagram account which shows that Yuvraj Singh has been working really hard during his gyming session for making a comeback in the team, very soon.
Watch Yuvraj Singh's Fitness regime Here.
100.5k Likes, 816 Comments – Yuvraj Singh (@yuvisofficial) on Instagram: "Conceive It, Believe it, Achieve It …. Get up and do it again ! #Youwecan #Doitagain…"
After seeing the video, one might notice the fact that while Yuvraj Singh is working on his lower body to increase his running pace and cover as much ground as possible on the field, he is putting the same amount of effort on his upper body as well, in order to bring back the six-scoring sprees to the ground.
Also Read: This Is How Virender Sehwag Remembers The Extravaganza Of Yuvraj Singh's Six Sixes.
After the team selectors have made clear statements about the fitness level being the prime factor for selection and the form coming second on the list, it also safe to assume that the Virat Kohli team is looking for a perfect fielding side in order to put pressure on the opposition to opt for risky shot selection, which can, in turn, give the bowling attack a needed boost. It couldn't sound any perfect for a team who is looking to dominate the upcoming 2019 World Cup with an all-rounded performance.
As for Yuvraj Singh, whenever the player has regained his form, he has proved to be one of the biggest assets for the team. However, in the last couple of years, the age factor has started to show up as we have seen some poor fielding efforts from Yuvraj Singh on the field. Also, the player has lost his spark with the bat as well.
That being said, Yuvraj Singh (35) is a veteran of 304 ODIs and has lead the Indian Cricket team to 2007 World T20 as well as 2011 World Cup Trophies. Once, he gets back in form, his experience could prove fruitful for the team for their 2019 World Cup dreams.