Former Indian men's cricket captain Virat Kohli is a legendary player who has achieved immense love and accolades for his prodigious game. He is a superstar of the Indian cricket team and this superstar has a similar luxurious lifestyle to match. He is included in the Forbes list of most influential sports personalities. So, it's time to read up on how he achieved this humongous status financially and what is Virat Kohli's net worth at present.
Before we move ahead and unfold the details, according to the latest reports from media, sports news channels, sports magazines, etc states that Virat Kohli's net worth by 2023 is around $127 million which is equivalent to more than Rs 1000 crores. He stands at number 3 on the list of most richest cricketers in the world and at number 2 in India just behind Sachin Tendulkar ($170 million). 
| | |
| --- | --- |
| Net Worth | $127 million |
| Age | 33 Years |
| Born on | 5 November 1988 |
| Country of Origin | India |
| Source of Wealth | Cricket |
| Last Updated | 2023 |
Virat Kohli's Various Sources of Income
1. Cricket
Playing for the Indian men's cricket team is highly rewarding on its own. Virat Kohli has an A+ contract with the BCCI, according to which he receives a whopping amount of Rs.7 crore as annual remuneration. 
Along with this, he receives an amount for every match played which depends on the format of the game. Each appearance in a test match earns him Rs 15 lakhs, an ODI adds Rs 6 lakhs and T20 adds Rs 3 lakhs to the total salary.  
As a captain of an IPL team, he gets Rs. 15-17 crores. He is the highest paid player in the history of IPL. In 2018 he was auctioned for a whopping 17 crores by The Royal Challengers Bengaluru. For the year 2022
, The RCB retained him at Rs 15 cores. 
2. Endorsements
But the kind of adulation Indian cricketers get make them a very desirable face for many products and brands, both national and international. You will be shocked to know that a major part of Virat Kohli's net worth comes from endorsements. At present, he is endorsing some major popular brands like Audi, Pepsi, Boost, Puma, Fastrack, Philips, MRF, Myntra, American Tourister luggage, and many more. Kohli is endorsing around 30 brands at the present time and a few include his life partner, the super successful Bollywood actress, Anushka Sharma. The combined value of "Virushka" is more than 80 crores.
The combination of Cricket and Bollywood has given a major boost to his brand endorsements too both in terms of popularity and value. Together they are one of the most powerful couples. Endorsements added around Rs 178 crore to the net worth of Virat Kohli.
3. Social Media Engagements
Virat Kohli enjoys a humongous fan following on social media be it on Instagram, Facebook, Twitter, etc. He is one of the most celebrated social celebrities at present. He enjoys 216 million followers on Instagram, 50 million on Twitter and many other platforms.
On Instagram, he is the third most followed sports personality after L.Messi (at number 2) and Christiano Ronaldo (at number 1). The social engagements add earnings of approximately Rs 328 crores annually.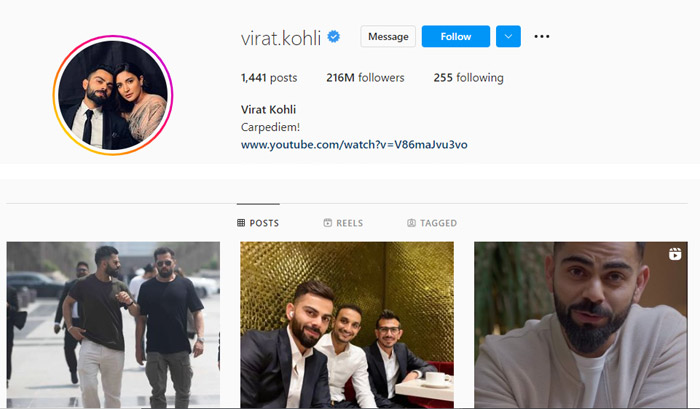 Virat Kohli charges Rs 1.5 crore for a paid Instagram post and Rs 2.4 crore for Twitter.
4. Investments
Well, if you have wealth then you have various means to multiply it furthermore. This is shown by the Indian cricketer so well. Virat Kohli has invested in different business niches which brings him the additional moolah and how.
In 2017, Virat Kohli started his own brand known as one8 in collaboration with the sports giants Puma. Initially, the brand focused on sports apparel, footwear, and accessories. But slowly, one8 ventured into food cafes and perfumes.
WROGN is a clothing brand, which is co-owned by Virat Kohli.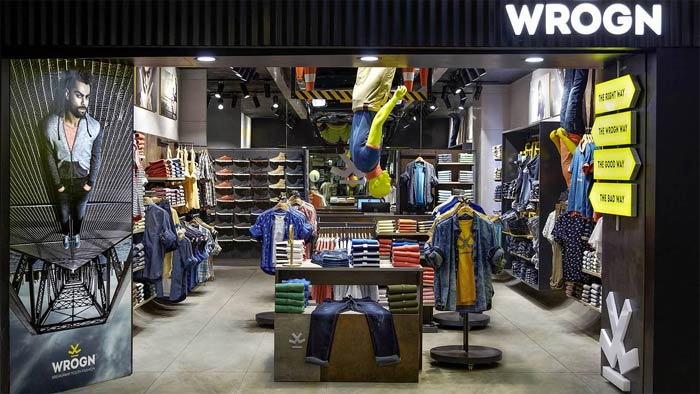 Virat Kohli's love for sports is not limited to cricket only. You will be surprised to know that he co-owns a football team in FC Goa, a tennis team in UAE Royals, and a pro wrestling team in Bengaluru Yodhas.
One of the investments is co-partnered by his wife Anushka Sharma in an insurance start-up called Digit.
As they say with power comes more humility and responsibilities, this is proven so true by Virat Kohli as he is associated with charities and NGOs work regularly, along with his wife. They together support many social causes and participate actively in them like during pandemic they launched a campaign #InThisTogether, with Ketto, to raise money for covid-19 pandemic and collected Rs 7 crores via this only. The Virat Kohli Foundation (in association with Vivaldis Animal Health) works for stray animals.
Suggested Read – Cricket "Behind Closed-Doors"? What Does Virat Kohli Feel About This?
Well, Virat Kohli's net worth tells us that no dreams are too big if you have the power and determination to chase them. Hailing from a simple, middle-class family to one of the richest sports personalities in the world inspires every single human being on this earth. It shows that hard work and talent are essential for success.