In case, you've been living under a rock, or of social media for more than 24-hours then let's clear somethings for you. Hasin Jahan has released a bunch of Facebook and Whatsapp screenshots of his husband (Mohammed Shami) with an allegation of infidelity and domestic violence against him.
Hasin Jahan has alleged that Shami had been having multiple affairs and torturing her emotionally and physically.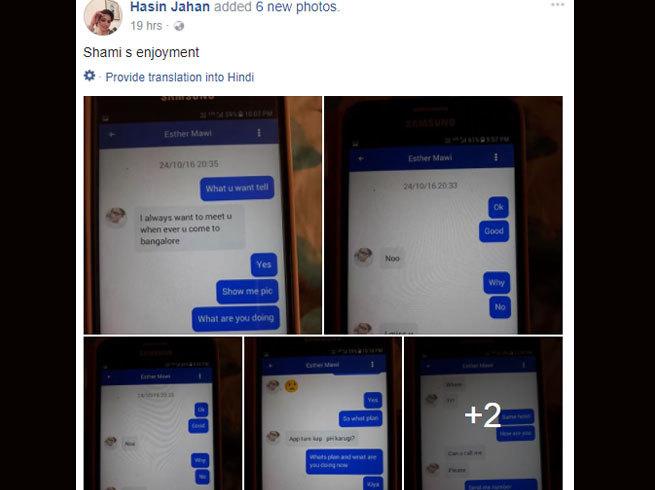 The story was immediately picked up by various outlets and soon Shami was asked about his side of the story. Last evening, Shami tweeted out and said that someone is plotting against him and is no truth in the allegations made by his wife.
Hi
I'm Mohammad Shami.
Ye jitna bhi news hamara personal life ke bare may chal raha hai, ye sab sarasar jhut hai, ye koi bahut bada humare khilap sajish hai or ye mujhe Badnam karne or mera game kharab karne ka kosis ki ja rahi hai.

— Mohammad Shami (@MdShami11) March 7, 2018
However, Jahan, in a series of interviews cleared the news entirely and came out with shocking details regarding their marriage. She claimed that Shami has been trying to drive her out of the house and asking for a divorce for the past two years. She also claimed that he has been torturing her mentally and physically.
Also Read: Mohammed Shami's Wife Hasin Jahan Accuses Him Of Assaults & Extra-Marital Affairs; Releases Evidence On Social Media
Check out Hasin Jahan's interview to India Today:
Wife Hasin Jahan accuses cricketer @MdShami11 of assault and extramarital affair. Listen in. #ITVideohttps://t.co/NounxnP7mg pic.twitter.com/rOoFaPRhBW

— IndiaToday (@IndiaToday) March 7, 2018
Then in another interview to ABP News, Hasin Jahan claimed that Mohammed Shami has been like this for a long time now. However, she endured all this in the hope that Shami will mend his ways soon. She also claimed that whenever she confronted Shami about his affairs, he would threaten her to keep quiet about it.
Check out Hasin Jahan's interview to ABP News:
The Hindi news channel soon was able to rope in Mohammed Shami for his side of the story. The Indian cricketer has rubbished all allegations against him and claimed that everything between them was good until Holi, and even he doesn't know the reason behind Jahan's allegation.
Here's another interview given by Hasin Jahan.
https://www.facebook.com/quintillion/videos/1036122029888318/
Check out Mohammed Shami's Interview with ABP News:
From all the interviews given by the couple, it does not look like it's going to be resolved anytime soon. Hasin Jahan has made up her mind to take legal action, while Shami wants to resolve the entire matter.
We don't who's telling the truth and what would actually come out of this public sabotage of relationships, however, for now, BCCI has taken the decision to withhold Mohammed Shami's name from the new pay-hike grading list of Indian men's cricket team.
They released an official statement on the matter and said, "The BCCI has taken cognizance of all the reports emerging about Mohammed Shami's personal life. It is purely a personal matter and the BCCI has nothing to do with it. However, keeping in mind that the woman in question has met the police commissioner of Kolkata, it is only prudent on BCCI's part to wait for any official inquiry to take place. Hence Mohammed Shami's name, for the time being, has been withheld from the central contracts that were announced. We would like to reiterate this decision has nothing to do with Shami's merit as a player but it is a safeguard in the prevailing circumstances."
Also Read: People On The Internet Are Churning Out Mohammed Shami Memes And They're Hilarious
Jyotsna Amla