Indian Cricketer Mohammed Shami is considered an ace-bowler in the team who has time and again proved his hard work and talent on the field, however, now the man has found himself in the middle of raging controversy.
On Tuesday Hasin Jahan (Mohammed Shami's wife) leaked a bunch of screenshots of various Facebook and Whatsapp chats of his husband, and accusing him of having extra-marital affairs with various different women. Along with this, she also accused Shami of mental and physical assault.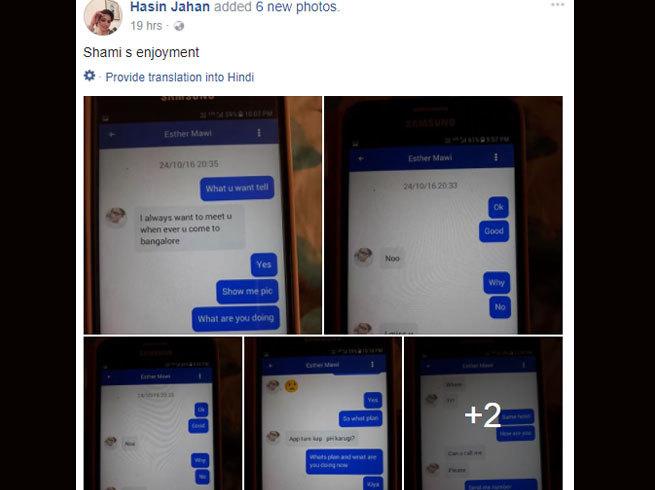 Apart from the screenshots, Jahan also posted various photographs of Shami with his alleged girlfriends.
Also Read: Updates Mohammed Shami and Hasin Jahan Infidelity & Leaked Pictures Case
As per various media reports, Jahan first got to know about his husband's extramarital affairs, after she found his phone along with contraceptives in his car, while the bowler has been away for a match tournament in Dharamshala.
She went through the phone and found various evidence to claim her accusations, and immediately posted them on her official Facebook account. Hasin also alleged that his husband had beaten him after returning from the South African tour.
Haseen also alleged that his husband had beaten him after returning from the South African tour.
While at first, the news of Hasin Jahan's profile being hacked was doing the rounds, but Republic TV has reached out to Hasin's lawyer (Zakir Hussain) who has confirmed that the screenshots were posted by the lady herself. He also stated that so far "no FIR has been lodged in the matter but they will take legal action if the matter is not resolved through mutual understanding."
Mohammad Shami plays in three formats for Indian cricket team. He has played 30 Tests and 50 ODIs for India till date. Shami is currently playing in the Deodhar trophy for India A team.
Mohammed Shami has yet to react to this dispute and his wife's accusations against him.
Also Read: People On The Internet Are Churning Out Mohammed Shami Memes And They're Hilarious
Jyotsna Amla