When Shane Watson hung his boots in the international arena, few spoke about the void that he was leaving behind in the Australian national team. This was both sad and painful for one knew the Ipswich-born was inarguably the finest all-rounder his country had delivered in the modern age.
So perhaps this was down to the fact that for the better part of his career, it was injuries and often, an endless string of them that defined the career of a man whose cricket was as beautiful as his Hulk-like presence.
And in here lies the great salvaging factor of Shane Watson.
A stint that ran a little over a decade- cut short by bouts of inconsistencies especially in the longest form, with recurring physical anomalies being no kind either- it can be said that T20s elongated a career that may have stopped a long time back.
So can one say, therefore, that a fair bit of that credit also goes to the IPL, a format so suited to Watson's punishing batting style and the biting variations his rhythmic bowling offers?
There's also some sense to it. For while cricket is fundamentally a contest where the bowlers ask a question of the batsmen who attempt to answer them, it's the presence of great all-rounders that equalizes contests that can often swing either way.
While much of what Shane Watson brought to hundreds of thousands- big hits, carefreely fired strokes, agile fielding, safe catching, and keeping cool during tough run-chases- was hampered by his own withering frame, it's these very characteristics that the IPL allowed him to exhibit, and that too, with rich vigor.
Not a man who speaks an awful lot, not a man who misses out chasing on an awful lot of deliveries either, Shane Watson plays his cricket in a fairly uncomplicated manner.
And this is what the tall, hunky batting all-rounder did in IPL 2019, a series in which he emerged as a vital cog for the runners-up.
To that end, it's worthwhile to remember the contribution Shane Watson provided to a template that's embedded in absolute unpredictability and surprise finishes, of a kind one saw in the recently concluded IPL 2019 final.
A half-century in the virtual semis (50 vs Delhi Capitals), then an even better fifty (80 vs Mumbai Indias), a nearly defining one in the big stage- the 2019 IPL finals- Shane Watson did all he could and still ended up on the losing side.
But what must be celebrated and upheld should be the pure dedication of the physically imposing athlete, one who doesn't think twice before taking matters in his hands for a truly enigmatic IPL outfit.
It's worthwhile to remember that Shane Watson, in the just-concluded IPL 2019 scored nearly 400 runs from 17 games, including 3 fifties and a belter of an inning- that 96 against the Sunrisers, a knock that featured 6 sixes and 9 boundaries at an overall strike-rate of 181.
Not bad for a guy approaching 38, part of an outfit that was unreasonably ridiculed being called, "Dad's Army!"
Above all, Shane Watson kept producing runs from his bat at a fairly respectable strike rate of over 127, which was better than a familiar partner he batted consistently with at the other end: Faf du Plessis.
His game tempts you to club in the following two styles of play. To some, he appears as a technically sound batsman who can hold on to his own. To some, he is that big-hitter of the white-ball, whose batting carries not just the cricket ball to a long mile, but also the distance card with it.
But above anything else, to undermine Shane Watson, who all but took his side over the line in a truly unforgettable IPL final would be to label this format of cricket as 'unexciting.' It would be perhaps hitting below the belt, a bit unworthy, a bit overzealous in its serving of criticism.
As Watson approaches 38, where most of his former teammates are sitting merely at home, enjoying a pint or two with family whilst watching highlights on posh gadgets, it's a bit inspiring and exciting to see a giant of the game busy making a difference on the 22 yards.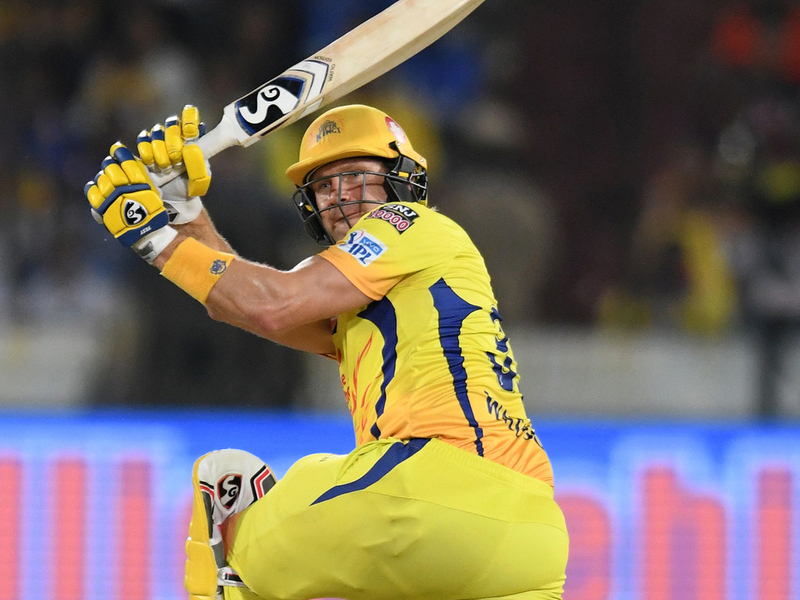 Surely, he may have wanted to do better than that duck against the Delhi Capitals and a string of low scores- including 8 vs MI (earlier) and the 5 and 6 against RCB and KKR respectively, it can be said that Watto entertained and persevered. Did he not? How many, it must be asked would've carried on scoring despite that contending with the back pain ( a constant shadow in his career), not to forget his plundering of sixes and fours during the final despite sustaining a cut on his leg (that required six stitches)?