One can't argue with the fact that MS Dhoni is one of the most successful Indian captains and his popularity is hard to beat. However, we also know that he is a private person and whenever he does something for his social media followers, it turns out to be nothing short of a treat for his fans.
But it is a rarity, to say the least.
Despite having 6.7 million followers on Twitter, MS Dhoni has tweeted only 45 times, which also includes his witty posts on 'Sir' Jadeja. Well, by going by his nature this doesn't come as a surprise.
However, after a tiring wait of three years, here comes MS Dhoni's third like on Twitter and if you look at the 'liked' post, shock is what you are in.
CONFIRMED: 2019 का आईसीसी क्रिकेट वर्ल्ड कप #ViratKohli की टीम इंडिया जीत रही है Match Fixed @imVkohli @msdhoni @RaviShastriOfc @BCCI @SGanguly99 @sachin_rt @therealkapildev @azharflicks @ianuragthakur @ShuklaRajiv @PawarSpeaks @GautamGambhir @imjadeja https://t.co/QpyiTCTIQt
Under the 'likes' section on MS Dhoni's Twitter page, the top tweet is from @Inkhabar which is the official handle for India News. The post ran a story in Hindi which translates into,
'CONFIRMED: The ICC Cricket World Cup 2019 will be won by Virat Kohli's team' and it was followed by Bold words 'Match Fixed'.
The tweet has the accounts of the BCCI, Virat Kohli, MS Dhoni, Sourav Ganguly, Sachin Tendulkar, Ravi Shastri, Kapil Dev, Anurag Thakur, Mohammad Azharuddin, Rajiv Shukla, Gautam Gambhir, Sharad Pawar and Ajay Jadeja tagged. From our past experiences and the way MS Dhoni has been handling all the criticism, saying, "everybody has an opinion and it should be respected". Now, these words are more of a jibe than a reply to his critics and he has done the same this particular tweet. For the unknown, the last time MD Dhoni hit 'like' for a tweet was on December 31, 2014, for a tweet from BCCI for a Ranji Trophy match between Services and Hyderabad. His only other 'like', also the first one, came on March 10, 2013, for a tweet by journalist and TV anchor Rajdeep Sardesai. Watch: MS Dhoni Beats His Fittest Team Member, Hardik Pandya In A Race As for the 2019 World Cup, MS Dhoni's participation in the ICC tournament has been a hot debate around the cricketing fraternity due to his 'not so good' with the bat, while his behind-the wicket prowess has only blossomed over the years.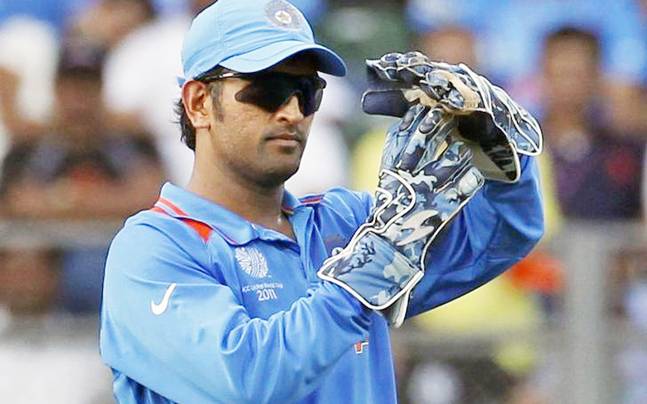 The one thing that everyone agrees on is the fact that his presence brings the advantage of experience to the side as well as the right approach towards handling any kind of situation on the field. Also Read: MS Dhoni In World Cup 2019: Divided Opinion But Similar Expectations Moreover, with his 65-run knock at Dharamshala, which was the only good thing for Indian fans, and the fact that he is closing in on the 10,000-runs mark, definitely holds some importance for his selection in the squad. For MS Dhoni's fans, we would like to leave them with a video from India vs Sri Lanka, 2nd ODI, which the hosts won by 141 runs on the back of Rohit Sharma' third double ton and a fifty each by Shikhar Dhawan and Shreyas Iyer.
A fan running in to touch #MSDhoni's feet. #DemiGod https://t.co/S4wQ7Ll98x

It was indeed Rohit Sharma's big day, but MS Dhoni too was in the spotlight with two catches and one stump from behind the wicket.