India and England are all set to play the second ODI of the 2017 series at The Barabati Stadium in Cuttack on 19th January and the venue is buzzing with activity. Barabati stadium is one of the oldest cricket venues in India and BCCI has scheduled match in Cuttack after a 477-day long hiatus.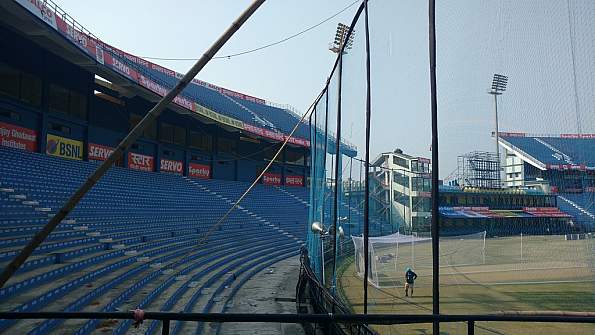 The arrangements are in full swing and security has been beefed up due to the fact that the last time India played at the Barabati Stadium, something disgraceful happened. On 5th October, 2015, India and South Africa were playing a T20 International at this venue during which the home crowd felt cheated by the performance of Indian team and started hurling water bottles in the ground, which continued till the innings break. Unfortunately, South Africa defeated the hosts and made matters worse for India.
Also Read: Players And World Reacts To The Shameful Scenes At Cuttack
However, International Cricket has once again turned to the historic venue and this time around, officials seek to deliver a seamless event at the Barabati stadium. To handle the 43000+ expected crowd, security measures have been beefed up and CCTV count has been doubled to 150. Water bottles and pouches have been banned in the stands and water will be circulated by staff with proper dispensing facilities. Despite all these measures, they have still hung a net around the stands. 3500 security personnel have also been deployed at the venue and spectators should expect thorough frisking.
Although, India has one of the most supporting fanbase but the domestic crowd has shown on many occasion that they can be bad losers at times.
Coming back to the second ODI of India vs England 2017 series, India has a 5-2 win-loss record at the Barabati stadium and the team also has a 2-1 upper hand over England at the same venue.
We can expect India to carry on the momentum and register the fifth consecutive bilateral series win against England at home.
Follow us on Facebook, Twitter and Instagram for more updates. Don't forget to like and share. Do tell us your views in the comment box below.
18th January 2017
Rohan Jaitly