India vs Australia 2017, 4th ODI was the end of India's nine-match winning streak as the Aussies played with intent and discipline to save themselves from complete embarrassment on the Indian soil.
The visitors, who opted to bat first, ride on David Warner (124) and Aaron Finch's (94) solid first wicket stand of 231 runs while the final nail was struck by Peter Handscomb with his dependable 43-run knock in the middle order.
Umesh Yadav, however, became the 18th Indian bowler to rake in more than 100 ODI wickets during his spell (10-71-4) and this was the only good thing for the Virat Kohli-led side in the first innings as the young duo of Yuzvendra Chahal and Kuldeep Yadav went wicketless for the first time in this series.
While answering the huge total of 334 runs, a target that was never successfully chased at the venue, India were left 21 runs short of the total as their innings ended at 313/8 in 50 overs. Nathan Coulter-Nile (10-56-2) and Kane Richardson (10-58-3) were the star bowlers from the Aussie attack which left India reeling to find their balance.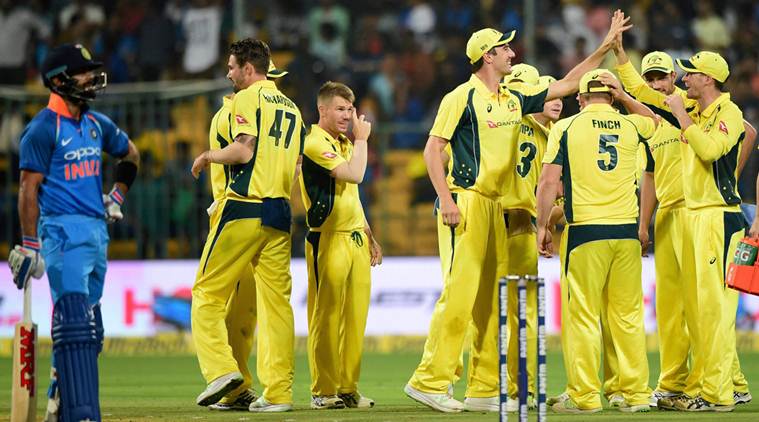 That being said, with the India vs Australia 2017 ODI series already being wrapped up and the hosts leading with 3-1, there are few instances which reflect that India were responsible for their own defeat as well as for not bettering their all-time record of 9 consecutive ODI victories.
India vs Australia: 5 Blunders Made By Virat Kohli & Co. At Chinnaswamy Stadium
1. MS Dhoni Missed A Valuable Stumping In The 23rd Over
In the 23rd over, India's young leg-spin sensation Yuzvendra Chahal was giving the responsibility of giving Virat Kohli a breather in the form of a much-needed breakthrough. However, while Chahal, living up to the expectations, beat Aaron Finch with a tossed up delivery, MS Dhoni didn't see the ball as it went for four byes.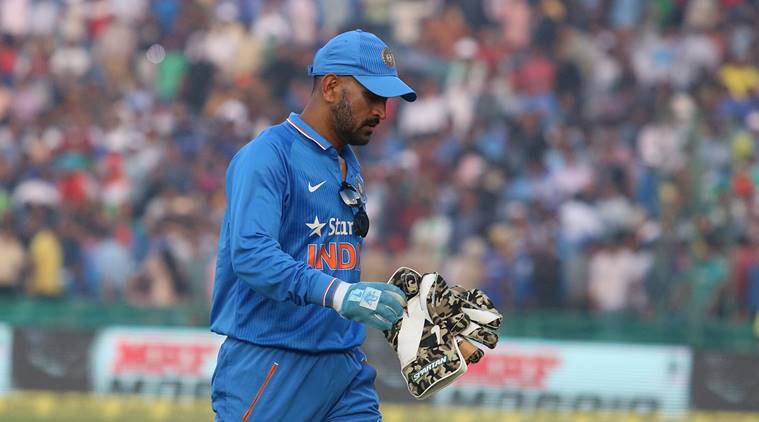 After that, the two openers, converted their 141 runs stand into a 231-runs partnership, which is now the second highest opening stand in India and also the prime reason behind India's defeat.
Watch the video here.
2. The Last Two Overs Of The First Innings
Umesh Yadav and Mohammed Shami have been the leading wicket-takers for India in the 'Red Ball' cricket, however, when it comes to limited-overs format, Jasprit Bumrah and Bhuvneshwar Kumar are two of the best bowlers in death overs with their length and variations.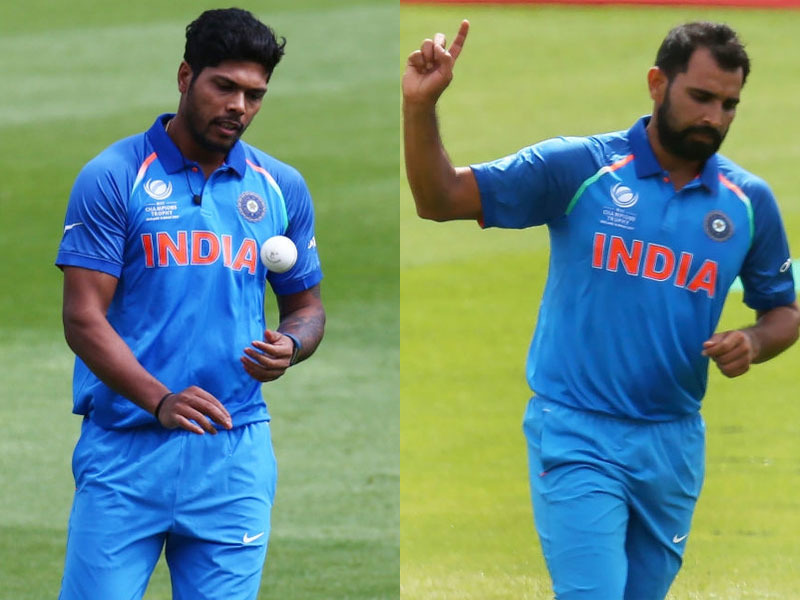 And it came as a surprise to many that Virat Kohli was ready to take a risk with the two bowlers who have been sitting on the bench throughout this series, and from we saw, it wasn't the safest bet played by the Indian captain.
In the last two overs of the first innings, Umesh Yadav and Mohammed Shami (10-62-0) conceded a total of 28 runs and considering the 21-runs margin by which India lost, Virat Kohli might have missed both Bumrah and Kumar.
3. The Rohit-Virat partnership
It happened once again and for the sixth time in ODIs. A partnership between Rohit Sharma (65) and Virat Kohli (21) ended in a needless run-out. For two remarkably fit athletes as well as two cricketers who have been playing so much cricket together, it's still quite amazing how often these two have ended up causing a blunder while running between the wickets.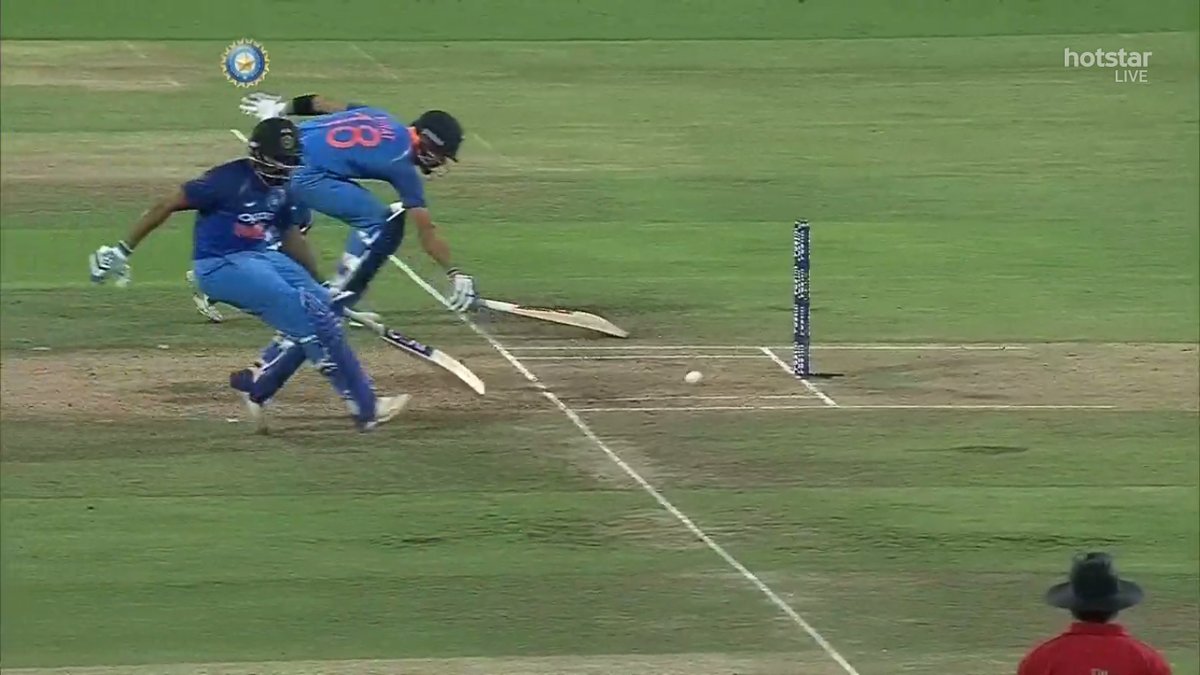 It was the last ball of the 23rd over of India's batting innings and at 135, the team was still struggling to get into pace after Rahane's (53) dismissal, Virat Kohli tried to beat Steve Smith at point but the Aussie captain was quick the anticipate the ball and dived to save a four while also throwing it towards the striker's end.
However, by that time, Virat Kohli has already left his standing and Rohit Sharma had to leave his side too but mid-way, the Indian captain turned around and both batsmen were now at the striker's end. While Smith's attempt was an overthrow but Rohit Sharma couldn't make it to his end.
4. Hardik Pandya Coming In At No.4
There is no doubt that Pandya's 41 off 40 balls was a solid inning, however, with such a huge chase to complete and the all-rounder was needed in the lower middle order as he tends to work his horses from the word go. As expected, after hitting three sixes, Pandya ended up giving his wicket to Zampa and left for the pavilion when India were at 225 runs in the 38th over.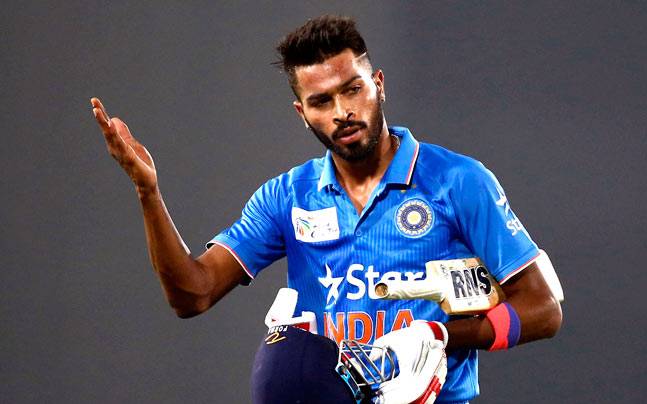 That being said, many will argue that it was the same position where the all-rounder made 78 runs in the previous India vs Australia ODI but with still a couple of runs to be made, MS Dhoni was the most appropriate batsman to enter the stadium at that point.
5. MS Dhoni Playing At No.7
When the former skipper came on the crease, India were at 286/5 in the 46th over and with 49 runs needed on 26 delivery, all he had was an inexperienced Manish Pandey (33) and all the pressure was on MS Dhoni, who, in order to pace up the innings, ended up losing his wicket.
MS Dhoni was never a player who hits the ball from the word go and when he entered with his bat in the India vs Australia, 4th ODI, his presence was next-to-obsolete.
Sad To See Team India Lose.
Sadder To See #Dhoni Not Perform.
Saddest To See He's Sent To Bat At No. 7.#INDvAUS #INDvsAUS pic.twitter.com/RG03KnGRJ6

— Sir Jadeja fan (@SirJadeja) September 28, 2017
With the last of match of the India vs Australia 2017 ODI series still to be played, Virat Kohli would now need to end this fixture on winning note and enter the T20I leg with all the momentum he can gain.
Everything said and done, experimenting is what Indian team based its approach upon and experiment is what they did. All they need to do now is take a lesson and improve their decision-making prowess in such conditions.