The six, yes that big six, the moment, that atmosphere, the occasion, and then, in the end, the massive sigh of relief!
Where were you when in 2011 MS Dhoni fired the hit that took India over the line?
This has since then, reverberated as the massive moment in Indian cricket and a question that has outlasted time and defined the changing annals of Indian cricket.
The big shot sealed India's faith in what had until the few final overs, been very much the opponent's game. This is precisely when when a massive effort from an "out-of-form" captain changed it all.
The team, battling on the home turf, took the crown, a coveted one at that, a title that has long since been regarded as one of the most defining moments of Indian cricket by world media.
But maybe that is the issue unless one considered it like that in the first place, isn't it?
Did MS Dhoni's six really signify the only big effort that led such a massive turnaround for a team that day which had already seemed out of flavor and in chance, for that definitive victory?
The team, on that big day, it mustn't be forgotten lost Sachin and Sehwag early. Kohli, now the face of Indian cricket, and quite possibly world cricket's most known and admired cricketer, was just a newbie. He too had departed early, albeit forming a mini stand with a fellow Delhi-batsman.
But one man kept up the fight and kept coming at the Sri Lankan bowlers during what was a tricky chase in 2011.
Gautam Gambhir, who played perhaps the most important ODI knock of his career, a batsman who was then regarded as the wall up the top order, hung in there when the team was down and when it had mattered most.
As a result of a very focused, gritty, and emotionally draining inning that resulted in 97 useful runs kept India in the hunt.
This was, let's not forget, an outing with the bat that first revived an inning that was really going nowhere, these being the mega-finals, with India representing the faith of billions on their home.
Next up, Gautam Gambhir's knock led a way for India to push on the presser during the final ten overs or should one say, the death phase of the match where just about anything could've happened, except it didn't because in Yuvraj and the then-captain MS Dhoni, the team had two strong batsmen, then in amazing touch in the massively-followed final.
But yet, it's a bit surprising and even before Gambhir tweeted about his personal reaction on the contest that, to this day, MS Dhoni's role in lifting India to the big World Cup win is regarded more than Gambhir's.
Not that MS Dhoni or Gautam Gambhir are to be blamed for it.
But this still leaves space to debate a question that has- thanks to a social media response (triggered by a tweet by the former left-hander of the national side) – perhaps gone unanswered.
Was Gautam Gambhir's role undermined particularly in regards to MS Dhoni's?
Most headlines, to this day, seem to side with Dhoni's massive hit, executed straight down the ground to be the big uplifting moment. Well, it did finish the things for the home side in the critical moment but was that enough?
What about the role played by Gambhir? Had that intense fifty not transpired just when an inning of such composure and grit was needed by India, wouldn't the Sri Lankans have sensed a strong rebuttal and may have possibly gone around to win it?
Up first, here's what some sites still quote, when Dhoni's statistical output on that huge occasion- nonetheless unquestionably thrilling and pivotal- was less than Gambhir's:
Surely, we have our favorites. To this day, MS Dhoni's decisive hit took India over the line, but wasn't it Gambir's effort too that took India mighty close to that line, in the first place?
The jersey drenched in sweat, the colossal effort of bringing a side that was losing the plot back on track before unleashing in typically aggressive strokes, laced with timing; weren't those just as important too?
Here's what the famous left-hander, often mocked for his patience had to say about the golden moment for Indian Cricket, one winning which, saw an entire team's contribution not just MS Dhoni or for that matter, his alone: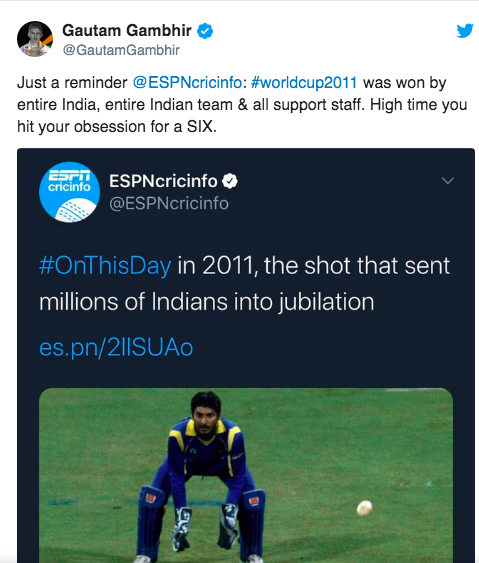 Now, there are no more than 3 simple ways in which the aforementioned statement- actually a matter of fact- could be interpreted:
1) Gautam Gambhir is jealous because his effort didn't get enough attention and Dhoni's master strike did, as seen to this day
2) Dhoni's inning was simply more beautiful and full of exhilaration, an entertainment value that weighed more than Gambhir's effort of solidity and calmness
3) It doesn't really matter India won in the end
That being said, depending on who we are, our choices could be different and our beliefs highly individualistic, as they should be.
But if you are the won that believes in the 3rd option, then won't you think that implicit to India winning the tournament were several examples of great efforts whose collective impact reflected in India lifting the trophy?
And that said, surely any "fanboy theory" which one may have irrationally had an allegiance to gets checked when you do realize that quite like the irreplaceable importance of MS Dhoni's captain's knock- the 91 not out- or Gambhir's 97 were several instances that did it for India:
Sachin's form throughout the tournament, including the decisive albeit luck-assisted fifty (v Pakistan, in the semis). Don't forget his inspiring ton against the Proteas, with Steyn in prime form.
Kohli's sensational maiden world cup hundred vs Bangladesh
Sehwag giving the flying starts to India when needed most, an under-appreciated example of which being the knock against Pakistan.
Yuvraj Singh's exceptional efforts all throughout.
Nehra's disciplined pace bowling throughout the World Cup.
Had all of the above not happened, would the team have come to a stage where Dhoni would've lifted the team to its deserving world cup triumph?
Had we have been left devoid of individual masterstrokes that in the end, that collectively yielded India the priceless win, would Gautam Gambhir's unsung 97 have even happened?
Finally, a question that perhaps the fan, the greatest decider of cricket's fortune must answer is that:
Is Indian Cricket resorting quickly to the growing and perhaps dangerous "fanboy culture" trend where on upmanship sees one enjoy the limelight at the cost of the other and even the team?
And finally, if the above is true, what good is it actually serving?