Social media was created with a motive to engage people with others and remove the barriers of communication. Over the years with increased usage, it has become a hobby consumed by people of all age groups. A large portion of the population uses it as a pass time while many have fallen prey to social media addiction and use social networking sites extensively.
Social media addiction is generally characterised by overthinking and extra concern to social media. This is the urge to stay tuned to the latest posts, stay logged in and continuously devoting time to it so that it takes up a major portion of the day.
Characterised by behavioural changes such as mood modifications, emotional preoccupation, and unpleasantness when distracted or withdrawn from it, the addiction looks just like any other disorder or condition. People may often experience an emotional breakdown and relapses all because of the addiction.
Social media addiction is based on the phenomena of dopamine inducing environment that are usually provided by social media platforms. It is believed that platforms such as Instagram, Facebook, Snapchat and Twitter have the same neural effect that is accompanied by the consumption of drugs. Scientists further believe that likes, shares, tweets trigger the brain in the same way as drugs do. 
Why Is Social Media Addictive?
Whenever there is an incoming notification, like or comment, the brain release dopamine which causes a feeling of pleasure. This makes people desire more notifications and demand more pleasure.
It is quite problematic when social media becomes a way of coping up with depression and loneliness. People search for the rewards that they don't receive in real-life and thus tend to move more prominently towards it.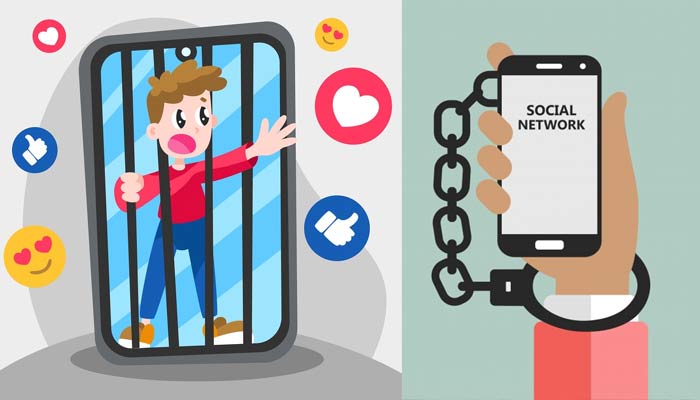 This further leads to real-life problems such as neglect of work, studies, relationships, responsibilities and personal health. Consequently, it leads to a higher belief in virtual life and increased dependency on social media. 
Suggested Read: Suffering From FOMO? Here's All You Need To Know About Fear Of Missing Out
How Can One Detect Social Media Addiction?
Numerous changes depict whether a person is addicted to social media or not. These differences incur over time with increased usage. To identify, whether it is a mere habit or an addiction, one can observe:
Increased anger and behavioural changes
More thoughts about social media and being occupied in it even when not using it
More reliance on social media as a means of coping up with problems
Negative effects on work or studies
Increased use during other activities such as meetups or playtime
Getting irritated much quicker
Ways to Deal With Usage of Social Media
Even if social media applications are merely applications for a person, one must focus on reducing their usage. Several simple ways can help you achieve a daily routine accompanied by a better balance of social media.
Spend more time with friends and family. Try to stay out of the virtual world and look for real happiness.
Prefer the development of a new hobby that is non-tech such as sports, music or cooking where you can pay attention rather than on social networking sites.
When not in use, turn off the internet connection of the device, so that notifications don't disturb you more.
Maintaining digital well-being practices. Using social media for restricted hours and locking the apps when the usage exceeds the limits.
Turning off notifications of these apps for less disturbance.
Often take breaks from social media such as a complete day or a month or until you can last. 
Suggested Read: Computer Vision Syndrome, A Growing Problem Among People Who Remain Stuck To Screen For Hours
Social media was developed for increasing communication and connecting the whole world. It is omnipresent today, but that doesn't make it your boss. Be in control of yourself, rather than an account. Set clear barriers towards the usage and it would ultimately lead you to a much physically and digitally healthier life.