Sweat accumulates in shoes that are often worn, which can promote the multiplication of bacteria. As a consequence, the shoe starts smelling bad. Washing the shoes is a countermeasure against unpleasant smells. But it is not possible for all models of shoes. Let's learn How to successfully remove shoe odor.
Neutralize shoe odor by washing 
Before washing your shoes, you must first read the textile label to find out about washing suitability and suitable temperatures. Only cloth shoes are suitable for washing. Leather shoes become unusable if they are cleaned in the washing machine. Washing often leads to an increase in bad shoe odor. This can be prevented by using the correct detergent and drying the shoes completely.
Do not use fabric softener while washing the shoes. Also never wash smelly shoes with conventional detergent, as it does not kill the bacteria sufficiently. It might also backfire by increasing the foul smell after a few days. Hygienic detergents are much more effective in removing the smell from the shoes. They do not cover up the odor but removes the bacteria from its origin itself.
When you've washed your shoes, stuff them with newspaper. It absorbs moisture and the shoes dry faster. If shoes stay wet for too long, they develop a new odor.
Bind bad smells
Baking soda and baking powder have several things in common. They are powdery and bind odors by absorbing liquid. Liquid residues in shoes are responsible for most of the odors. Sprinkle a tablespoon of baking soda or baking powder on your shoes and knock them off after an exposure time of 24 hours. You can also put cat litter in a small cloth bag and place it in your shoe. Take it out after a day and your shoe odor is neutralized.
Sprays against shoe odor
Shoe shops and supermarkets offer shoe deodorants. These do not remove the source of the odor, but mask the scent. Disinfect the shoes before treatment with the shoe deodorant. The disinfectant first removes the origin of the odor. For a pleasant scent, spray the shoes with the shoe deodorant.
Prevent odor
Prevent shoe odor by ventilating your shoes after wearing them. If the shoes get wet, dry them with newspaper. Also, cedar shoe tree is helpful as it will absorb the remaining sweat in the shoe and it also has an antibacterial effect.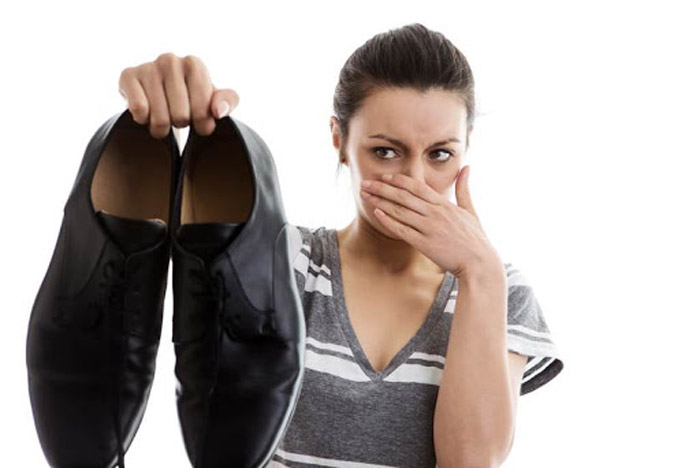 Also, be careful not to wear synthetic socks. Your feet will sweat less in socks made from natural materials or cotton. Always go for good quality breathable shoes rather than just design when buying shoes. Shoes made of leather allow more oxygen and circulation than shoes made of plastic.
Also Read – How to Convert shoe sizes for EU, US, and the UK? These Shoe Size Tables Will Help You
It is always better to take precautions against shoe odor as it becomes extremely embarrassing if you have to take off your shoes and someone frowns upon it.