While working from home has been part of everyday life for some years, for many, it is the first time that they have to work from home. That is why it is all the more important that you can work well in your home office and feel comfortable at your workplace. We have put together some essential home office equipment for you to have a good office at home.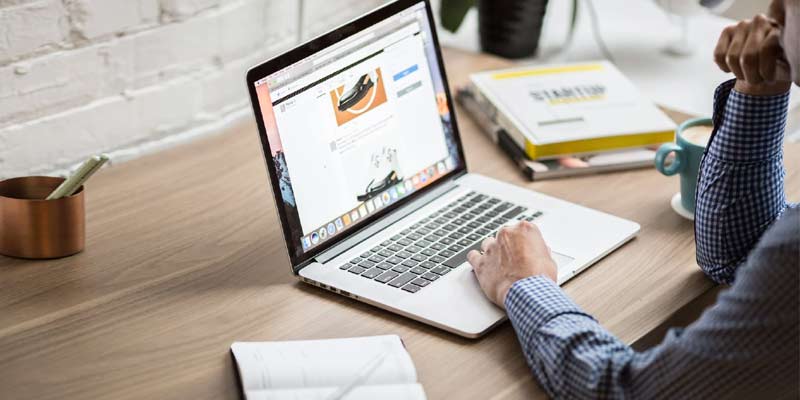 Various components are required for good home office equipment like technical equipment, office furniture, and a few individual accessories. Here are some crucial products, which you can also work with from home. In addition to the laptop, which you usually get from your employer, you need a lot more to work efficiently from your home office.
1. The Monitor For the Best View – Best Home Office Equipment
While you sometimes have the luxury in the offices and can use two monitors, you sometimes have to be content with your laptop at home.
Are you considering buying a monitor for your home office? We recommend the Dell P Series 24-inch – SE2419H, the cheapest and best among the first places.
This Dell monitor offers a lot for its price. It is one of the very few monitors to have Anti-glare, 3H Hard Coating for eye comfort in long use. The image quality and versatility are particularly good with this model.
2. Noise-canceling Headphones For Concentrated Work
You have to concentrate but your children are playing behind you, your better half is also working side by side and has to be constantly on the phone. Working from home becomes challenging, especially for those who do not have a workroom or study when the rest of the family is also at home. Headphones with noise-canceling functions can help here.
We again recommend a product that has been tried and tested by many. These headphones are one of the best headphones with active noise reduction, but not around 20000 Rupees like the other models, but just Rs 5800.
The JBL Tune 750BTNC Over-Ear Wireless Active Noise Canceling Headphones have particularly been useful for office work and music. Particularly noteworthy are its durability, sound, and interference.
3. The Multifunction Printer as a Personal Assistant – Home Office Equipment List
For a perfect home office, a printer cannot be missing from this list. But it should not only be able to print, but also scan and copy. We recommend a black and white laser combination printer, namely the Canon Pixma G2012 All-in-One Ink Tank Colour Printer.
Here, too, we recommend the cheapest model that can keep up with the best in class in almost all areas. This printer performs best when scanning, but the print quality and handling could also keep up with the test winners in this category. Although this model does not have a fax function, it takes up the least amount of space, which is a clear advantage for the home office. So that you can get started as quickly as possible, don't forget to order the printer or copier paper at the same time.
Suggested Read: 10 Work From Home Tips You Need To Incorporate For Maximum Productivity
4. The Right Desk: Office Desk or a Small Laptop Table?
Which desk is the right one, depends upon the living situation? If you have a separate study, a compact office desk with plenty of storage space is worthwhile. A contemporary yet sufficient model is the Deckup Giona Office Table and Study Desk, in which three drawers are integrated. However, if you wish to not keep a desk but work from anywhere in the home like the living room or bedroom, then you should choose a subtle, minimalist model. Our tip for this is the desk from MemeHo. It is a smart multipurpose laptop table that is available in different colors and is hardly noticeable in the room due to its restrained compactness.
Our tip: desks should be close to windows because of the natural light. The table height is right for you if you can rest your arms comfortably on the tabletop.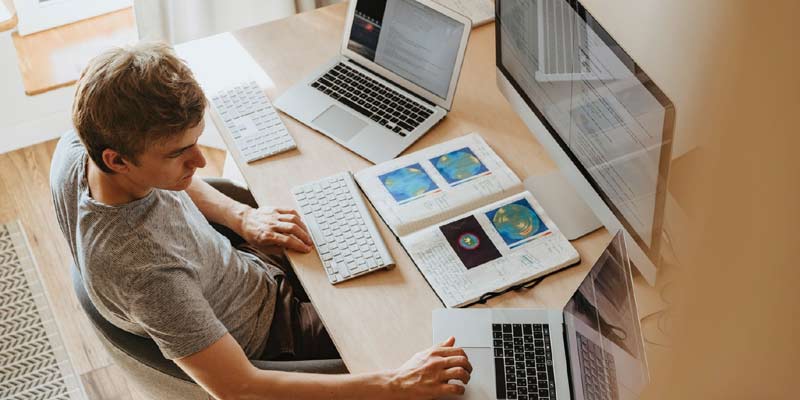 5. Sitting Comfortably: Do You Need an Office Chair? – Home Office Equipment List
Anyone who works from home regularly should value a chair that is comfortable to sit on. After all, an incorrect chair leads to incorrect posture and thus back pain.
The choice of office chair also depends on the rest of your furnishings. This popular, height-adjustable desk chair from beAAtho. It is beAAtho JS-2 executive high back office revolving chair. It is also suitable for the living room, for example, costs less than Rs.8000 and comes in a classic design.
Suggested Read: Best Home Remedies For Back Pain If Work From Home Is Taking A Toll On Your Back
6. Practical Desk Accessories Keep Things Tidy
A messy work environment negatively affects your concentration and productivity. So that you can keep a tidy desk at home and don't lose track of things, we have put together a few desk utensils for you:
Callas Metal Mesh Desk Organizer
Post-it Cube – 4 Color sticky Notes
Luxor 5 Subject Single Ruled Notebook
7. WLAN Repeater For Good Reception Right into the Furthest Corner of the Apartment.
To work in peace, you may choose a home office that is relatively far away from your WiFi router. Sometimes a thick old building wall is enough between your computer and the WLAN router and the signal becomes significantly weaker.
A WLAN repeater, also known as a WLAN amplifier, can help: a bridge is formed between the WLAN router and the end device and the WLAN signal is passed on.
The multiple test winner among the repeaters is the TP-Link AC750 Wifi Range Extender.
This WLAN repeater supports speeds of up to 750MBPS and is the best overall package as it transmits data well, is very easy to install, and uses very little electricity.
8. Guaranteed Good Mood: The Personal Coffee Cup – Home Office Essential Equipment
For personal well-being, individual accessories should not be missing at your workplace at home. One person puts a photo of his loved one on his desk, the other cannot work well without his personal coffee mug. Below you will find our product recommendations for a few personal items to keep you in a good mood in the home office:
Inditradition Camera Lens Coffee Mug
JASVANYA Ceramic Lagends are Born in September
9. For the End of the Day: Need a Little Gaming?
Admittedly, this last recommendation for the home office is not meant to be taken seriously. But you will find yourself forgetting the time and thus work in stressful moments. Pay attention to your working hours so that you avoid overtime as much as possible.
Of course, after work, you can simply convert your workplace into a computer gaming setup. A game can help you to leave your work behind you, but not until late at night, of course, as that would lead to a sleep deficit. If you've always wanted to buy a game console, now is the time. Our game console tips at a glance:
Microsoft Xbox One S 1TB Console
Some games for Xbox One :
FIFA 20 (Xbox One)
Halo 5: Guardians
Red Dead Redemption 2
Witcher 3: Wild Hunt Complete Edition – Xbox One
Call of Duty: WWII
The PS4 games are also available and we will update them soon.
Suggested Read: Work-Life Balance – Is Live to Work or Work to Live the New Normal?
Tips for Working From Home
Finally, we have a few tips on how working from home can work well:
Set up a quiet workplace. It would be counterproductive to have a place in the kitchen where, for example, the rest of the family regularly stays.
Mind going to work. Get up as usual and stick to your morning routines.
How do you organize your day in the office? Try to approach the day in the same structured way.
Ventilate regularly! Your head needs oxygen to think.
Talk to your colleagues on the phone at least once a day, preferably even with video transmission.
Don't forget the lunch break and stick to the fixed working hours.
These home office tips will certainly make your day worthwhile and you will feel much better working from home if you have a proper office setup wherein you put minimum effort and get maximum results along with fun.