Dehydration is when your body loses more fluid than it takes in.
You lose water while performing daily activities like breathing, sleeping, walking, sweating, urinating, etc. You need to replenish this loss of water from your body. If you do not then your body will start showing signs of dehydration.
In case of moderate dehydration home-based remedies can help you get rehydrated. But in cases of severe dehydration, you must take a medical expert's advice.
The atmosphere of India throughout the year is humid and dry. Plus, most people are engaged in blue-collar jobs that require moderate to intense body movements. These factors are also responsible for dehydration.
To help you, here is a list of things you can do to get rehydrated.
What is the fastest way to treat dehydration?
1. Drink Water
75 % of our human body consists of water. We technically cannot survive without water.
Water is present inside and between our cells and also in our blood vessels.
The first thing you need to do to treat dehydration is to drink a lot of water.
You should try and drink at least 8-10 glasses of water every day. This will reduce your chances of suffering from this health problem.
2. Drink Other Fluids – What To Do For Dehydration
Other than water many fluids can help you with dehydration. You can drink herbal tea, fresh juices, or smoothies. These are excellent choices to save you from dehydration.
Broth and soup can also be added to the list. But ensure that you add more greens and fewer spices.
You need to stay away from caffeinated and alcoholic drinks. This will include your daily dose of tea and coffee. These drinks are known to flush out water from your body.
This can make your dehydration worse.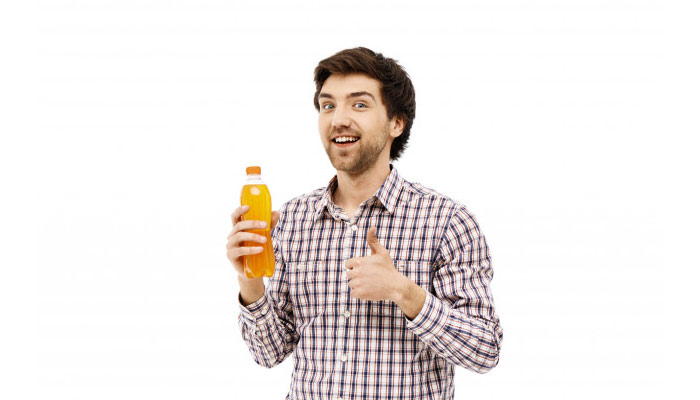 3. Drink Coconut Water
Coconut water is known to hydrate the body inside out.
Coconut water is loaded with calcium, amino acids, and potassium. It also has a very high amount of electrolytes.
Your energies will instantly shoot up if you have coconut water.
Coconut water is also used for IV hydration because of the higher content of potassium in it.
Many athletes also take coconut water before and after their training.
But be mindful to consume coconut water in its natural form. Avoid buying packed products which contain preservatives, additives, and sugar.
Also read: Do You Drink Too Little Water? These are the Dehydration Warning Signs
4. Eat Food With Higher Water Levels
Fresh fruits like watermelon, muskmelon, strawberries, pineapples, peaches, oranges, etc. have higher water content.
So, ensure that you have at least two such fruits in a day.
Vegetables such as bell peppers, broccoli, celery, cucumber, zucchini, lettuce, etc. also have high water content.
You can include them in your salads or while preparing your daily meals to avoid dehydration.
5. Intake of Oral Rehydration Salts
In cases of medium dehydration, you can also take an appropriate and guided amount of oral rehydration salts.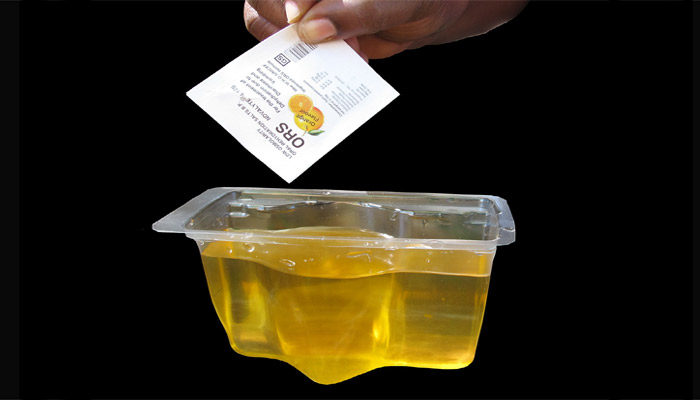 These salts are easily available in any medical store. These salts are usually prescribed if a person is suffering from dehydration because of diarrhoea.
6. IV Fluid Hydration – What To Do For Dehydration
If you suffer from severe dehydration then home remedies may not work.
You will have to rush to a doctor and seek help.
When you suffer from dehydration caused by vomiting, diarrhea, and other health conditions, just drinking water won't help.
During such times, a medical expert will recommend the dosages of IV fluid hydration to treat your condition.
Also Read: 5 Reasons You Are Always Tired and What Can Do About It
Common Symptoms of Dehydration
Keep an eye for any of the below-mentioned symptoms :
Excessive thirst
Dryness in the mouth
Urinating less than usual
Smelly and dark urination
Constipation
Less sweating
Dizziness
Fainting
The Takeaway
You cannot take this health problem lightly. In some cases, it can lead to severe health conditions.
To avoid getting dehydrated make a habit of sipping water every hour of the day.
Proper intake of water will solve many problems and keep your body in good shape.
Also, if you see if the slightest sign of dehydration then keep your family doctor in the loop to avoid any casualties