The chia seeds are mainly categorized as a superfood or nutritional food and also known as Salba chia or Mexican Chia. Chia seeds (salvia hispanica L.) are small, oval shaped, hygroscopic seeds (Chia seeds can absorb 12 times the amount of water and swell up which gives them a distinctive gel-like texture when soaked). The advantages of chia seeds come from being a complete protein containing all 9 essential amino acids, containing healthy fats, rich in dietary fibers and they are the richest source of omega 3.
These are some of the Chia seeds properties that make them highly nutritious and a superfood. Chia seeds can absorb 12 times the amount of water and swell up which gives them a distinctive gel-like texture when soaked. Let's unfold the advantages of chia seeds first by understanding the nutritional profile.
Nutritional Facts Of Chia Seeds
One ounce (28.35 grams) of Chia Seeds contains –
Calories – 138
Carbohydrates – 12 grams
Protein – 4.8 grams (complete plant protein)
Fat – 8.7 grams ( one of the richest source of omega-3, ALA 5 grams)
Fiber – 9.8 grams
Sugar – 0 grams
Rich in minerals like –
Calcium – 14% of Daily Value (DV)
Manganese –
Magnesium – 23% of DV
Zinc – 12% of DV
Iron – 12% of DV
Phosphorus – 20% of DV
Vitamin B1 [Thiamine] – 15% of DV
Vitamin B3 [Niacin] – 16% of DV
Health Benefits Of Chia Seeds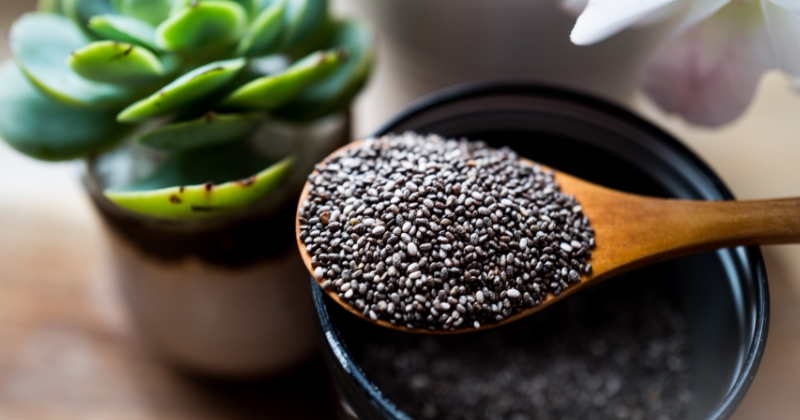 Chia seeds are an excellent source of vitamins, minerals, antioxidants (caffeic acid, cholinergic acid, Kampiferol and Quercetin) and dietary fiber. The main health advantages of chia seeds are
Reduces Inflammation: Chronic inflammation can lead to health conditions like heart disease and cancer. Caffeic acid, an antioxidant found in chia seeds, can help to fight inflammation in the body. Eating chia seeds regularly may also help to reduce inflammatory markers, which often indicate the presence of an inflammatory disease.
Blood Sugar Control: Chia seeds may help regulate blood sugar levels and improve insulin sensitivity, making them beneficial for people suffering from type 2 diabetes and who are at risk of metabolic syndromes. This happens due to the high fiber content of chia seeds.
Bone Health: Chia seeds are a good source of calcium, magnesium, and phosphorus, which are essential for maintaining strong and healthy bones. All these minerals along with ALA (omega-3) helps in increasing and maintaining bone mineral density.
Promotes healthy gut: Due to the high fiber content chia seeds helps in bowel movements and prevents constipation too.
Good for heart health: Chia seeds are great for your heart health due to high soluble fiber and omega-3 content. The soluble fiber helps in reducing bad cholesterol (LDL). Chia seeds contain quercetin, an antioxidant that can reduce your risk of developing several health conditions, including heart disease. They also help in lower high blood pressure due to high fiber content and, in turn, reduce your risk of developing heart disease.
Omega-3 Fatty Acids: Chia seeds are one of the best plant-based sources of alpha-linolenic acid (ALA), a type of omega-3 fatty acid. Omega-3s are known to support heart health, reduce inflammation, and improve cognitive function.
Gluten-Free: Chia seeds are naturally gluten-free, making them a suitable addition to the diets of people with celiac disease or gluten sensitivity.
Complete Plant Protein: Chia seeds are one of the complete plant based proteins, that means it contains all the essential amino acids. This makes it a very good choice for vegan and vegetarian individuals. Being rich in essential amino acids chia seeds helps in muscle growth. Hemp seeds are also complete plant protein.
Chia Seeds For Weight Loss
Chia seeds are often touted as a helpful addition to a weight loss plan due to their nutritional profile and certain properties that can aid in weight management. Here's how chia seeds may be beneficial for weight loss:
Satiety: Chia seeds can promote a sense of fullness due to their very high fiber content as well as due to its hygroscopic nature, which may help reduce the urge to snack between meals. This can lead to a reduction in calorie intake and support weight loss efforts.
Slow Digestion: The soluble fiber in chia seeds can slow down the digestive process and the absorption of nutrients. This may help stabilize blood sugar levels, preventing rapid spikes and crashes in energy, all these factors contribute to overeating and crash dieting.
Nutrient Density: Chia seeds are packed with essential nutrients, such as omega-3 fatty acids, all essential amino acids (protein), vitamins, and minerals. Incorporating nutrient-dense foods like chia seeds into your diet can help ensure you're getting essential nutrients while managing your calorie intake.
Hydration: Chia seeds can hold a significant amount of water, and this can help keep you hydrated. Proper hydration is essential for overall health and can support your body's ability to metabolize fat.
While chia seeds can be a valuable addition to a weight loss plan, it's important to remember that no single food will magically lead to weight loss. The key to successful and sustainable weight loss is a combination of factors, including a balanced diet, regular physical activity, portion control, and overall lifestyle choices.
Also Read:
Chia seeds are not only rich in minerals, omega-3 fat, antioxidants, protein and fiber but also easy to prepare. Various studies suggest that they provide multiple health benefits, ranging from weight loss to a reduced risk of heart disease. So, if you want to reap the possible benefits of chia seeds, consider incorporating them into your diet. They're a great addition to smoothies, oatmeal, yogurt, breads, cookies, and baked delicacies.