Is the picnic season already here? You can then picture yourself sitting on a comfy blanket over the soft grass with a beautiful view. It might be a romantic picnic or an exciting one for you and your kids. 
Once your date is fixed, you have a spot in mind. The next thing you need to figure out is food. So here we will talk about different food ideas that you can try on your upcoming picnic.
Picnic Food Ideas For Kids
Let us now take a close look at some Picnic Food Ideas for kids that they would love to eat.
1. Cherry Pie – Kids love pie. A cold pie as a dessert could be the best treatment for kids to try out.
2. Chicken and Bacon Roll-Ups – It already sounds yummy. Right? Wrap up those extra chicken or turkey into these small rolls and take it as a dish for your picnic.
3. Avocado and Ranch Chicken Wraps – You can make a dressing of avocado and chicken and some other leafy veggies and wrap it up. This one is perfect for a snack or a light afternoon meal.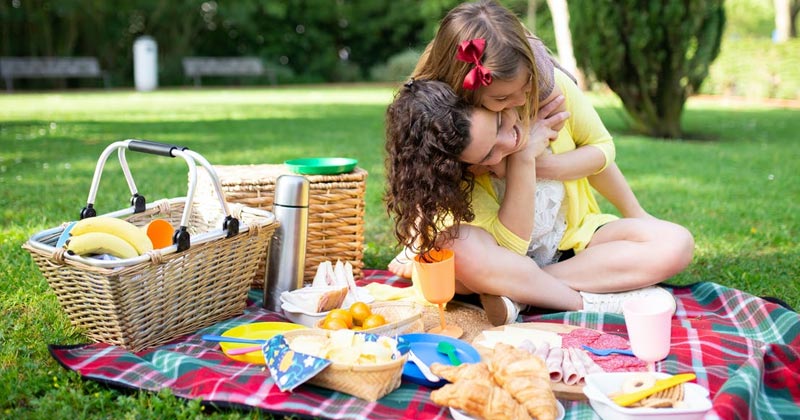 4. Pretzel sticks – Again, another favorite of kids. This snack is healthy and sweet. It is crunchy, and kids love it. The granola, nuts, and cereals make the item quite nutritious.
5. Creamy Turkey Pitas – Make a coleslaw mixture of raisins, onions, mayonnaise, and sauce. Add turkey, bacon, and this mixture to the pita halves, and your creamy pitas are ready to serve. This can be a great addition to your picnic menu.
6. Peanut Butter Granola Pinwheels – This recipe is great for kids to munch on. The snack is quite filling and easy to make. You need to spread peanut butter on the tortillas. Then sprinkle honey and granola. Then roll it up and cut it down into small slices.
The best Picnic food ideas involve easy, simple recipes to make, easy to pack in a cooler or a bag, and need few or no utensils to serve. 
Best Picnic Food Ideas For Couples
Let us take a look at some Picnic Food Ideas for couples.
1. Fresh Spring Rolls – Wanna try something new? Stuff peanut noodles inside spring rolls. 
2. Chickpea Shawarma Wraps – You can add pickled onions, tortilla sauce, and yogurt sauce. This will make the food even more bright and tastier. 
3. Bean and Pasta Salad – The bean and pasta salad is a perfect recipe if you plan to go with such tasty foods. Keep some herbs and veggies outside to add at the last minute. These will add a good flavor to your food and change it to a completely new level. 
4. Rainbow Salad – You can make this salad with mango, orzo, brown rice, or just add gluten-free pasta. 
5. Vietnamese Spring Rolls – Prepare rice noodles and add shrimp and veggies. Wrap it up in a sheet, and your dish is set.
6. Lemon Brownies – The heart-shaped lemon brownies are easy to make. You need to preheat and bake it just like any other brownie. The only difference is you add the lemon juice separately to bring that flavor. 
7. Chocolate Truffle Cookies – This is one of the best romantic picnic food ideas for two. You can make a rich dark chocolate cookie, especially for those who are chocolate fans. Very little flour makes a dense and fudge sort of cookie. You can store them in the freezer. 
Best Picnic Food Ideas For The Beach
It is not easy to choose beach foods. Several factors matter in this case. The heat and the space that you have in your cooler. With all the sand around you, you might mess up everything. Hence, we will list some of the best food recipes you can easily carry to the beach.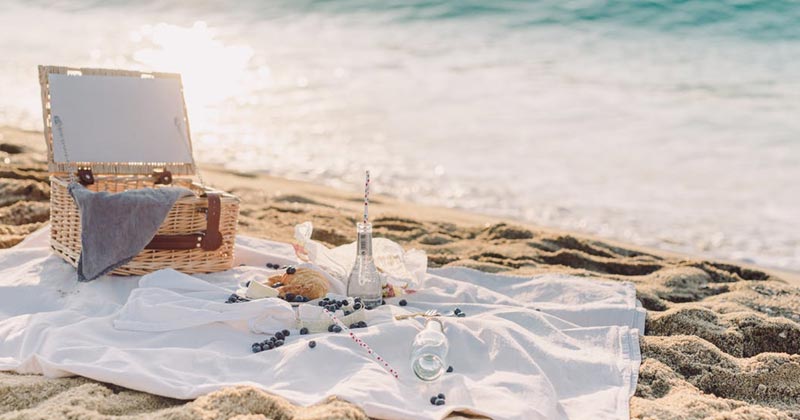 1. Wraps – Wraps are better for beaches because the outer layer helps to keep the sand away. If you are worried that there might be sand in your food, you can cover the wraps in foil and peel them off just before eating. 
2. Kebabs – Kebabs are easy to cook and carry around. You can put anything on a skewer, such as a steak, chicken, and even veggies. The choice of combos is endless. You can easily try a combination of veg as well as non-veg items. 
3. Smoothie –  This one can be a perfect addition to your picnic menu. Beat the heat with this lip-smacking cool smoothie. 
4. Brownies – If you are a dessert lover, brownies are the best to carry at the beach. These won't melt like other chocolates. You don't need to keep them in any cooler if you don't have much space in your cooler. 
5. Fruits – Fruits can be a great choice if you go to the beach. You can carry some fruits such as grapes, apples, strawberries, and yogurt. Mix them all up and enjoy them as you stroll around.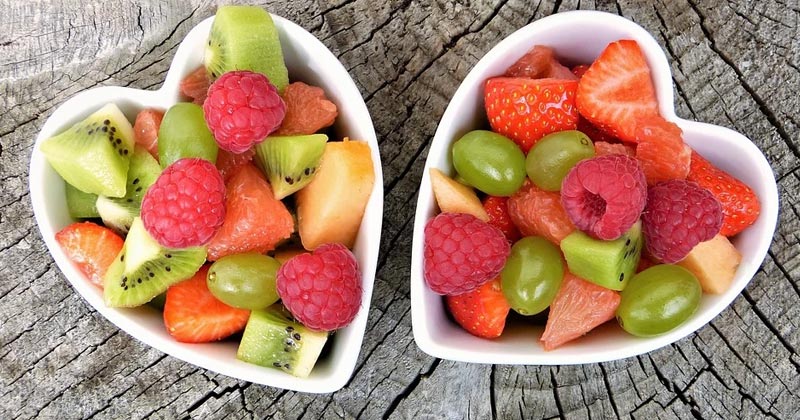 We have shown you a list of food items that you can easily carry to the beach anytime you want. If you are still looking for picnic food ideas for kids or planning a picnic at the beach, we have sorted you with all the best picnic food ideas. Now all you need to do is fix a location and go on and enjoy our day!